As a result of Dodd-Frank, passed in 2010, free checking has essentially disappeared at big banks. A free checking account can only officially be defined as such if a bank "does not charge a maintenance or activity fee," however consumers can still find effectively free checking either by waiving requirements or banking with a credit union or internet bank.  NerdWallet helps consumers sift through the confusion to help determine where to find free checking.
What are the most important factors to accessing free checking?
Do you have a job? Can you direct deposit a paycheck?Having a job enables consumers to easily waive one of the most common requirements: direct deposit.  Many banks (about 80% of the largest commercial banks) waive monthly fees on a basic checking account with regular direct deposits to the account. Make sure to read the fine print if you rely on this to avoid a fee. A monthly minimum deposit of $100 – $500 sometimes applies.Other common ways to direct deposit include: social security/pension checks, unemployment benefits, etc.
Can you maintain a minimum balance?The simplest way banks allow customers to waive a monthly fee is to maintain an average or minimum account balance. For basic accounts, the median minimum balance requirement is $1,500, but the limit can be anywhere from $100 to over $10,000!
Unsure about meeting these requirements?
You'll need to pay closer attention to where you choose to bank. Credit unions are an excellent option for any consumer, but especially those who may not be able to meet all of the requirements outlined above. Credit unions are more likely to offer a truly free checking account – one without balance or direct deposit requirements – than a typical bank. Even those that do levy monthly fees typically have requirements that are much easier to meet (lower balance/direct deposit amounts).
Membership to a credit union is limited to location, employment, or membership in certain organizations. Use NerdWallet's helpful tool to find a local credit union you can join.
The last stop on our roadmap to free checking is an internet/online bank. ING Direct, EverBank, Ally and similar banks all have free checking accounts as well as very low fees for other services.  In addition, they tend to offer higher interest rates on your balance than traditional banks and credit unions. The drawback is that, as the category suggests, everything must be done online (or via the mail/phone). There are no physical branches to visit for assistance or to make a deposit.
For more information, see our overview of financial institutions.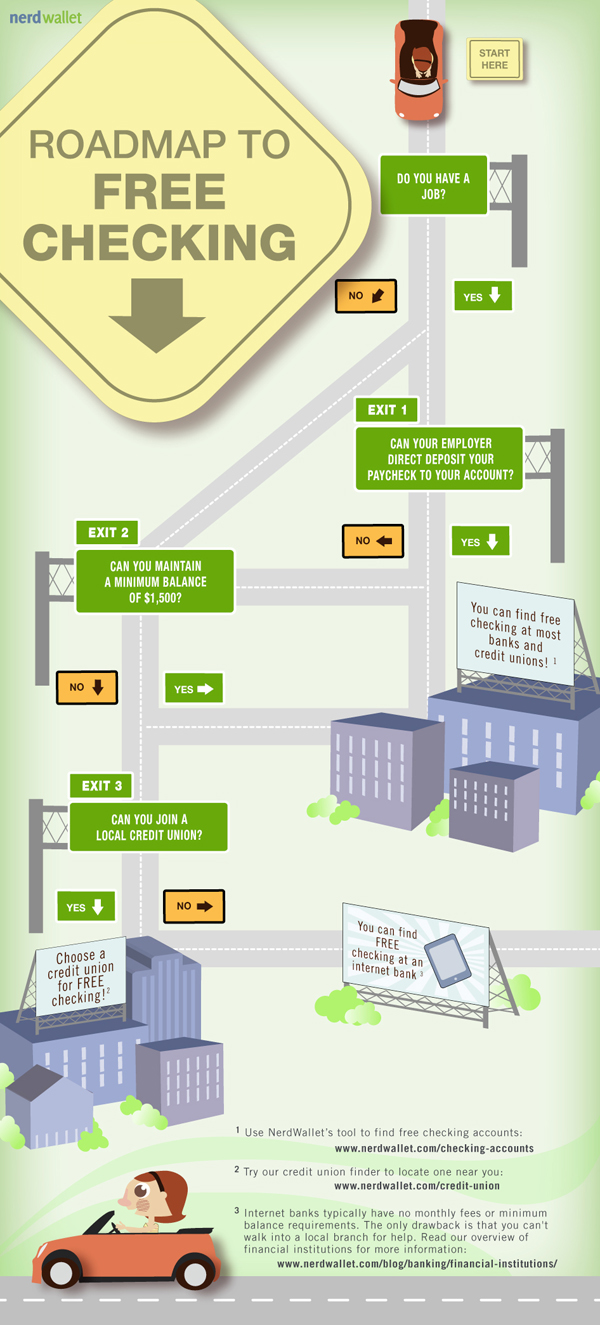 Embed this on your own site: