The Top 10 Most Recommended Hospitals in Illinois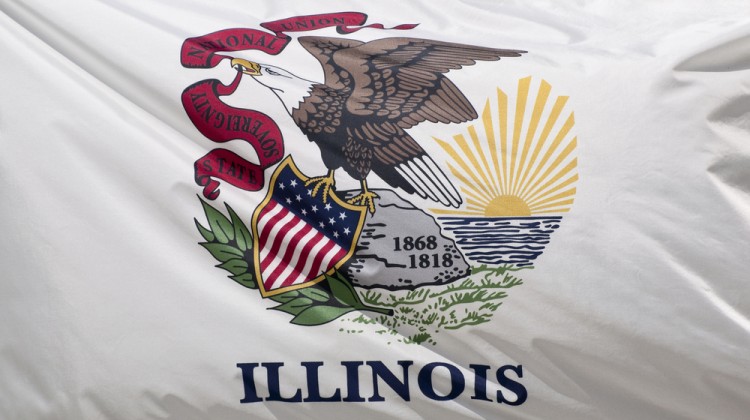 Over a million uninsured Illinois residents are estimated to benefit from Obamacare — qualifying for either subsidized health insurance or for expanded Medicaid programs. As Illinoisans start gaining coverage through new health insurance plans, more people will be concerned with hospital quality. NerdWallet Health built a Best Hospitals tool to help consumers evaluate price, experience, and patient satisfaction for hospitals in their local area. We analyzed patient satisfaction rates at over 100 hospitals in Illinois to find the top 10 large hospitals that are most likely to be recommended by patients. We also considered the following patient satisfaction metrics:
Percentage of patients who reported that…
… doctors always communicated well.

… patients always received help as soon as they needed it.

… pain was always well controlled.

… rooms and bathrooms were always clean.

… the area around patient rooms was always quiet at night.

… the hospital deserved a rating of 9 or 10 on a scale from 0 (lowest) to 10 (highest).
The Top 10 Most Recommended Hospitals in Illinois
1. Central DuPage Hospital—Winfield, IL
This 313-bed hospital employs over 900 physicians and will celebrate its 50th year of service in 2014. U.S. News & World Report ranks Central DuPage #22 in the nation for orthopedics and as the 8th best hospital in Illinois. The report also finds the hospital is High-Performing in 10 specialties, including cardiology, geriatrics, and gynecology. Thomas Reuters has ranked this hospital among the nation's Top 100 for the past 5 years, and Central DuPage's affiliates include Lurie Children's Hospital of Chicago and the Cleveland Clinic. With 83 percent of patients reporting that they would definitely recommend the hospital, Central DuPage surpasses the nation's average patient satisfaction rating by over 10 percent.
2. Rush University Medical Center—Chicago, IL
Rush University Medical Center boasts numerous awards. The 664-bed non-profit hospital combines healthcare, education, and research, and recently underwent major renovations. The hospital's green structural design make it the largest "new construction" healthcare building to be LEED (Leadership in Energy and Environmental Design) Gold Certified. Nationally ranked in 9 specialties by U.S. News & World Report, the medical center ranks best in orthopedics (#10) and geriatrics (#12). In addition, it is accredited by the Joint Commission and is Magnet Recognized by the American Nurses Credentialing Center.
3. Advocate Lutheran General Hospital—Park Ridge, IL
This Level I trauma center houses 638 beds and was founded in 1897 (although it moved to its current location in 1959). The more than 1,000 physicians at this hospital represent 71 specialties and subspecialties, and U.S. News & World Report ranks Advocate Lutheran as High-Performing in 11 specialties. In addition, Thomas Reuters has included the hospital among the nation's Top 100 for 13 years, and it has received Magnet Designation for its nursing services. Advocate Lutheran receives comparatively high satisfaction rates for cleanliness and pain control.
4. Edward Hospital—Naperville, IL
With 309 private patient rooms and a staff of almost 5,000 (including over 1,000 physicians and 1,350 nurses), Edward Hospital was the most preferred hospital in the region in 2012 according to the National Research Corporation. U.S. News & World Report ranks the hospital as #17 in Illinois, and it received the High-Performing designation in 8 specialties. Edward was the first Illinois hospital to offer all private rooms and has since added features like a nautical-themed children's emergency room and a healing garden.
5. Northwestern Memorial Hospital—Chicago, IL
Northwestern Memorial is the primary teaching hospital for the Northwestern University Feinberg School of Medicine and is served by over 1,600 physicians and 7,000 support staff and volunteers. This hospital won U.S. News  & World Report's #1 ranking for Illinois, and ranks nationally in 12 specialties (notably #7 in neurology & neurosurgery and #9 in diabetes & endocrinology). Additionally, Northwestern Memorial was selected as a "Top Hospital" and as a Leader in Patient Safety by the Leapfrog Group; as a Top 10 Nonprofit for Executive Women by the National Association for Female Executives; and as a Leader in LGBT Healthcare Equality by the Healthcare Quality Index report.
6. UnityPoint Health—Methodist—Peoria, IL
Formerly known as Methodist Medical Center of Illinois, this hospital is an affiliate of the University of Illinois College of Medicine. Among our top 10 hospitals, Methodist received the highest satisfaction rates for doctor communication and helpfulness of hospital staff. U.S. News & World Report designated this hospital as High-Performing in 7 specialties, and in 2012 HealthGrades gave Methodist five stars for heart failure, stroke, pneumonia, sepsis, total knee replacement, joint replacement, and respiratory failure.
7. Elmhurst Memorial Hospital—Elmhurst, IL
As Elmhurst Memorial approaches a century of care, it has expanded to become a health system with many locations throughout the Chicago suburbs. The main campus includes 259 private suites and features da Vinci Robotic Surgery. Patients found this hospital quiet and restful. The hospital is Joint Commission-accredited and was designated a Top Workplace by the Chicago Tribune. U.S. News & World Report ranks Elmhurst as High-Performing in gastroenterology, geriatrics, and pulmonology. For aesthetically-minded patients, Elmhurst Memorial was chosen as one of the Top 20 Most Beautiful Hospitals in the US in 2013.
8. Northwest Community Hospital—Arlington Heights, IL
Over half a century old, this 496-bed hospital features a Center for Specialty Medicine, Day Surgery Center, and Youth Center. Ranked High-Performing by U.S. News & World Report in 10 specialties, Northwest Community is also Magnet Recognized and Joint Commission-accredited. About 800 volunteers support 4,000 employees, and the hospital serves about 24,000 inpatients per year.
9. Evanston Hospital—Evanston, IL
The "nucleus" of the NorthShore University HealthSystem, Evanston Hospital has enjoyed a long history. Ranked nationally in gastroenterology (#40) and gynecology (#21) by U.S. News & World Report, Evanston is also High-Performing in 9 specialties. Busy visitors can spend time in the Business Center, and patients can enjoy the extra comfort added by Spiritual Care and Music Therapy services.
10. Advocate Sherman Hospital—Elgin, IL
Named Sherman Hospital prior to joining Advocate Health Care, this hospital opened in 1888 with 4 beds and one operating room. Over a century later, the 255-bed hospital is Joint Commission-accredited and Magnet Recognized. It received high satisfaction rates for pain control compared to others on our list and is accredited as a Chest Pain Center and as a Breast Imaging Center of Excellence. The hospital is heated and cooled by a geothermal lake, saving an estimated $1 million per year by promoting renewable energy sources.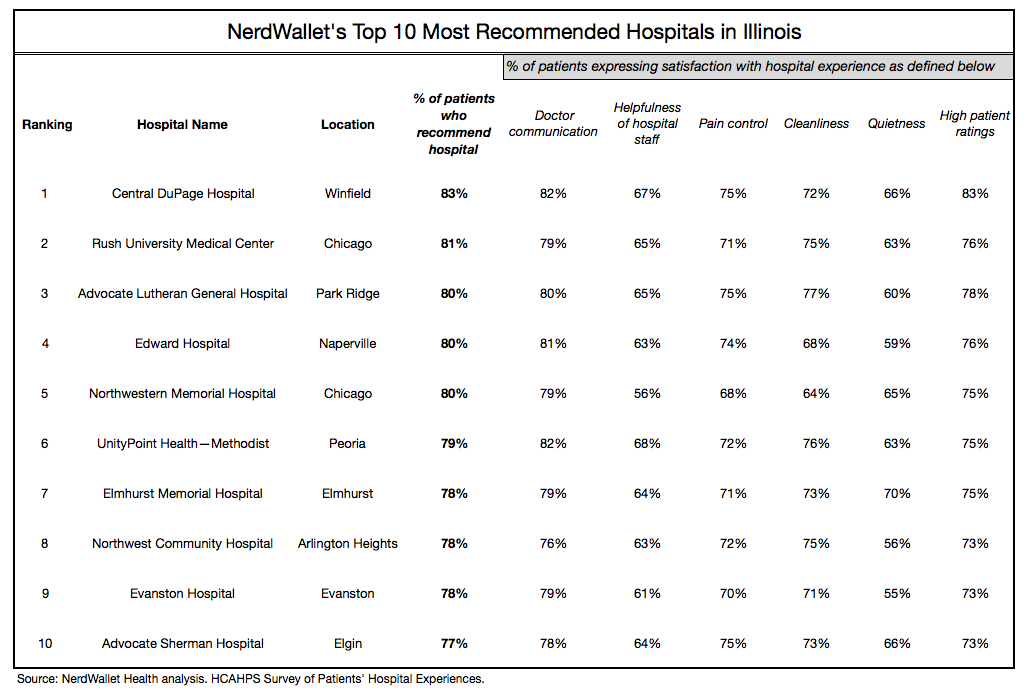 Learn more about health insurance options in Illinois.
Methodology:
Most recommended hospitals: Using CMS Medicare Provider Charge Data, we first determined the 50 largest hospitals in Illinois by calculating the total number of Medicare patient discharges per year. We then ranked these hospitals based on the percentage of patients who reported that they would definitely recommend the hospital—this data was obtained from the Survey of Patients' Hospital Experiences (HCAHPS). In the instance that this percentage was the same for multiple hospitals, we averaged the percentages across the other 6 measures of patient satisfaction and ranked accordingly.
Hospital characteristics: Individual hospital websites and U.S. News & World Report Best Hospitals.
Illinois flag photo courtesy of Shutterstock.