A new study by NerdWallet finds that more than 5 million adult Americans experience a major depressive episode and do not seek treatment per year. This finding highlights the importance of screening and treatment for this and similar mental diseases.
With continued instances of school shootings and drug overdoses tied to mental health disorders, provisions offered by the Affordable Care Act (ACA) and Mental Health Parity and Addiction Equity Act (MHPAEA) come in a time of need. These laws address a massive mental health problem in America, a big part of which stems from untreated depression.
Depression is a leading cause of disability. Not only is treatment for depression expensive, but productivity lost due to depression also factors into NerdWallet's estimated $112 billion economic burden of depression in 2013. One study reports that 80% of depressed people are impaired in daily functioning, leading to an average of 5.6 hours of productivity lost per week. To add to the problem, less than a third of workers with depression report antidepressant use.
Key finding: Millions affected, millions go untreated
6.6% of American adults report a major depressive episode (MDE) in a 12-month period. That's an estimated 16 million people.

Young adults are particularly hard hit. 8.4%, or approximately 1 in 11 individuals, ages 18-25 experience an MDE in a 12-month period.

7.9% of all adults aged 18-44 experience an MDE in a 12-month period.

Nearly twice the number of females report an MDE in a 12-month period (8.3% as opposed to 4.7% of men)

Older Americans get off easy: Just 2.2% of adults 65 and older report an MDE in a 12-month period

Nearly a third (5.1 million) of these individuals receive no treatment for a major depressive episode

Despite this, just 2.4% of primary care providers screen for depression in adults

Mental health costs in the past haven't been widely covered

Primary care physicians aren't always well-trained to diagnose

Poor follow-up from patients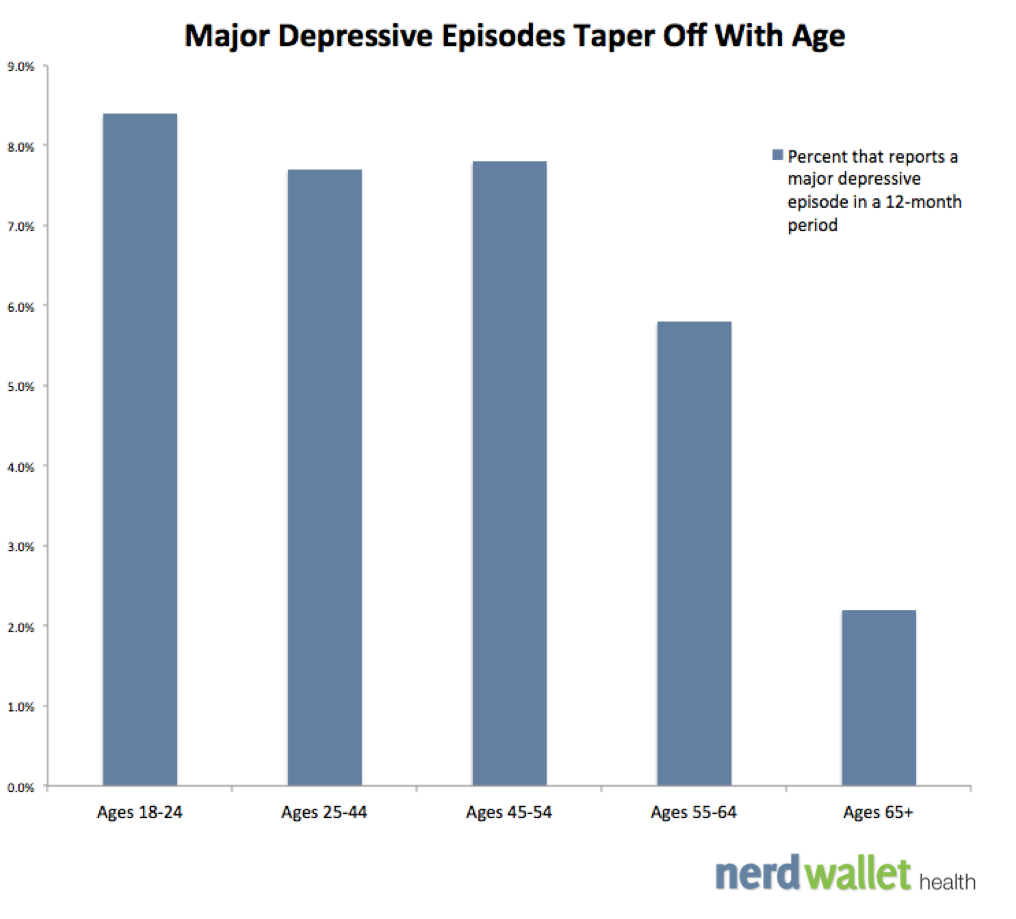 Key finding: Getting treatment costs thousands
The estimated average cost in 2014 of a hospital stay for mood disorder is $8,404.

The estimated average cost in 2014 for antidepressants is $777.
The effects of major depression: clinical and social
Major depressive disorder has been shown to predict coronary artery disease, stroke, heart attack, and certain cancer types.

A history of mental disorder predicts unemployment.

Pre-marital mental disorders predict divorce.
How the Affordable Care Act is changing this
62.5 million Americans are expected to gain mental health coverage for the first time or benefit from parity protection as a result of ACA and the mental health parity act, according to the Assistant Secretary for Planning and Evaluation. That's nearly 20% of all Americans.

Insurance plans must cover mental health services: New plans available from the insurance marketplace are required to cover 10 "essential health benefits," one of which is mental health and substance use disorder services. These services include behavioral health treatment, counseling, and psychotherapy.

Some essential health benefits, such as prescription drug coverage and trips to the emergency room, will also benefit those seeking mental health services. Under the MHPAEA and ACA, mental health services must be covered in parity with other medical care. That is, if your plan covers an ER visit for a broken leg, it will also have to cover an ER visit for a depressive episode or any other acute mental health problem.

Prescription drug coverage: The ACA mandates that plans must cover a minimum number of mental health drugs in each category or class—but the specific medication may vary by plan.

Limiting out-of-pocket expenditures: The ACA sets the out-of-pocket limit at $6,350 for an individual plan and $12,700 for a family plan in 2014. This protects you from incurring massive medical bills for expensive psychiatric treatment facilities or hospital visits.

The out-of-pocket limit includes "deductibles, coinsurance, copayments, or similar charges and any other expenditure required of an individual which is a qualified medical expense for the essential health benefits."

Affordable ER visits: Some mental health episodes require immediate professional attention—and the ACA helps to bring down the cost of ER visits. Once you reach the deductible of your health plan, ER copays tend to be in the few-hundred dollar range—and some plans even have zero copay for ER visits.
Discussion and expert opinion
Mental health issues are a major driver of lost productivity, medical disability, and massive medical bills. As evidenced by the findings of this study, millions of Americans go untreated for mental health issues every year. Says Christina LaMontagne, VP of Health at NerdWallet, "The ACA presents an opportunity to fix not only rising health costs–but also to give every American the health services they need and deserve." She continues, "mental health problems are a significant and often stigmatized topic, but our study highlights the importance of bringing these issues to light."
Another important finding is that fewer than 3% of primary care providers currently screen for depression. As the primary care system strengthens under the ACA, "primary care providers will be an indispensable point of contact for many patients who should receive further mental health services," says LaMontagne. "We cannot rely on expanded mental health coverage to fix all of the current problems–primary care doctors are also a big part of the move toward better screening and treatment of mental health issues."
Embed this on your own site:
Methodology
Total economic cost of depression: Our estimate of $112 billion was scaled by inflation from a study that reported the total cost in 2000 to be $83.1 billion.
Americans experiencing major depressive disorders: Percentages from the National Survey on Drug Use and Health (NSDUH); data obtained from Heathindicators.gov major depressive episode treatment and indidence datasets and is for 2011. Number of people affected was determined by population estimates from the U.S. Census.
Cost of treatment: The cost of a hospital stay for mood disorder and for antidepressants was estimated from the Substance Abuse and Mental Health Services Administration 2012 Behavioral Health report. All charges were scaled to predict 2014 values by using the annually increasing National Health Expenditure Projections from the Centers for Medicare and Medicaid Services.
Definition of  major depressive disorder: "A person was defined as having had a depressive episode (MDE) if he or she had a period of time in the past 12 months when he or she felt depressed or lost interest or pleasure in daily activities for 2 weeks or longer, and had at least five or more of the following nine symptoms in the same 2-week period, in which at least one of the symptoms was a depressed mood or loss of interest or pleasure in daily activities: (1) depressed mood most of the day, nearly every day; (2) markedly diminished interest or pleasure in all or almost all activities most of the day, nearly every day; (3) significant weight loss when not dieting or weight gain or decrease or increase in appetite nearly every day; (4) insomnia or hypersomnia nearly every day; (5) psychomotor agitation or retardation nearly every day; (6) fatigue or loss of energy nearly every day; (7) feelings of worthlessness nearly every day; (8) diminished ability to think or concentrate or indecisiveness nearly every day; and (9) recurrent thoughts of death or recurrent suicide ideation."
This study was originally published on Feb. 17, 2014.
---
Depression photo courtesy of Shutterstock.