Total hip replacement is one of the most common elective inpatient surgeries in the U.S., with more than 440,000 procedures performed in 2012 at an estimated cost of over $8.4 billion. Medicare alone pays for nearly two-thirds of hip replacements, with individuals over the age of 65 accounting for 60% of the patient volume. The leading causes behind hip replacement include osteoarthritis, rheumatoid arthritis and injury; women undergo nearly 45% more hip replacement surgeries than men each year.
On April 9, the Centers for Medicare and Medicaid Services released an unprecedented amount of physician data to the public. For the first time since the 1970s, the general public now has access to the quantity, charge amount and average payment rate for services provided by individual doctors to Medicare patients. Patients choosing hip replacement often have weeks if not several months to plan for this surgery. NerdWallet Health evaluated 3,442 orthopedic surgeons who performed 98,100 hip replacements on Medicare fee-for-service beneficiaries during 2012 to help patients find the highest-quality physicians at the best price.
Key findings
Patients should choose physicians who perform over 50 hip replacements each year at hospitals providing more than 200 joint-replacement surgeries annually. Research suggests patients treated by high-volume surgeons at high-volume hospitals have lower rates of infections, serious complications such as blood clots and pneumonia, and death.

Only 1 in 10 orthopedic surgeons meet this benchmark, while 47% of surgeons performed fewer than 20 hip replacements. This means 12%, or only 408 surgeons, performed more than 50 hip replacements on Medicare patients in 2012.

Alaska, Vermont, West Virginia and Wyoming have no orthopedic surgeons who meet this quality benchmark for Medicare patients, suggesting that more than 5 million people in these states may not have in-state access to a high-volume hip-replacement surgeon.

Prices varied widely among the 3,442 physicians included in our study. The average submitted physician charge amount ranged from $251 to $40,736.

The highest-performing physicians, representing 1% of orthopedic surgeons, did more than 100 hip replacements on Medicare beneficiaries in 2012.

NerdWallet Health identified the 10 lowest-priced orthopedic surgeons who performed more than 100 hip replacement procedures during 2012:

The average submitted charge amount for each of the 10 orthopedic surgeons fell significantly below the $6,041 average for the study data.

Four of these physicians are affiliated with the Hospital for Special Surgery in New York, which performed 4,300 hip replacements in 2012.

These prices are exclusive to surgeon fees and do not include charges for the anesthesiology, hospital or rehabilitation bills associated with a hip replacement.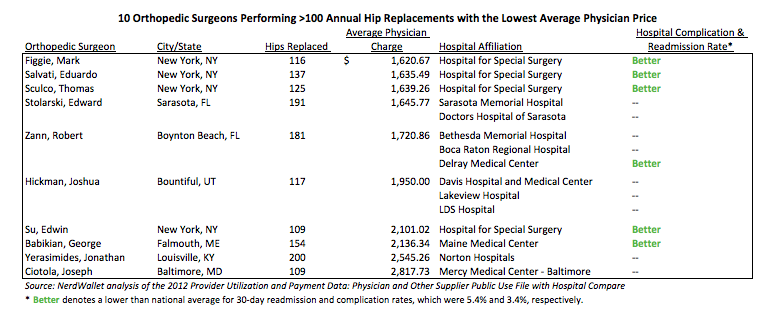 Discussion
This study conveys a straightforward approach to identifying high-quality, low-priced orthopedic surgeons for hip-replacement surgery based on the procedure volume within Medicare's physician data. Combined with previously released numbers on the 30-day hospital readmission and complication rate following a joint replacement, NerdWallet Health identified the 10 physicians with the lowest average price who also performed more than 100 hip replacements on Medicare patients during 2012.  Each of these surgeons had admitting rights with hospitals at or above the national rate for readmission and complications.
Hip replacement is an expensive and complex procedure that will likely incur out-of-pocket costs for patients. NerdWallet Health's Head of Consumer Engagement Andrew Fitch says, "One of the best ways to avoid added cost is to lower your risk of readmission or complications by picking a high-volume physician and hospital. Every patient should ask their surgeon how many procedures they perform each year."
While current medical guidelines do not require a minimum annual volume for physicians or hospitals, past studies have found a link between procedure volume and quality outcomes for joint replacement surgeries. A 2013 NerdWallet study previously recommended choosing a hospital that provided more than 200 knee and hip replacement or reattachment surgeries each year (aka "the 200 Quality Benchmark"). This guidance drew upon medical studies showing lower rates of infections, serious complications such as blood clot and pneumonia, and death for patients treated at high-volume hospitals. NerdWallet's Hospital Quality and Cost Tool allows patients to identify hospitals with higher patient volume at the lowest price.
However, research also suggests a strong link between patient outcomes and procedure volume at the physician level. One study found surgeons who performed more than 50 total hip replacements per year had the lowest rate of complications. Another widely cited study reported higher rates of early hip replacement failure ("revision") for patients treated by low-volume surgeons who completed fewer than 12 hip replacements per year. Today, private health insurance payers such as Aetna and Anthem BlueCross BlueShield require annual physician volume of 50 hip-replacement procedures in order for a hospital to qualify as a center of excellence in their respective networks. As Medicare physicians receive more support due to Obamacare and cost and quality data continues to be released, physicians will strive to improve performance, while patients will be increasingly able to search for the highest value care.
Hip replacement can last several hours in the operating room and multiple days in the hospital. "Patients want to feel confident they've picked a physician and a hospital with a proven track record," Fitch says. "Unfortunately, it's been very difficult until recently for a patient to independently verify the number of hip replacements performed by their orthopedic surgeon. With this data, patients are now armed with a baseline number they can rely upon during their decision-making process."
Sources & Methodology:
Centers for Medicare and Medicaid Services 2012 Provider Utilization and Payment Data: Physician and Other Supplier Public Use File. Available online. This data is limited in that it provides information pertaining only to services billed under Part B for Medicare fee-for-service patients and excludes aggregated data stemming from less than 11 beneficiaries. Selection criteria included Orthopedic Surgery with M.D. credential billing CPT® 27130 (Total hip arthroplasty). Hospital complication and readmission rates following hip and knee surgery were obtained from Hospital Compare on April 14, 2014.
Medical studies such as these have been widely used to establish the principle of patient volume as it relates to quality:
Katz, Jeffrey N. MD, et al. "Association between hospital and surgeon procedure volume and the outcomes of total knee replacement." Journal of Bone and Joint Surgery. September 1, 2004.

Bozic, Kevin J. MD, et al. "The influence of procedure volumes and standardization of care on quality and efficiency in total joint replacement surgery." Journal of Bone and Joint Surgery. November 17, 2010.

Singh, Jasvinder A., et al. "Hospital volume and surgical outcomes after elective hip/knee arthroplasty: A risk adjusted analysis of large regional database." Arthritis Rheumatology. August 2011.

Solomon, Daniel H., et al. "Contribution of Hospital Characteristics to the Volume-Outcome Relationship: Dislocation and Infection Following Total Hip Replacement Surgery." Arthritis & Rheumatism. Vol. 46, No. 9, September 2002, pp 2,436-2,444. Available online.

Losina, Elena, et al. "Early Failures of Total Hip Replacement." Arthritis & Rheumatism. Vol. 50, No. 4, April 2004, pp 1,338-1,343. Available online.
National Institutes of Health (NIH). "Fast Facts About Hip Replacement." National Institute of Arthritis and Musculoskeletal and Skin Diseases. Available online.
Steiner C, Andrews R, Barrett M, Weiss A. HCUP Projections: Mobility/Orthopedic Procedures 2011 to 2012. 2012. HCUP Projections Report # 2012-03. September 20, 2012. U.S. Agency for Healthcare Research and Quality. Available online.
U.S. Census data by state (2013).
Woman after hip replacement image via Shutterstock.