Why Can't I Get the "Rock-Bottom Mortgage Rates" I Keep Hearing About?
You can trust that we maintain strict
editorial integrity
in our writing and assessments; however, we receive compensation when you click on links to products from our partners and get approved. Here's
how we make money
.
At the end of July, Freddie Mac showed the rates on a 30-year fixed rate mortgage setting a new record low: 3.49%. In the few weeks since, the rate has crept back up to 3.59%, with the rate for the 15-year fixed rate staying near its historic low. But despite the small gain, it seems like every week an announcement comes out that rates have sunk to new lows. The Federal Housing Administration is rolling out programs at a breathless rate, tweaking and restyling the Home Affordable Refinance Program (HARP) to help borrowers refinance, as well as floating other mortgage modification and aid programs. The Federal Reserve has undertaking multiple rounds of bond buying and other extreme measures to get rates low and keep them there.
And yet there isn't a clear correlation to any of this activity translating into increased refinance numbers, or into you being able to walk into your local bank, get a refinance, and start saving money on your monthly mortgage payment. Why is that?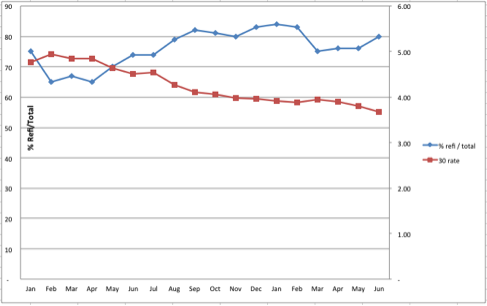 Blue line shows the percentage of refinance applications out of all mortgage applications at Freddie Mac. (30-year fixed-rate). Red line shows the rate for a 30-year fixed-rate Freddie Mac mortgage.
Tightening Credit Standards
Applying for a refinance is a lot like applying for your mortgage all over again. But this time around, banks aren't making the same loans they used to be. The criteria that make up the credit standards lenders are looking at include FICO score, recent good credit history and your income.
If you think you fit the new higher credit standards, you'll also have to do more to prove it than you might have been required to before. Back in the subprime era, people were getting so-called NINJA loans—that stands for No Income No Job No Assets. Yes, the acronym doesn't work perfectly, but it's worth it for the apt image of a shadowy ninja borrower, slinking off into the night and defaulting on his mortgage. These days, banks are through with NINJAs, and will want you to have plenty of documentation on your assets ready before they will give you a low-rate refinance.
The Federal Reserve Board's Senior Loan Officer Opinion Survey, a quarterly survey of 60 large domestic banks and 24 branches of foreign banks in the U.S., shows the rollercoaster of credit window tightening that's occurred since the financial crisis.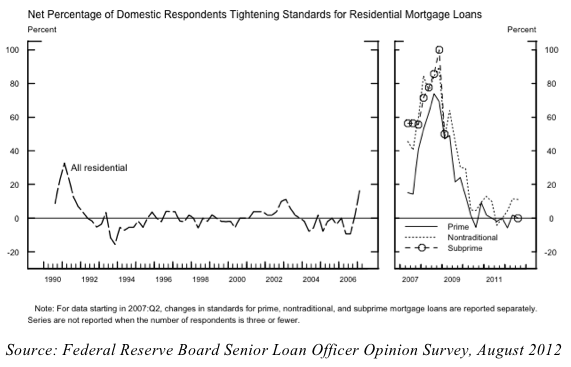 While the July survey showed a halt in acceleration of tightening standards, the steep climb of the past few years is clear. A FICO score of 660 might have gotten a low rate mortgage in 2006, but now estimates say you need 700 to get a 3.4% rate.
 When is this going to change?
So far solutions have focused on keeping rates low, and attempting to incentivize lenders to offer them widely, via programs like HARP. But how can the regulators achieve their goal of helping homeowners, and by extension stabilizing the U.S. housing market and improving the economic climate?
President Obama has proposed to Congress that they pass a law to ensure homeowners are able to access today's low rates. He made that a part of his 2012 State of the Union, and tweeted about it again before Congress left for summer recess. But it remains to be seen how a federal law would be designed to sway the logical aim of the banks to preserve their profits and keep credit standards high. The federal arm of the mortgage market, government-sponsored enterprises like Freddie and Fannie, have been in conservatorship since the financial crisis, meaning they cost taxpayers billions per quarter to operate. Obama and others have spoken repeatedly about the need to shrink their footprint in the mortgage market, not radically expand it, which is what would happen if Congress were to direct them to help carry out a plan to force through low-rate refinances.
It remains to be seen how policymakers will turn the tide in the housing market. But the problems remain severe, and if Obama's proposal for a law requiring banks to offer low rates should be taken seriously, then extreme options are still on the table.
Expert recommendations:
Casey Cooper, CU Community Credit Union's mortgage loan officer, had this recommendation:
"Credit score is the key. The higher the credit score, the less risk to a lender. To keep their credit score up, the borrower needs to focus on a few things: make payments on time, do not add new debt if you are thinking about refinancing or buying a home, do not shop for new debt (for example, don't go look at new cars or furniture/keep creditors from running your credit), and limit shopping for a new mortgage lender. I encourage people to look for the best rate possible, but again, each time you shop, you risk the lender running your credit. Talk to your mortgage lender about the different types of programs. Certain programs may fit different borrowers better. FHA loans are more lenient in regards to blemished credit. Someone with a 660 score will get the same rate as someone with an 800 score when doing an FHA and this is not the case with conventional mortgages, but again, the FHA may not be the best program for someone with an 800 score."
Doug Leever, marketing manager of credit union Tropical Financial, reminded borrowers to weigh the pros and cons of today's changed mortgage climate:
"Credit standards have changed considerably since 2005. Minimum scores for many lenders have increased dramatically. Also the no doc, no verification type loans are also very hard to get from most lenders—in the past a self-employed borrower was not required to provide tax returns to verify income, and a W-2 wage earner was not required to show check stubs or W-2's to verify income. On the positive side, we are still in a very low rate environment currently, and many borrowers that did a refinance prior to 2005 can get a much lower rate today."
Todd Huettner, mortgage broker with Huettner Capital, says that not all lenders are equal:
"Chose a qualified lender. The best rate means nothing if you cannot close the loan. Many loan officers are simply sales people without the specific underwriting experience or knowledge required to close your loan. Before you waste time and money as rates go higher, make sure your lender is qualified. Also pre-underwrite your loan: new underwriting guidelines make this the most important step of the loan process. While many lenders still try to use the five-minute credit pre-qualification, the reality is much different. You must complete a full application and provide documentation to your lender for a complete review of your credit, income, and assets. Know exactly what documentation will be required for your loan, and have it ready."
Joe Parsons, Senior Loan Officer at PFS Funding, had this to say:
"While lenders do not require 'perfect' credit to get a mortgage (purchase or refi), the credit score will determine the cost of the money. Fannie Mae and Freddie Mac, who set the rules for most mortgages today, have imposed risk-based pricing. This means that a borrower's credit score for a particular loan-to-value ratio will determine how many points they must pay for a certain rate, or how much rebate they will receive. For a loan-to-value of 80%, for instance, a borrower with a credit score of 740 or higher will pay no points for a rate of 3.75% (one point is one percent of the loan amount). The same loan for a borrower who has a 679 score will pay 2.25% for the same rate—or take a rate of 4.125% with no discount points."
Mehran Aram, president of Aramco Mortgage, advises refinance-seeking borrowers to act fast:
"Apply for a refinance with a trusted local mortgage professional ASAP. Gather all your income, credit and asset related documents and be prepared to provide more documents, as lenders may ask for more in today's market. With fixed mortgage rates at all time lows, lenders are overwhelmed with loan volume and the process is slower because of that heavy volume. So the sooner you begin the process the better.
These rates will not stay this low. Better economic data, higher stock prices and some promising news out of Europe regarding a possible solution to their fiscal crisis have already pushed rates up by about .125 to .25%, depending on the loan program, over the past two weeks. If the election results in more pro-business policies and an economic rebound with Romney or Obama, there could be more upward pressure on mortgage rates, especially if we see any hint of inflation. I am watching the election very closely. What's good for America and for the overall economy is often bad for interest rates, which are at record lows because of all the bad news. As the economic news improves and the situation in Europe stabilizes, the window of opportunity for home buyers and home owners taking advantage of record low mortgage rates will begin to close as interest rates begin to rise."
Mortgage rates image via Shutterstock
How much house can you afford?
Determine how much house you can afford using our mortgage calculator.
Calculate Affordability
We want to hear from you and encourage a lively discussion among our users. Please help us keep our site clean and safe by following our
posting guidelines
, and avoid disclosing personal or sensitive information such as bank account or phone numbers. Any comments posted under NerdWallet's official account are not reviewed or endorsed by representatives of financial institutions affiliated with the reviewed products, unless explicitly stated otherwise.