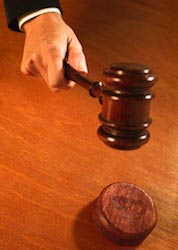 In a two-part series, NerdWallet Politics assesses whether the Department of Justice's antitrust investigation into debit card usage fees has merit. Part I focuses on the (sort of) innocent, while Part II finds the true culprit.
At the urging of Representative Peter Welch, the US Department of Justice is looking into whether major banks colluded in raising debit card fees. Allegedly, the banks worked in concert to levy debit card usage fees, in violation of antitrust laws, because the first bank to do so would drive a number of its customers to the ones that did not. I'm not so sure, but we'll get to that.
$5 debit card fee raises a red flag for Welch
What set off alarm bells for Welch and the others was Bank of America's $5 debit card fee. "We are concerned that BOA's announcement may be a reaction to, and participation in, price signaling or collusion," read a letter to the DoJ signed by Welch and four other congressmen, all Democrats. "We are concerned that communications between banks and bank associations that may amount to price signaling or collusion have occurred in the wake of Congressional action to reform debit card swipe fees."
In an answering letter to Representative Welch, assistant attorney general Ronald Weich said that "the Department of Justice is reviewing the statements and actions by banks and their trade associations…Please be assured that if it finds that individuals, banks or other parties may have violated the antitrust laws, the Department will take appropriate action."
Welch believes that the DoJ suit will deter banks from levying more fees on consumers. "While big banks like Bank of America beat a hasty retreat on their debit card fee strategies, I have no doubt that they will continue their quest to dig deeper into the pockets of struggling consumers," he said. "They should be aware that there is a cop actively on the beat."
The Department of Justice is investigating the wrong fee. Welch and the rest have a point: there are hints of anticompetitive pricing surrounding credit and debit cards. But the debit card fee is easily defended as a reaction to changing market conditions. The true collusion – if it exists – would occur in the interchange fees themselves.
 Common sense, not collusion, drove the fees
Welch and others allege that the major banks – the letter names BofA, Wells Fargo, the American Bankers' Association, and a few others – agreed to raise fees in a coordinated manner through public statements like these:
"Free checking is going to be gone. You can kiss that away. If you want a debit card, there are going to be (extra) fees."

- Independent Community Bankers Association President Jerry C. Walker, May 26th, 2011

"What do we do to offset the loss of revenue? Unfortunately, the consumer will pay."

- Wells Fargo CEO John G. Stumpf, May 26th, 2011

"Now, the industry must regroup and…decide how you [the banks] are going to pay for the use of debit cards.  It may be through a monthly fee; it may be by using a 'prepaid' card as opposed to a debit card; it may be that there is a way to not offer retailers instant credit for the transactions, limiting the amounts that can be charged, etc."

- Email from the Texas Bankers Association, June 8th, 2011
These all indicate that banks had plans to levy fees on debit card usage after the Durbin Amendment sharply reduced revenue from interchange fees. But collusion? Hardly. Here's why:
The Durbin Amendment would make debit cards less profitable, and in some cases, would cause banks to lose money on checking accounts.
Banks therefore have two choices: to steer people away from debit, or to make debit more profitable.
Fees can accomplish both: anyone who is willing to pay them does, and anyone who isn't leaves the bank.
It doesn't take a menacing oligarchy of financial institutions to draw those conclusions. In fact, our CEO Tim Chen predicted these effects as far back as May 2010. Bank execs and trade groups were simply repeating what everyone was saying, from a public platform.
No matter how you slice it, collusion wouldn't be profitable
Clearly, Bank of America misjudged the public relations backlash regarding its debit card fee. It's safe to say that Chase, Wells Fargo, Regions and the rest did as well, since they all rescinded their fees in the face of public outcry. But keep in mind that before BofA announced its debit card fee:
Chase and Wells Fargo were piloting debit card fees
Many banks did away with free checking
Chase ended its debit rewards program
The erosion of free checking long preceded the $5 debit card fee, and it will continue now that the fee has gone. But let's assume that Bank of America didn't know what it was getting into with the debit card fee. It didn't factor in the PR nightmare, but it did realize that some checking accounts were no longer profitable, and it wanted to either levy fees on them to break even or have them leave altogether. So let's take the media backlash out of the equation, and just look at the profitability of debit cards.
If Bank of America is the first mover on debit card fees, a likely scenario would be that most of its customers leave rather than pay the fee. This is not a bad scenario for BofA. Think about it: how much does it really cost BofA when a customer uses his debit card? The Fed thinks that the newly capped interchange fee is more than enough; debit fraud losses amount to $0.001 per PIN transaction and $0.016 per signature transaction. A consumer would have to use his debit card to make 5,000 PIN transactions a month for the $5 charge to be justified. BofA isn't worried about people using their debit cards. That's just a vehicle for adding a fee. This isn't about recouping costs, it's about shedding what the banks consider dead weight.
This bears repeating: major banks don't want the customers affected by the debit card fee. So why would collusion help at all? In fact, banks should be rushing to be the first ones to charge the fee. That way, all the affected customers would skedaddle over to other banks and become their problem.
Welch isn't entirely wrong…
Welch and the DoJ's accusation that banks colluded in setting the $5 fee – or coordinated in any response to the Durbin Amendment – doesn't quite hold water. Everything the banks did was economically sensible (if perhaps less than decent), and experts, industry leaders and academics all predicted their responses long before the amendment's implementation. The government can't regulate every fee, and they'll create a labyrinth of regulations if they try.
What they can do – and what Welch got right – is to provide transparency and choice to consumers. The real monopoly isn't so much with banks as it is with the credit card networks, Visa and MasterCard (and Discover and American Express, to a lesser extent). The big two basically have a duopoly over credit and debit cards, so they can set the terms of their acceptance. And since that cost is borne by retailers instead of consumers, consumers don't have an incentive to drive the cost down.
Welch calls attention to an important issue: the credit and debit card market has some serious built-in inefficiencies. But instead of focusing on a tenuous claim of collusion, he should take his anti-trust allegations to the card networks.