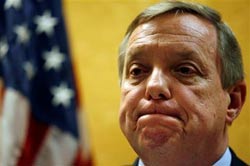 The Durbin Amendment had a lot of promise: it would break the Visa-MasterCard processing duopoly, lower prices for consumers and help small businesses struggling in a tough economic climate. In theory.
In practice, however, interchange regulation has had an immediate, visible, adverse effect on businesses and consumers alike – and, unfortunately, that effect has been concentrated on those least able to bear it. Ironically, those the Durbin Amendment was meant to help are actually suffering because of it.
The intended winners
Interchange regulation had the best of intentions. Small retailers, who lack the bargaining power of, say, Safeway or Walmart, often named interchange as their largest expense after labor. This of course translates into higher prices for consumers, and while the wealthier ones recouped some of those losses and more in the form of credit and debit card rewards, lower-income customers saw unmitigated higher prices. And, of course, retailers would love to see their costs go lower. The Durbin Amendment would help consumers and retailers, but in particular, it would provide a boost to small businesses and those of modest means.
The Durbin Amendment would also help credit unions. Interchange regulation exempted financial institutions with assets under $10 billion, a designation covering all but three of over 7,000 credit unions. These not-for-profit institutions are generally seen as more consumer-friendly than banks, and enjoy tax-exempt status in return for fulfilling a community's lending and banking needs that a for-profit company wouldn't. Retailers, consumers and credit unions, then, are the Durbin Amendment's "winners."
In reality, retailers saw swipe fees spike…
"Those who lobbied for government-controlled prices are waking up," says Professor Todd Zywicki of George Mason University. "Big-box retailers like Walmart and Home Depot might have seen a gain, but everyone else saw their prices rise."
In response to the Durbin Amendment, Visa and MasterCard raised their debit card swipe fees for smaller merchants as much as 200%. Many coffeeshop owners and other retailers who deal in small-ticket transactions, were dismayed to see their costs actually rise after the amendment's implementation. The most visible example is Redbox: because of higher interchange fees, it raised its prices by a full 20%. "What the Durbin Amendment hoped would be a ceiling has become a floor," says Zywicki. "It's not unexpected. Banks have to make up for $6 billion in lost revenue somehow."
And it's not just that some retailers pay higher debit swipe fees. Even before Durbin, credit cards incurred higher swipe fees than debit. Now that the latter is regulated while the former is not, banks have an even greater incentive to push their customers towards credit. Citibank, for example, engaged in an all-out credit card marketing blitz in an attempt to lure dissatisfied debit customers. And in a September bank statement insert, Chase asked "Debit or Credit?" and went on to explain that credit is a "great choice for making all your purchases big and small."
"In the long-term, putting price controls on debit and not credit is unsustainable," says Zywicki. If banks succeed in shifting customers from debit to credit (and it looks like they are), retailers will see even higher interchange costs, above and beyond pricing structure changes. But if we see credit card interchange regulation, we as consumers are likely to see higher fees across the board.
…credit unions might well be hurt…
The impact on credit unions has yet to be seen, for two reasons: the Bank Transfer Day movement could be either a benefit or a detriment, and certain provisions of Durbin won't take effect until 2012. On its surface, credit unions are clear victors. According to Zywicki, "the effect of the Durbin Amendment was to pick winners, and that's what it did."
Credit unions benefit from a provision of Durbin that exempts institutions with less than $10 billion in assets from regulation. As a result, they can still make money off of checking accounts, and don't need to charge checking or debit card fees like larger banks do. But there's no telling whether the exemption will hold up under competitive pressure. The cap on swipe fees got most of the attention, but what has credit unions worried is the network exclusivity provision: all debit cards must have the ability to be routed on at least two networks beginning in April 2012.
This means that while Visa, for example, has agreed to honor the interchange cap exemption, a scrappy payment processing startup might well not. In 2012, credit unions can no longer cleave to Visa's protection. "In the long run, most economists agree that this two-tier pricing system won't work," says Zywicki.
But what about Bank Transfer Day? Hundreds of thousands of consumers moving their deposit accounts to credit unions can only be a win, right?
Not so fast: deposits without loans can actually hurt an institution. The Chases and Wells Fargoes of the country were thrilled to shed low-balance customers who didn't take out loans with the banks. And while many consumers transferred their checking accounts, few took out loans with credit unions. Credit unions are then locked into paying interest on deposit accounts, or at least footing the bill to maintain them, but can't lend to make them profitable. And if the $10 billion exemption fails, credit unions, like banks, will find themselves losing money on deposit accounts.
"The mainstream media committed malpractice," says Zywicki. "Nobody realized this, but Bank Transfer Day came about because of the exemption. Credit unions couldn't handle checking account customers otherwise." Now, we're big fans of credit unions and tend to think that they're pretty consumer-friendly. But it's hard to argue with numbers: credit unions aren't charities, and taking losses on their checking account customers would threaten their stability. That's probably why NCUA president Fred Becker spoke out sharply against Durbin, even though credit unions are nominally exempt: "Regrettably, it is Main Street and consumers that will pay the price for this Draconian rule."
…and low-income consumers got screwed
The real losers are the ones that Durbin most intended to help: consumers, especially those who suffered most from high prices. Overnight, checking accounts with low balances and customers who didn't take out loans became unprofitable. Banks did what they could to lose them: "Free checking requirements rose substantially, and a la carte costs – for check cashing, replacement debit cards and so on – shot up," according to Zywicki. Higher-income customers were generally able to avoid these fees, either by meeting minimum balance requirements in the checking account itself or by having credit cards, mortgages or retirement accounts with the bank. It's those of modest means who paid more for their money or were forced out of the banking system altogether.
Which brings us to the winners in the interchange fee battle: alternative financial services providers like Walmart, Western Union and Green Dot. Banks (and credit unions) face the cost of holding customers' money, but Walmart, et al can charge for a la carte services like check cashing and money orders without keeping a single deposit. Unfortunately, these services are often a poor deal for consumers: though the fees are generally well-disclosed and upfront, avoiding the financial system is more costly than remaining within it. For example, the popular prepaid Walmart MoneyCard can easily cost more than $10 a month, while its check cashing services run at $3 per, adding up to well over Bank of America's MyAccess checking account. We've written extensively on the disadvantages of being unbanked; we fear that higher checking fees will swell the ranks of Americans outside the financial system. In trying to pick favorites, the Durbin Amendment may have only exacerbated their misfortunes.