Tommy Hilfiger Black Friday Ad Scan 2012
NerdWallet posts all of the Black Friday sales 2012 with full analyses of what's worth spending on and what's worth skipping. Find you favorite store's ad at our Black Friday page and follow to find great deals.
Tommy Hilfiger's Black Friday ad scan is simple and full of solid savings. Take 40% off everything in-store all day and net yourself another 15% off all purchases when you present your in-ad coupon. Your in-ad coupon will also get you 20% off buys of $150 or more all day and 25% off purchases of $200 or more before 10am.
The ad certainly isn't a deviation from anything that the retailer has come up with in the past – Tommy Hilfiger offered the 40% off entire store Black Friday deal in 2011, 2010, 2009 and 2008 as well – but where the retailer loses points for creativity it scores for simplicity. Consumers will appreciate the ability to shop around the store without having to check in on every single item price.
Of course, without an item-by-item sale there's no need to rush the store for doorbusters. Depending on location, items could still go fast, and if you're planning on any big purchases you should try and get in before 10am to take advantage of the extra 25% off purchases of $200 or more before 10am.
Here's the actual Tommy Hilfiger Black Friday ad (click to view larger):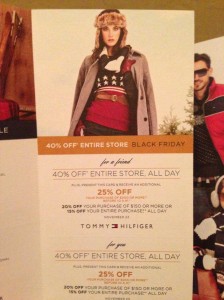 If you're browsing the Tommy Hilfiger online site before Black Friday, however, and find a piece you really need to have before the big day, make sure to stop by our Tommy Hilfiger coupons page to find everyday savings.