Female Executives Earn 13% More than Men, but may still be Underpaid
NerdWallet examined the total compensation of chief executives at 500 of the largest companies in America and found that median compensation for female CEOs exceeded median compensation for male CEOs by 13% in the most recent fiscal year. The nineteen female CEOs of S&P500 companies earned median compensation of $11.1 million while the 481 male CEOs earned $9.8 million median compensation.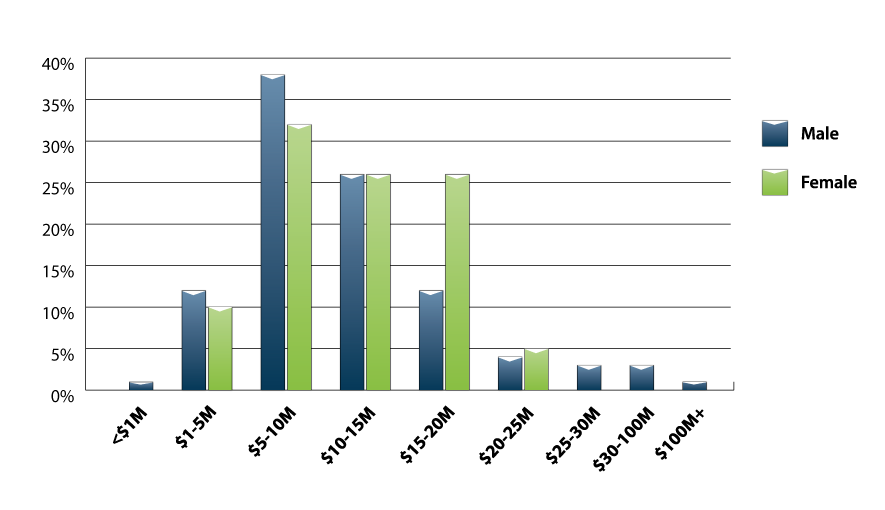 Median versus Average Pay
Median compensation is a more accurate indicator of the pay of a "typical" CEO than average compensation because extreme outliers can skew averages and create misleading results. The average compensation for CEO men, $12.9 million, exceeded the average compensation for CEO women, $11.7 million. However, this does not indicate that a typical male CEO earned more than a typical female. Two extreme male outliers, whose earnings were each more than ten times the median earnings, brought up the average compensation for men by over a million dollars. Tim Cook, the new CEO of Apple, took home $378 million in total compensation, almost exclusively in stock. David Simon, Chairman & CEO of Simon Property Group, earned $137 million.
Extreme Male Outliers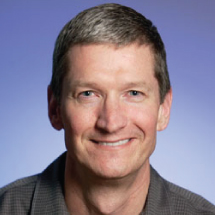 Tim Cook
$378 million
Larry Page
$1
On the other extreme, three male CEOs with ties to their companies' founding chose to take essentially no compensation due to their large existing equity holdings. Larry Page, co-founder of Google, took only $1, as did Richard Kinder, co-founder of Kinder Morgan. Kosta Kartsotis, the brother of Fossil's founder, declined all compensation for his role as CEO and Director of the company.
Results
If these extreme positive and negative outliers who earn under $1 million or over $30 million (less than 5% of the sample) are excluded, average female CEO compensation exceeds male compensation by 7%. Thus, for "typical" CEOs, women are paid more than men.
All S&P500 CEO's
Sample Size = 500
Median
Average
Female
$11.1 million
$11.7 million
Male
$9.8 million
$12.9 million
Female vs Male
+13%
-9%
Excluding Extreme Outliers
Sample Size = 477
Median
Average
Female
$11.1 million
$11.7 million
Male
$9.7 million
$10.9 million
Female vs Male
+14%
+7%
Sometimes, however, the highest paid person at a company is not the CEO. For example, Facebook paid Chief Operating Officer Sheryl Sandberg $31.0 million, but paid CEO Mark Zuckerberg only $1.7 million. Similarly, Sempra Energy paid Executive Chairman Donald Felsinger $11.8 million, but paid CEO Debra Reed only $8.2 million. Nevertheless, ignoring titles and examining only the top paid executives yields very similar results to the study of CEOs. When looking at the top paid executives of each of the S&P500 companies, the median female earns 10% more than the median male, but the average male earns 9% more than the average female. Again, extreme male outliers cause this discrepancy.
NerdWallet also found that female CEO pay was more tightly clustered around the median than was male pay. Even after excluding extreme outliers, male pay still had a standard deviation of $8.4 million versus a standard deviation for female pay of only $5.0 million.
Conclusions
It would impossible to know exactly why women's compensation is greater than men's at the typical CEO level without understanding each CEO's background and value to his or her company. Nevertheless, the distribution of earnings and people involved suggest that the explanation is related to the low level of female participation at the executive level. Just as the male CEO set contains superstars with household names, like Larry Ellison ($77.6 million) and Les Moonves ($69.9 million), the female CEO set similarly contains familiar names like Meg Whitman ($16.5 million), Indra Nooyi ($17.1 million), and Carol Bartz ($16.4 million). Yet the male superstars' compensation far outshines that of similar women. With women representing almost half of graduates of top business schools, but holding only four percent of the S&P500 CEO positions, only the most impressive businesswomen make it to the boardroom. The more average female executives, who would occupy a share of the CEO positions in a gender-neutral world, end up in other roles for a variety of reasons, truncating the distribution of female CEO pay and skewing averages and medians upward. If this is the case, the argument could be made that CEO women are actually the right tail of the distribution and are therefore underpaid relative to their right tail male peers.
The data provides some support for this thesis. For companies with positive earnings, female CEOs were compensated an average of $13,005 for every million of pre-tax income their company earned last year. Male CEOs whose companies had positive earnings took home an average of $15,935 per million earned, 23% more than the women.
2011 Compensation of S&P500 Female CEOs
Name
Company
Total Compensation
Salary & Bonus
Stock & Options
Other*
Irene Rosenfield
Kraft
$21,944,694
$1,540,712
$9,688,181
$10,715,801
Debra Cafaro
Ventas
$18,498,831
$915,000
$14,525,000
$3,058,831
Indra Nooyi
Pepsico
$17,116,089
$1,584,615
$9,481,359
$6,050,115
Meg Whitman
HP
$16,518,930
$1
$16,146,331
$372,598
Carol Bartz
Yahoo
$16,369,535
$735,025
$12,015,587
$3,618,923
Ellen Kullman
DuPont
$15,926,631
$1,332,500
$7,991,927
$6,602,204
Angela Braly
WellPoint
$13,258,142
$1,144,000
$10,000,522
$2,113,620
Ursula Burns
Xerox
$12,902,607
$1,100,000
$7,500,106
$4,302,501
Carol Meyrowitz
TJX
$11,087,649
$1,320,000
$708,954
$9,058,695
Patricia Woertz
Archer Daniels Midland
$11,079,862
$1,300,000
$7,082,979
$2,696,883
Andrea Jung
Avon
$10,118,019
$1,375,000
$4,811,998
$3,931,021
Grethen McClain
Xylem
$8,783,980
$652,692
$7,101,641
$1,029,647
Patti Hart
Inti Game Technology
$8,533,562
$800,000
$6,486,647
$1,246,915
Lynn Elsenhans
Sunoco
$8,217,113
$1,277,200
$6,337,754
$602,159
Debra Reed
Sempra Energy
$8,179,678
$811,907
$3,715,138
$3,652,633
Mary Agnes Wilderotter
Frontier Communications
$6,720,863
$1,000,000
$4,517,291
$1,203,572
Sara Mathew
Dun & Bradstreet
$6,666,922
$800,000
$2,987,946
$2,878,976
Beth E. Mooney
KeyCorp
$4,955,665
$1,265,339
$2,608,671
$1,081,655
Gracia Martore
Gannet Co
$4,693,809
$2,048,077
$1,444,400
$1,201,332
*Other: Change in pension value, non-equity incentive plan, nonqualified deferred compensation, and unclassified Source: 2011 SEC Proxy Statement filings
Methodology
The study collected data on all companies included in the S&P500 index using official company Proxy documents filed with the Securities & Exchange Commission for the most recent fiscal year. Total compensation includes salary, bonus, stock, options, pensions, and any other compensation. In cases of multiple or interim CEOs, the most recent official chief executive was used.