12 Best Online Banks of 2021
NerdWallet's picks include banks, nonbanks and one credit union with strong overall ratings and mobile features.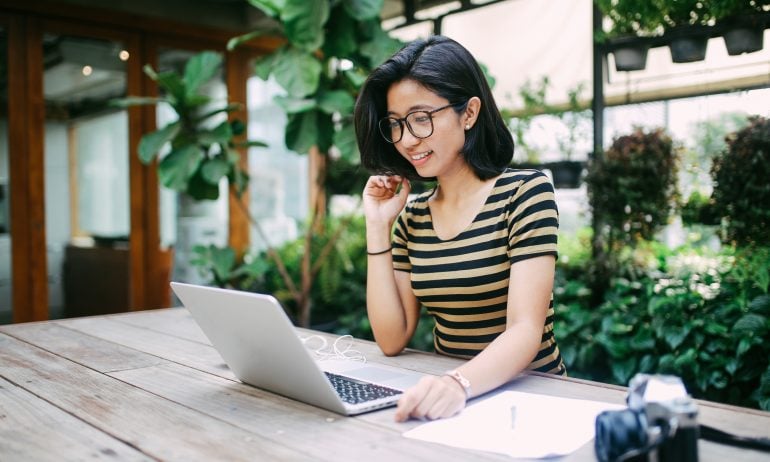 Many or all of the products featured here are from our partners who compensate us. This may influence which products we write about and where and how the product appears on a page. However, this does not influence our evaluations. Our opinions are our own. Here is a list of our partners and here's how we make money.
Online banks and banking service providers offer desktop and mobile banking services without physical branches. Because online institutions don't have to pay for the cost of maintaining branches, they're often able to pass the savings on to their customers in the form of higher interest rates. Online banks require customers to be comfortable with technology, but they also tend to provide robust customer service options to help users resolve any issues.
NerdWallet's picks include online banks, nonbanks and credit unions. Some of these financial institutions are not themselves chartered banks, as noted in their descriptions.
Why trust NerdWallet: Our writers and editors follow strict to make sure our coverage is fair and accurate, so you can choose the financial accounts that work best for you. Learn more about our criteria for .
Chime gives customers free access to more than 60,000 ATMs, but for out-of-network ATMs, it charges $2.50 per transaction. Chime customers must visit a Green Dot location in order to deposit cash, and they may be charged a fee to do so. Chime also allows customers to receive their pay up to two days early via direct deposit (see below for more information from Chime). Chime's mobile app ratings from customers are high in Apple's App Store and the Google Play store.
Chime is not a chartered bank; Chime works with Federal Deposit Insurance Corp.-insured banks behind the scenes so that customer funds can be insured. See below for more information from Chime.
LendingClub's checking account has cash-back rewards and earns a bit of interest, and customers can access thousands of ATMs in the MoneyPass and SUM networks. Radius also has no cap on ATM fee refunds for customers who use ATMs that are out of network.
LendingClub's savings account earns an interest rate of APY, and its CD rates are competitive. Its app has good reviews in both the Apple App Store and the Google Play store.
Discover's savings account earns a APY, and rates for its certificates of deposit are competitive. Discover's Cashback Debit account offers 1% cash back per month on up to $3,000 in debit card purchases.
Discover also offers more than 60,000 fee-free ATMs, and Discover's mobile banking apps have high ratings from customers.
Alliant offers a APY on its High-Rate Savings account, a rate much higher than the average APY offered on savings accounts at traditional banks. Alliant also offers a High-Rate Checking account with a APY, and share certificates (the credit union equivalent of certificates of deposit) with above-average rates.
If you don't qualify for Alliant membership based on Alliant's general requirements, you can do so by becoming a member of the charity Foster Care to Success; Alliant will pay the $5 membership fee on your behalf.
Varo offers a checking and savings account, but it doesn't offer certificates of deposit. Its savings account comes with a baseline annual percentage yield, but that interest rate becomes if customers meet some monthly requirements: receive $1,000 or more in direct deposit, have a monthly savings balance below $5,000 and have a checking and savings balance of more than $0.
There are limits and fees for cash deposits, and the only way a Varo customer can deposit cash is by going to a third-party retailer that participates in the Green Dot network, like 7-Eleven, CVS and Walgreens.
To withdraw cash, customers can use an ATM in the Allpoint network for free; use of non-Allpoint ATMs carries a $2.50 fee from Varo in addition to any fees that the ATM owner may charge.
Banking service provider Nationwide's deposit accounts are serviced by Axos Bank and are therefore covered by FDIC insurance. Its Advantage Checking account earns an interest rate of APY if you either set up direct deposits of $1,000 or more per month or make at least 10 transactions of $3 or more. If you meet both requirements, you can earn up to on your checking account.
Nationwide's My Savings account earns up to a APY, but its certificates of deposit have rates that are lower than what you'd find at other financial institutions. Its apps have high ratings from customers, and its customer phone support is available 24/7 except for Thanksgiving and Christmas.
TAB Bank's Cash Back Checking account allows customers to earn 1% on monthly purchases with no cap on earnings, and the bank refunds up to $15 monthly in ATM fees. To qualify for these benefits, customers must make at least 15 transactions per month with a minimum of $5 per transaction, and there must be at least one direct deposit, bill pay transaction or fund transfer monthly.
TAB Bank's High-Yield Savings earns a APY, and its certificates of deposit also have solid, competitive rates. The bank has a highly rated mobile app that allows customers to manage their account and has standard features like mobile check deposit.
Ally Bank's savings account offers a APY, its checking account earns APY for balances under $15,000, and it earns for balances of $15,000 or more. Its certificates of deposit have competitive rates as well. Ally doesn't allow customers to deposit cash; accounts must be funded by transfers from an external account, depositing a check via mobile or mail, or using a wire transfer.
Ally's phone support is available 24/7, and its website has a chat feature to help customers.
Marcus by Goldman Sachs offers a on its Online Savings Account and has strong rates for certificates of deposit. Marcus doesn't yet offer a checking account, however, and there's no ATM network for depositing or withdrawing cash; money can be moved in and out via direct deposit or transfer with another institution.
Marcus' mobile app is highly rated in both Apple's App Store and the Google Play store.
UFB Direct doesn't have a checking account or certificates of deposit, but it has a high-yield savings account and money market account that both offer up to a APY. Customers can write checks with the money market account.
Of note: You must have a balance of at least $10,000 in the savings account and at least $25,000 in the money market account to earn the highest APY, and the money market account charges a monthly fee if your balance falls below $5,000.
Synchrony doesn't offer a checking account, but it offers a competitive savings account and certificates of deposit. Synchrony's high-yield online savings account comes with a APY, which is much higher than the APY offered by most brick-and-mortar banks.
Customer service is available via Twitter, live chat and phone. Synchrony's mobile app accepts mobile check deposit, and the app performs well according to user reviews on Apple's App Store and Google Play.
GoBank, a banking services provider backed by Green Dot Bank, doesn't have a savings account or certificates of deposit, but it has a checking account with a large ATM network. GoBank's early direct deposit service can get customers their paychecks two days in advance. A monthly fee can be avoided with direct deposits of at least $500 per month.
A notable feature at GoBank is that it doesn't implement a credit check or use ChexSystems, the consumer reporting agency that tracks account misuse. That means if you have a blemished banking record, GoBank may be able to help you get back on track. GoBank's customer service is available by phone and online chat, and its app has received high ratings from users on iOS and Android.
To determine the best online banks, we took a close look at a pool of financial institutions that offer primarily digital banking services. We rated them on criteria including interest rates, fees, ease of online use, mobile app ratings and more.
Institutions surveyed include Alliant Credit Union, Ally Bank, American Express National Bank, Bank5 Connect, Barclays, Chime, CIBC U.S., Citizens Access, Comenity Bank, Discover Bank, FNBO Direct, GoBank, Goldman Sachs Bank USA, Live Oak Bank, M&T Bank, Nationwide Bank, One Finance, Popular Direct, PurePoint Financial, Radius, Salem Five Direct, Sallie Mae Bank, Synchrony Bank, TAB Bank, UFB Direct, Varo and Vio Bank.