Cash App Money Transfer: What It Is, How to Use It
Learning how to use Cash App is straightforward, and using it can make sending payments quick and convenient.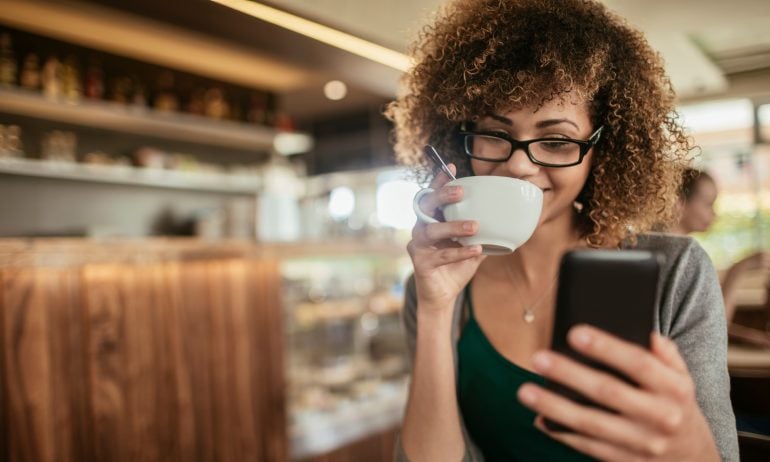 Many or all of the products featured here are from our partners who compensate us. This influences which products we write about and where and how the product appears on a page. However, this does not influence our evaluations. Our opinions are our own. Here is a list of our partners and here's how we make money.
Discover the bank accounts that fit your financial goals
Just answer a few questions to compare bank accounts that meet your needs.
The investing information provided on this page is for educational purposes only. NerdWallet, Inc. does not offer advisory or brokerage services, nor does it recommend or advise investors to buy or sell particular stocks, securities or other investments.
As more people embrace the convenience of cashlessness and contactless payment, tech companies have made it easier to send and receive money instantaneously from a smartphone. Cash App, one of these services, offers some unique functions compared with other money transfer options, such as investing in stocks, getting special savings with certain merchants and restaurants and buying and selling bitcoin.
Read on to learn more about Cash App and its features, benefits and possible drawbacks.
Cash App is a peer-to-peer money transfer service from Block Inc. that allows users to send and receive money. This service can help you send your share of utilities to your roommates, pay friends back for coffee, split the cost of a trip or any other money-sending task you want to accomplish with other Cash App users. Cash App also functions similarly to a bank account, giving users a debit card — called a "Cash Card" — that allows them to make purchases using the funds in their Cash App account. The app also allows users to invest their money in stocks and buy and sell bitcoin.
How to add money to Cash App
To use Cash App to send payments, you need a bank account, debit card, credit card or prepaid card. You load money on Cash App by tapping the Money tab in the app's home screen, tapping "Add Cash" and inputting how much cash you'd like to add from your linked account. You'll then need to confirm the transaction by entering your PIN for the app or by using Touch ID.
How to send money with Cash App
First, you'll need to have an external funding source (typically a bank account or debit card, but you can also use a credit card or prepaid card) so that you can fund your Cash App account as well as have a place where Cash App funds you withdraw will go. Then you'll download Cash App on your smartphone. The app will walk you through enrollment, where you'll create a user account and link your bank account or other funding source.
You'll be able to use your linked bank account, debit card or other funding source to send money to other Cash App users as well as to transfer money from your Cash App account into your bank account. This is similar to services like Venmo and PayPal, which also allow you to link a bank account to send money; you can also hold any received funds in the app until you're ready to withdraw them.
Open the Cash App mobile app.

Enter the amount you want to send.

Enter the email address, phone number or "$Cashtag" (another person's username in the app).

Enter what you are sending the payment for.
How to receive or deposit money with Cash App
To view the details of a received payment, tap the "Activity" button. You'll also see the total amount of your Cash App balance at the bottom left of the app home screen.
You can also fill out a form to get your paycheck directly deposited into your Cash App account and deposit physical cash into your account at participating retailers for a fee.
There are no fees on basic services. Cash App doesn't charge monthly fees, fees to send or receive money (unless you're sending from a credit card), inactivity fees or foreign transaction fees.
Cash App comes with an optional free debit card. The "Cash Card" allows users to make transactions and withdraw the money that they have in their Cash App account. The card is issued by Sutton Bank and is unique to a user's Cash App account. It isn't connected to a personal bank account or another debit card.
You'll get free ATM withdrawals if you set up direct deposit. Otherwise the fee is $2.50 to use an ATM with a Cash Card.
Cash App offers help you save money when using the debit card. Users who have the Cash Card can choose offers in their account that allow them to save money on a purchase with a particular vendor (for example, a certain amount off your total bill at a restaurant). Only one offer is allowed to be active at a time, but you can swap offers as often as you want.
You receive a cash bonus for friends who join using your referral code. If you send a referral code to your friends and they sign up for Cash App using your link, then you receive a cash bonus per friend who signs up.
Cash App offers the ability to invest. Cash App allows users to buy stock in specific companies with as little or as much money as they want to invest. Stocks can be purchased with the funds in your Cash App account; if you don't have enough funds in the app, then the remaining amount will be taken from your linked bank account.
Cash App is Bitcoin compatible (but with fees). Cash App users can buy and sell bitcoin, but Cash App might charge a fee, which you'll see before you complete the transaction. Depending on how quickly you choose to receive deposits of Bitcoin you withdraw, you may be charged a fee for withdrawals, too.
Things to consider about Cash App
Your funds aren't FDIC-insured unless you have a Cash Card or a sponsored account. (See below for more details on sponsored accounts.) Cash App's functionality may walk and talk a bit like a bank, but there is a clear distinction between the app and a bona fide, bank-chartered financial institution.
Having FDIC insurance means that if your bank were to suddenly go under, your funds would be federally insured, usually up to $250,000. Your Cash App funds have FDIC insurance only if you also have a Cash Card or if you have a sponsored account. (For example, Cash App users ages 13 to 17 must have an adult sponsor their account in order to use some features. The sponsor's account and the teen's account are both FDIC-insured).
Customers' funds in Cash App are never transferred or held with Sutton Bank and therefore don't receive FDIC insurance. So if you don't have a Cash Card or a sponsored account, it's safer to transfer your Cash App balance to your FDIC-insured bank account.
Using a credit card is not free. Cash App charges 3% of the transaction to send money via linked credit card. This is a fairly standard fee compared with other money transfer apps; Venmo, for example, also charges 3% to send money with a linked credit card. To avoid this fee altogether, use your linked bank account or the funds in your Cash App account to send money.
There are spending limits on the Cash Card. The maximum that can be spent on your Cash Card is $7,000 per transaction and per day and $10,000 per week. The maximum that can be spent per month is $25,000.
There are withdrawal limits on the Cash Card. The maximum amount that can be withdrawn at an ATM or store register cash-back transaction is $1,000 per transaction, $1,000 per day, and $1,000 per week.
Instant deposits of Cash App funds to your bank account cost a fee. You'll pay 0.50% to 1.75% to have your funds transferred immediately. There's no fee to deposit your Cash App funds to your linked account with a standard transfer, which takes one to three business days.
Frequently asked questions about Cash App
Here are answers to some common questions about using Cash App.
Cash App is a mobile application, so in order to use it you'll first need to download the app to your mobile phone. Then you'll need to create a Cash App account, which requires linking to your bank account or another external funding source. To pay someone or request a payment through Cash App, you must enter the other person's $Cashtag, email address or phone number after you tap "Pay" or "Request."
Cash App is safe to use to send and receive money to and from people you know. Information you send on the app is encrypted, and the app uses fraud detection technology.
You can help keep your Cash App use safe by following best practices, including only using it to send and receive money to friends and family. Other precautions you can take include turning on the security feature that requires your passcode, fingerprint or face recognition to make a Cash App payment, and enabling email or text notifications so you're alerted of every Cash payment.
Do you need a bank account to use Cash App?
No, you don't need to have a bank account to use Cash App. The app also lets you link a debit, credit or prepaid card.
Get more smart money moves – straight to your inbox
Sign up and we'll send you Nerdy articles about the money topics that matter most to you along with other ways to help you get more from your money.