Do You Have a Championship Savings Account?
Championship savings accounts earn high rates, have low or no fees and maybe even offer a sign-up bonus.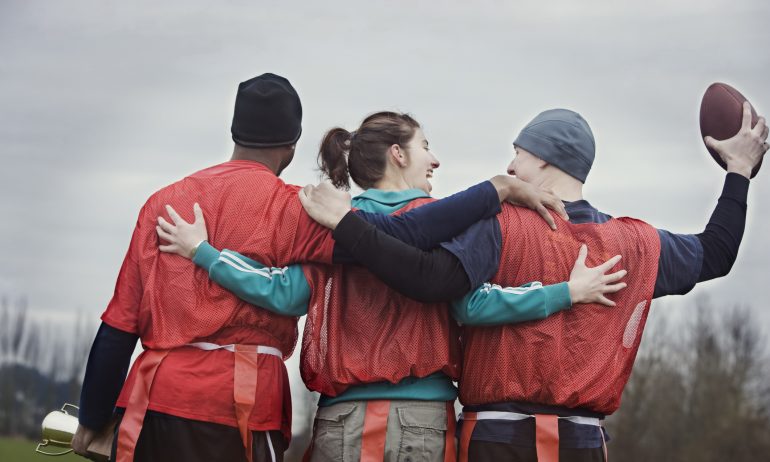 Many or all of the products featured here are from our partners who compensate us. This influences which products we write about and where and how the product appears on a page. However, this does not influence our evaluations. Our opinions are our own. Here is a list of our partners and here's how we make money.
It's Super Bowl time, and you deserve a win. Not the kind that comes with a ring, but one that gives you a higher savings account balance: an MVP, championship savings account.
Saving your hard-earned money isn't just a game. The stakes are higher because your savings can help you reach your financial goals and rescue you from a financial emergency without putting you into debt. A great, high-interest account helps you win at saving. Here's how to score a winning account.
Find the contenders with the best stats
You want a savings account that earns an above-average yield. The national average savings rate was 0.33% as of Jan. 17, 2023, according to the Federal Deposit Insurance Corp., or FDIC. But your stats could be better. Today, some of the best savings accounts earn around a 4% annual percentage yield, or APY.
Online savings accounts, for example, tend to offer strong rates because they don't have the overhead expenses that traditional brick-and-mortar banks have. Banks and credit unions that offer online accounts are in a better position to pass the savings on to customers.
If you put $5,000 into a savings account that earns a 4% APY and leave it untouched for a year, that account will have $5,203.71 by this time next year, a bump of more than $200.
That's much better than if it was in an account that earned 0.01%, which is what some of the biggest banks offer for savings accounts. Team up with one of those underperformers and you'd earn just 50 cents after a year. You can calculate your potential earnings with NerdWallet's savings calculator.
Scramble out of fee pressure
It can seem like some institutions will pile on the fees with their savings accounts, including monthly maintenance charges and excessive withdrawal fees. These fees are like penalties that will stop your progress. Even the best savings rates can't overcome deficits caused by high fees, so it's important to try to avoid them in the first place.
Consider switching to a fee-free high-yield savings account with no monthly surcharges. Once you get away from the pressure of high fees, you can watch your savings grow.
SoFi Checking and Savings

APY
4.60%SoFi members with Direct Deposit or $5,000 or more in Qualifying Deposits during the 30-Day Evaluation Period can earn 4.60% annual percentage yield (APY) on savings balances (including Vaults) and 0.50% APY on checking balances. There is no minimum Direct Deposit amount required to qualify for the stated interest rate. Members without either Direct Deposit or Qualifying Deposits, during the 30-Day Evaluation Period will earn 1.20% APY on savings balances (including Vaults) and 0.50% APY on checking balances. Interest rates are variable and subject to change at any time. These rates are current as of 10/24/2023. There is no minimum balance requirement. Additional information can be found at http://www.sofi.com/legal/banking-rate-sheet.
Review your protection plan
Money in your savings account should be federally insured. If a financial institution fails, you want your money to be protected. Banks are federally insured by the FDIC, credit unions are federally insured by the National Credit Union Administration, or NCUA, and nonbank financial institutions need to partner with an insured bank to cover your money.
According to the Office of the Comptroller of the Currency, the federal bureau that supervises banks, "FDIC deposit insurance covers all deposit accounts at insured banks up to the insurance limit, currently $250,000 per depositor, per bank, per ownership category." (An ownership category describes the legal type of account, including "single" for being owned by one person or "joint" for two or more people.) The NCUA has similar rules for insuring accounts at credit unions.
You'll want to double-check with your savings institution to make sure your funds are covered. It's a basic feature, but it should also be a nonnegotiable one.
Make it easy to run up the score
You want to build an emergency savings fund so you can be better positioned to recover from unexpected setbacks, such as temporary job loss. Ideally, your championship savings account should have enough to cover three to six months of living expenses.
If you don't have that amount, you can jump-start your savings by setting up regular automatic savings transfers. That way, you'll score consistent balance increases over time. Say you receive a paycheck twice a month. If you set up an electronic transfer of $50 into savings each payday, you'll have $1,200 saved up by this time next year, plus the interest that money earned.
Relatedly, you can score extra savings points with sign-up bonuses. Some institutions offer $100 or more to new customers who meet certain balance and activity requirements. It might not make or break your savings plan, but it's a nice extra.
Having a championship savings account can be just as rewarding as cheering for a winning sports team. Saving money isn't a game, but it can still make you a winner.
APY
4.60%
With $0 min. balance for APY
Bonus
$300
Earn up to $300 with direct deposit. Terms apply.
Get more smart money moves – straight to your inbox
Sign up and we'll send you Nerdy articles about the money topics that matter most to you along with other ways to help you get more from your money.