How to Get Money to Family and Friends in a Crisis
Fast ways to send money include Zelle, e-gift cards, wire transfers and more. Know what works for your recipient.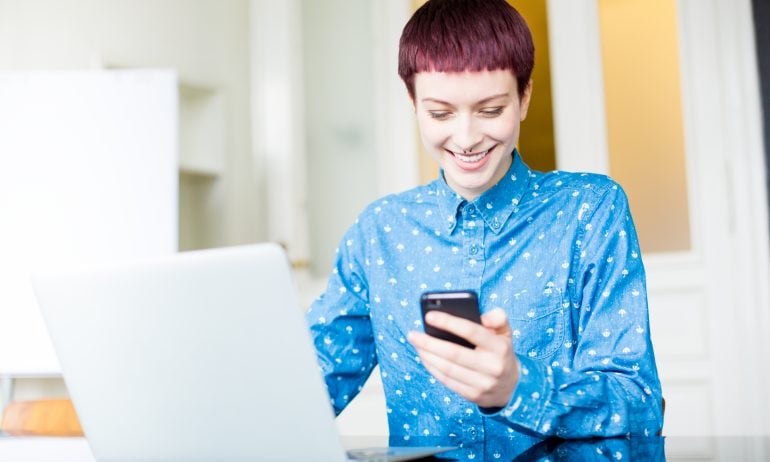 Many or all of the products featured here are from our partners who compensate us. This influences which products we write about and where and how the product appears on a page. However, this does not influence our evaluations. Our opinions are our own. Here is a list of our partners and here's how we make money.
Discover the bank accounts that fit your financial goals
Just answer a few questions to compare bank accounts that meet your needs.
Getting money to loved ones might be a priority right now, especially for those who are sick, unemployed or unable to venture away from home. You also want to keep yourself and the recipient safe.
Bearing in mind that social distancing guidelines in the coronavirus pandemic recommend maintaining 6 feet from others, you have other options than personally handing over cash, some as fast as a few seconds. Here's what to know.
Consider the recipient's needs
To choose which method of sending money works best, consider:
What will the money be used for? You don't need a list, just a general idea. Does your loved one need a one-time sum for something specific, like groceries, or will they need recurring transfers to help pay bills?

Does your loved one have a bank account? Some transfer options require both parties to have a traditional checking or savings account at a bank.

Are they comfortable using online or mobile technology? Options like peer-to-peer (P2P) payment apps, including the popular platform Venmo, are convenient, but might not be appropriate for everyone.
"If you're going to use a P2P app, you need to make sure that the recipient has the ability to use that app to accept money and that they can use that money to spend online or in stores," says Ben Jackson, chief operating officer at Innovative Payments Association.
And if you consider mailing money, some options are more secure than others.
"It is never safe to send cash through the mail," says Meiko Patton, communications program specialist at the U.S. Postal Service.
Once you have a good idea of how they can receive the money, you can narrow down which option to use.
SoFi Checking and Savings

APY
4.60%SoFi members with Direct Deposit or $5,000 or more in Qualifying Deposits during the 30-Day Evaluation Period can earn 4.60% annual percentage yield (APY) on savings balances (including Vaults) and 0.50% APY on checking balances. There is no minimum Direct Deposit amount required to qualify for the stated interest rate. Members without either Direct Deposit or Qualifying Deposits, during the 30-Day Evaluation Period will earn 1.20% APY on savings balances (including Vaults) and 0.50% APY on checking balances. Interest rates are variable and subject to change at any time. These rates are current as of 10/24/2023. There is no minimum balance requirement. Additional information can be found at http://www.sofi.com/legal/banking-rate-sheet.
6 fast ways to send money in a crisis
This P2P transfer service partners with over 750 banks and credit unions and is embedded in many financial institutions' websites and mobile apps. Both sender and recipient must have bank accounts and register with Zelle with an email address or phone number.
Best for: One-time or recurring payments for people who have their banking set up online or on a mobile device.

Delivery speed: Within a few minutes to a bank account generally; up to three days for recipients who are registering with Zelle for the first time.

Security: Once a transfer is complete, there's no way to reverse it. Be sure to confirm that you're sending money to the right person.
2. Digital gift card: Free and fast
Many major merchants offer e-gift cards, which you can find on their websites or on sites like giftcards.com and giftcardmall.com. You can email a gift card and schedule it to arrive the same day or at another time. Some gift cards work at multiple businesses, including Visa gift cards and those for food delivery companies like GrubHub and DoorDash.
"Make sure the e-gift card can be used now. Is that store nearby? Are they open and offering curbside pickup or delivery?" says Shelley Hunter, gift card industry expert at Giftcards.com.
Best for: One-time gift to use online or print out for in-person purchases.

Delivery speed: Up to 24 business hours for orders on giftcards.com and giftcardmall.com, depending on processing.

Security: Recipient generally gets an emailed message with a link to the e-gift card for redemption. Using gift cards doesn't require identity or bank account information. Again, it's crucial to make sure you've got the correct email address for the intended recipient.
3. Third-party P2P apps: Free or fast
PayPal, Square Cash, Venmo and Apple Pay Cash may be good options if both you and your recipient have the same app. But they all have the same hurdle: Free delivery to a bank account isn't instant. The standard time frame tends to be several days. To transfer funds to a debit card within minutes, the recipient must pay a fee, typically about 1%, with a maximum of around $10. You can choose to send more money to cover that fee. Some apps offer debit cards that let recipients use funds right after a transfer.
Best for: People who have the same transfer apps and don't mind choosing between free delivery with delays and instant delivery for a fee.

Delivery speed: Either within minutes or several days.

Security: Completed transfers can't be reversed. Each app has its own procedures, but typically they use two-factor authentication and email alerts for password changes. Apple Pay Cash can confirm payments via fingerprint and face recognition.
4. Transfers between prepaid debit cards: Fast
These work like debit cards for purchases and bills, except you load money onto the card before use. One strategy is to buy two: one to mail to your loved one and the other for you. Then, transfer from your card to the other one. Or use a card such as American Express's Bluebird, which offers a master account with subaccounts, each with its own card. You can link up your bank account to your card and transfer money for free to and from the subaccount cards. Prepaid cards can have monthly or other usage fees; do some research to find the cheapest options.
Best for: For people who either don't have bank accounts or need help budgeting and prefer a simple and fast option for recurring payments.

Delivery speed: Usually within minutes between cards of the same brand.

Security: Varies by prepaid company or bank. Unlike gift cards, every prepaid debit card must be registered with some identification, such as name, Social Security number and home address, to use all features.
Traditional banks have a real-time transfer option, wire transfers, which cost a hefty fee to send and receive the money. The cost may be worth it in time-sensitive circumstances, especially if you're sending thousands of dollars. (Alternatively, if you don't mind a few days' delay, you can choose the low- to no-cost option of sending an online transfer to a linked account via ACH transfer.)
Best for: Large one-time payments.

Delivery speed: Within minutes to a bank account generally.

Security: Wires go through the Federal Reserve's system, which banks, businesses and government agencies use regularly. As with P2P apps, you can't reverse a wire.
6. Money order: Sometimes fast
Like a personal check, this piece of paper requires a sender and recipient, and you have to mail it. Money orders are available at the post office, Walmart and Western Union, and they cost a few dollars. A recipient can cash a money order either by visiting the same type of location where it was purchased, such as the post office, or using their phone's mobile app to deposit it to a bank account.
Best for: People without access to home internet or a bank account, and others who prefer to receive money offline.

Delivery speed: One- to three-day priority mail are options, depending on your area.

Security: A lost or stolen money order can be replaced if you have the receipt.
APY
4.60%
With $0 min. balance for APY
Bonus
$300
Earn up to $300 with direct deposit. Terms apply.
Get more smart money moves – straight to your inbox
Sign up and we'll send you Nerdy articles about the money topics that matter most to you along with other ways to help you get more from your money.