2023 Consumer Credit Card Report
Interest rates and credit card balances are up. Americans are taking action to cope with increasingly expensive debt. And many don't want to talk about it.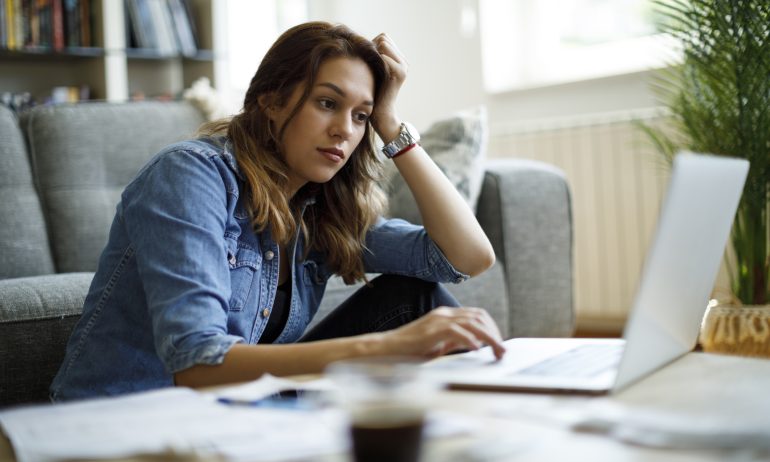 Many or all of the products featured here are from our partners who compensate us. This influences which products we write about and where and how the product appears on a page. However, this does not influence our evaluations. Our opinions are our own. Here is a list of our partners and here's how we make money.
Credit card debt is notoriously expensive, but over the past year, it has gotten even more so. For credit card accounts that get charged interest, the average interest rate was 20.92% as of February 2023, according to the Federal Reserve Bank of St. Louis. That's the highest rate since the St. Louis Fed began tracking this data in 1994.
So it makes sense that some Americans are taking action to lower their potential interest costs. According to a new NerdWallet survey, 15% of Americans have stopped using credit cards completely to avoid paying higher interest rates, and another 15% say they've used a balance transfer credit card to save on rising credit card interest rates.
The NerdWallet survey of more than 2,000 Americans, conducted online by The Harris Poll, asked Americans how higher interest rates are affecting them and what actions they're taking in response. We also asked about credit card debt secrecy, or how many indebted Americans say they haven't shared how much they owe.
Debt is lingering and costlier for some due to high interest. Nearly 1 in 5 Americans (18%) say it will take them longer than planned to pay off their existing overall debt because of rising interest rates, the survey found. The same percentage (18%) say rising interest rates have made their overall debt more expensive.

Some opt to buy now and pay later. The survey shows that a quarter of Americans (25%) have used a "buy now, pay later" service in the past 12 months, which can be a cheaper option for buying on credit as credit card interest rates rise.

Credit card debt may be a secret shame for some. Like interest rates, revolving credit card debt is up, according to the Federal Reserve Bank of New York. About a third of Americans with credit card debt (33%) say no one knows how much credit card debt they currently have, according to the survey. Among married Americans with credit card debt, 34% say their spouse doesn't know how much they owe on their cards.
"Savings rates went up at the pandemic's peak, but the combination of inflation and high interest rates is wearing Americans down," says Sara Rathner, a NerdWallet credit cards expert. "Consumers are taking on debt that's harder to shake off, but they're also taking actions to limit that debt's damage."
Rising interest rates keeping some in debt longer
Nearly a third of Americans (31%) say they aren't worried about their credit card's interest rate because they pay their balance in full each month, meaning they're never charged interest. But for those in credit card debt — rolling over a portion of their balance from month to month — high interest rates can affect how long that debt sticks around. The more interest you have to pay on your debt, the less money you have available to wipe out the debt itself. Close to 1 in 5 Americans (18%) say it will take them longer than planned to pay off their existing overall debt because of rising interest rates, the survey found.
Some Americans have reached out for help as rates have risen. According to the survey, 10% of Americans have enrolled in a debt management plan at a credit counseling agency, and 8% have received hardship assistance from their credit card issuer to lower their interest rate.
Interest rates are also significant for some Americans when they're looking for a new credit card. Nearly a quarter of Americans (23%) say the ongoing interest rate would be among the most important factors if they were choosing a new credit card to apply for, the survey found. One in 5 Americans (20%) say the same about the introductory interest rate of a credit card.
What you can do:
Make plans to pay off high-interest debt
According to the survey, 16% of Americans don't know the current interest rate on their credit cards. This is fine for those who pay their balances in full each month and avoid all interest charges. But if you're carrying a balance, it's important to know how much it's costing you.
Depending on how much you owe, paying off your debt faster could save you thousands of dollars. Let's say you have a $5,000 credit card balance, and that average balance doesn't change throughout the year. If you were charged the average credit card interest rate of 20.92%, it would cost you more than $1,000 in interest annually.
"Paying just the minimum amount due will lock you in a cycle of debt for years," Rathner says. "This is an ideal time to revisit your monthly spending to see what you may be able to trim. Applying that extra cash to your debt can make a big difference."
For those with good credit, a balance transfer credit card can give you some interest relief while you work on paying down debt. Generally, you should expect to pay a fee — often 3% of the balance — but that may be a lot less than the interest you'd accrue if it took you more than a couple of months to pay off what you owe.
One-quarter of Americans used BNPL in the past year
Even with credit card interest rates at historic highs, one-fifth of Americans (20%) say they've applied for a new card in the past year.
Meanwhile, some Americans are using alternative forms of credit, like buy now, pay later services. According to the survey, a quarter of Americans (25%) have used a BNPL service in the past 12 months. About 1 in 6 Americans (17%) say they've used a short-term BNPL loan, which is often interest-free, though there may be late fees if you miss a payment.
Younger Americans are more likely to opt for BNPL services: 36% of Generation Z (ages 18-26) and 43% of millennials (ages 27-42) say they've used one within the past 12 months, compared with 23% of Generation X (ages 43-58) and just 8% of baby boomers (ages 59-77).
While BNPL can be an alternative to credit cards, many people are using both. According to a report by the Consumer Financial Protection Bureau, nearly 7 in 10 BNPL borrowers (69%) the bureau surveyed were also revolving — or carrying a balance — on at least one credit card.
What you can do:
Consider your payment options
Buy now, pay later services can make sense for short-term financing as long as you make the payments on time. But they can lead to overextension, or having too many BNPL payment plans at a time, making it easier to miss a payment or overcommit yourself to the point where other bills can't be paid.
"Using a BNPL payment plan can be a helpful way to spread out the cost of a large purchase, but be thoughtful when you enter into these agreements," Rathner says. "Make sure you have the money on hand to afford those payments on top of your other bills."
Some with credit card debt keep it a secret
Nearly a quarter (23%) of Americans say they've paid off one or more debts in full in the past 12 months, the survey found, but household debt still increased significantly during this time. According to NerdWallet's annual household debt study, the average household with revolving credit card debt had nearly $8,000 of it as of December 2022.
While our new survey found that more than 3 in 5 Americans (63%) say they have credit card debt, not all of them have shared the truth about that debt with loved ones.
One-third of Americans with credit card debt (33%) say no one knows how much debt they currently have, according to the survey. This is more true of women than men with credit card debt (37% vs. 29%), and baby boomers are more likely to say this than younger generations (46% of boomers with credit card debt, compared with 26% of Gen Zers, 21% of millennials and 37% of Gen Xers). We also found that among married Americans, 34% of those with credit card debt say their spouse doesn't know how much.
What you can do:
Talk to someone about your debt
Credit card debt is a taboo topic for many, but it doesn't have to be. Millions of Americans are carrying credit card balances, and as with any other issue you might face, it can be helpful to talk about it with someone you trust. Then they can provide you with support, financial or otherwise.
If you don't feel comfortable talking to someone in your life about your credit card debt or it's not safe to do so, consider discussing it with a therapist or even a credit counselor if you need help tackling your debt load.
"Being in debt brings up a lot of negative emotions, like shame and guilt, but millions of people are in the exact same situation that you're in," Rathner says. "It can be really helpful to let trusted friends, family members or financial professionals in on your situation when you're going through a tough time. You don't have to struggle alone."
This survey was conducted online within the United States by The Harris Poll on behalf of NerdWallet from March 30-April 3, 2023, among 2,035 U.S. adults 18 and older. The sampling precision of Harris online polls is measured by using a Bayesian credible interval. For this study, the sample data is accurate to within +/- 2.8 percentage points using a 95% confidence level. For complete survey methodology, including weighting variables and subgroup sample sizes, please contact Lauren Nash at [email protected].
NerdWallet disclaims, expressly and impliedly, all warranties of any kind, including those of merchantability and fitness for a particular purpose or whether the article's information is accurate, reliable or free of errors. Use or reliance on this information is at your own risk, and its completeness and accuracy are not guaranteed. The contents in this article should not be relied upon or associated with the future performance of NerdWallet or any of its affiliates or subsidiaries. Statements that are not historical facts are forward-looking statements that involve risks and uncertainties as indicated by words such as "believes," "expects," "estimates," "may," "will," "should" or "anticipates" or similar expressions. These forward-looking statements may materially differ from NerdWallet's presentation of information to analysts and its actual operational and financial results.
Find the right credit card for you.
Whether you want to pay less interest or earn more rewards, the right card's out there. Just answer a few questions and we'll narrow the search for you.
Get Started
Get more smart money moves – straight to your inbox
Sign up and we'll send you Nerdy articles about the money topics that matter most to you along with other ways to help you get more from your money.