Don't Ask for a Credit Card Product Change Until You Do This
Switching your credit card can be a smart option, but it pays to prepare before you request a change.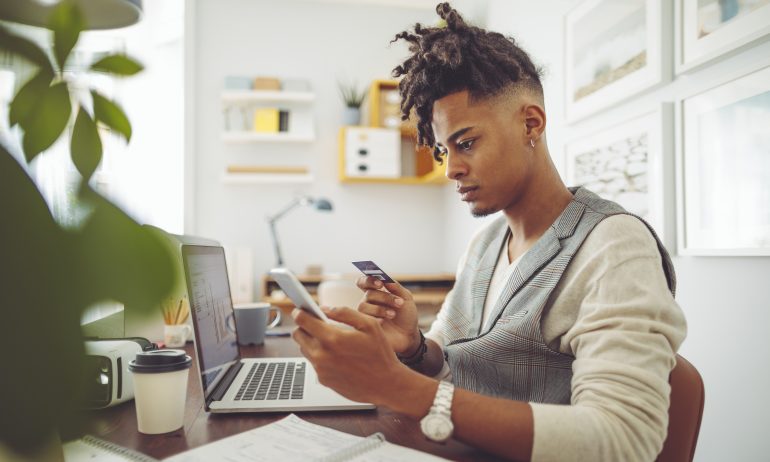 Many or all of the products featured here are from our partners who compensate us. This influences which products we write about and where and how the product appears on a page. However, this does not influence our evaluations. Our opinions are our own. Here is a list of our partners and here's how we make money.
Upgrading or downgrading your credit card to another card in the same lineup can be a good idea if your current card no longer meets your needs. Perhaps your spending has shifted and you need a card that's more rewarding in different categories. Or maybe you're not sure if the card is giving you enough value to justify its annual fee any longer.
When you ask to product-change your credit card you're basically asking the issuer for a favor — to switch to another card instead of canceling the current card and applying for a new one. In return, the issuer retains you as a customer rather than running the risk of losing you to a different credit card company.
It's important to prepare for a product-change request before you contact customer service. Here are some important considerations.
Explore your card options
The credit card industry has no universal rules for how issuers deal with your request for a product change to another card in the issuer's portfolio. The process depends on the issuer.
Most issuers require you to trade in your card for a different one within the same "family." For example, if you have a Chase credit card that earns Ultimate Rewards® points, you'll likely be required to choose another card that also earns Ultimate Rewards® points. If you held a Chase Sapphire Reserve® but no longer wanted to pay a $550 annual fee, you could request to change to the $0-annual fee Chase Freedom Unlimited®. But you likely couldn't ask to switch to a co-branded card like the World of Hyatt Credit Card.
With Citi, on the other hand, you may be able to switch from a co-branded card — like one for an airline — to a Citi-branded credit card. (See more issuer rules on how to switch your credit card.)
Before you make a call to request a product change, it's best to do some quick research to get familiar with the cards the issuer offers. That way you won't feel pressured on the phone to make a split-second decision to switch to a card you're not familiar with.
It's unlikely that you'll be allowed to product-change from a personal card to a business card or vice versa. That's because the approval process for personal vs. business cards is different.
Ask for a retention offer
It's expensive for credit card companies to acquire new customers, so they try to keep the ones they have. That's why they might be willing to offer you a deal for keeping your card, especially if the card charges an annual fee.
Your credit card issuer might offer you a statement credit, bonus points or a waived annual fee if you agree not to cancel the card. If you're thinking of downgrading a card with an annual fee to a card without a fee, a retention offer might be enough to persuade you to keep the premium card.
Call the number on the back of your card and tell the customer service representative that you're considering canceling the card. (Or initiate an online chat session, if available.)

Ask if the issuer has any retention offers available to keep you as a customer.

Listen to the terms of any offers carefully because offers can come with strings attached. For example, you might have to meet certain spending requirements to get a retention bonus or agree to keep the card open for another year.
You may be limited by the networks your cards operate on. For example, if your current card runs on the Visa payment network, you typically won't be able to switch to a Mastercard. (Some banks carry cards on both networks.)
Consider the consequences of a product change
Here are some points to clarify before you finalize a product change:
Annual fee. If you're upgrading a card, make sure you know when the annual fee will be charged. Or, if you're downgrading, will you get a full or partial refund of an annual fee you've already paid?
Sign-up bonus. Generally, you will not be eligible to receive the sign-up bonus on a card that you product-change to. Typically, you're not opening a brand-new account; you're modifying an existing one.
Impact on future cards. Some issuers have rules that could hurt your chances of getting their cards or promotional offers in the future.
For example, if you get a Citi Premier® Card, you can't get a sign-up bonus on another card that earns ThankYou points for 24 months, according to its terms and conditions. If you product-change it to a Citi Rewards+® Card and Citi considers that a new account, you reset the clock on that 24 months before you can get a sign-up bonus on another Citi card that earns ThankYou points.
Rewards. You could lose all your existing rewards from the card you're switching away from. Find out the rules ahead of time and redeem rewards before going through with the product change.
"

You could lose all your existing rewards from the card you're switching away from.

"
Card number. Ask if your credit card number will change. Often it won't. But if it does, you likely will have to change some autopay and subscription accounts charged to the card.
Credit factors. Most issuers have similar practices for how a product change affects your credit. But it's worth confirming that:
It won't initiate a hard pull on your credit report, which could lower your credit scores.

You will retain the same credit limit.
Before you agree to a product change, think about the big picture. Be clear about how you will benefit from switching cards.
Do the math. Run the numbers to confirm you'll either save money or get more value from rewards and perks with the new card. A common reason to downgrade a card, for example, is that you no longer use it and it carries an annual fee. In that case, the value to you is the savings of that annual fee.
Imagine the future. Consider how the future might be different from the past. If your spending patterns will change — or in the case of travel credit cards, your travel patterns will change — the value you received from the card last year could be different this year or next.
Figure in card perks. Some card benefits are not immediately obvious until you don't have them anymore. For example, some co-branded airline cards offer free checked bags. That's a perk you might take for granted until you cancel the card. Imagine you have to pay out-of-pocket for checked bags on a roundtrip flight for you and a companion. If checked bags cost $35 each way, that's $140 you have to pay now that you wouldn't have to pay if you kept the credit card.
Avoid unnecessary hassle. Protecting your credit score, as discussed above, is important. But if you have a long history of excellent credit and are initiating a product change only to preserve your credit score, it might not be worth it. Canceling a card might be easier than downgrading to a card you don't really want, as long as your credit is unlikely to be affected in a meaningful way.
» READ: Want a new credit card but don't want to product-change after all? See our list of best credit cards to find the right fit.
Find the right credit card for you.
Whether you want to pay less interest or earn more rewards, the right card's out there. Just answer a few questions and we'll narrow the search for you.
Get Started
Get more smart money moves – straight to your inbox
Sign up and we'll send you Nerdy articles about the money topics that matter most to you along with other ways to help you get more from your money.