How to Help Your Kid Get a Credit Card in College
Giving your child access to a credit card before they head off to school can help them build credit early. Here are options for parents who want to help.
Many or all of the products featured here are from our partners who compensate us. This influences which products we write about and where and how the product appears on a page. However, this does not influence our evaluations. Our opinions are our own. Here is a list of our partners and here's how we make money.
Once the graduation confetti settles, you should mentally add "help your kid get a credit card" to your parental pre-college checklist. But getting a credit card at age 18 isn't as easy as it was when you were in college.
The Credit Card Act of 2009 generally prevents consumers under 21 without independent income from qualifying for credit cards on their own. And even with a job, your kid might have trouble qualifying for a card without a credit history. Plus, if you don't give him or her credit guidance, your child's missteps could strain your finances — and your relationship.
"My counseling to my parents is, don't just randomly give [your kid] a card," says Amy Irvine, a certified financial planner and owner of Irvine Wealth Planning Strategies, a fee-only advisor firm in Corning, New York. "Make sure there's some explanation that goes with it."
Here's how you can help and avoid common pitfalls.
Trying to get approved for a card?
Create a NerdWallet account for insight on your credit score and personalized recommendations for the right card for you.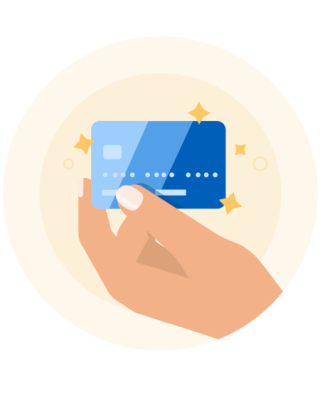 Add your kid as an authorized user
Best for: People with excellent credit who trust their kids and don't mind sharing.
How it works: Adding your kid as an authorized user to an old credit card that's always paid on time and has a low balance relative to its limit can catapult her into excellent-credit territory. That's because issuers generally report account activity both for primary cardholders and authorized users to the credit bureaus. And having excellent credit could make it easier for her to qualify for an apartment, cheaper car insurance or — when the time comes — a credit card of her own.
Who's liable for the debt? You. Authorized users generally aren't responsible for debt incurred.
What's the worst that could happen? Your kid could overspend on your account, and you'd be left holding the bag. It is possible to remove an authorized user, but you can't erase the debt.
Set your kid up for success: Before giving your kid access to your account, establish ground rules. Make clear how much she can charge on the card each week, the types of purchases she can make and how much she should kick in for the monthly bill. Assign her card a lower spending limit, if your issuer allows it.
If the thought of giving your kid a direct line to your credit still gives you the heebie-jeebies, keep that additional card for yourself. She'll benefit from your pristine payment history even if she never makes a purchase on your account. Revisit the topic of managing credit cards later, when she's ready.
Co-sign on a student credit card
Best for: People whose kids don't have an independent income, but can be trusted with money — really trusted.
How it works: Co-signing on your kid's credit card means that you're both responsible for making payments on the account. Not all issuers allow it, but because of the Card Act, it's almost the only way someone under 21 without an independent income can qualify for a credit card. And it can be even scarier than adding your child as an authorized user, because he'll typically get the bill, not you.
If you're ready to co-sign, try a student credit card first. These unsecured cards generally have more modest income and credit requirements, though some require prior credit history.
Who's liable for the debt? Both you and your kid.
What's the worst that could happen? If your kid misses payments, he could trash his credit and yours.
"You have one 30-day late [credit card payment], one 60-day late, and all of a sudden, your credit score goes from 765 to 700," says Mark Struthers, a certified financial planner and founder of Sona Financial LLC, a fee-only advisor firm in Chanhassen, Minnesota. "That could cost you thousands in a mortgage." It could also increase your insurance rates, he notes, and make it more difficult for your kid to find a job or an apartment later on.
Set your kid up for success: Make sure you have access to your kid's account, and keep tabs on his spending and payment due dates. Help him set up auto-pay, as long as he's confident he won't overdraft.
"If you know you're not going to monitor it, then don't [co-sign]," Struthers says.
When your kid has the means to fly solo, encourage him to continue building credit on his own. This could mean applying for a new line of credit independently, paying on time and keeping spending down.
Pitch in for a secured card
Best for: People who want their kids to manage their own credit and payments.
How it works: If your kid is brand-new to credit, she might not be able to qualify for a "regular," unsecured credit card independently — but she might qualify for a secured credit card. Secured cards require a security deposit, typically of about $200, and give the cardholder a credit limit equal to that deposit. You can help fund that deposit for your child, and she can build credit over time with consistent on-time payments and responsible borrowing. When the account is closed in good standing or upgraded to an unsecured account, you'll receive the deposit back. (Your kid might not qualify for a secured credit card on her own if she's under 21 and doesn't have independent income.)
Who's liable for the debt? Your kid.
What's the worst that could happen? Your kid could fall behind on payments, lose the security deposit and damage her credit.
Set your kid up for success: Make sure your kid knows that secured cards work the way regular credit cards do, and that she's required to make payments. It's not a prepaid debit card.
Consider asking her to cover a portion of the deposit, too. Putting her savings at stake might motivate her to practice better borrowing habits.
"There's some layer of accountability when it's their money and not yours," says Irvine.
Find the right credit card for you.
Whether you want to pay less interest or earn more rewards, the right card's out there. Just answer a few questions and we'll narrow the search for you.
Get Started
Get more smart money moves – straight to your inbox
Sign up and we'll send you Nerdy articles about the money topics that matter most to you along with other ways to help you get more from your money.