5 Things to Know About the Sable Credit Card
This secured card boasts many hard-to-find features among products in its class, including no credit check, a flexible deposit, rewards and a straightforward upgrade path.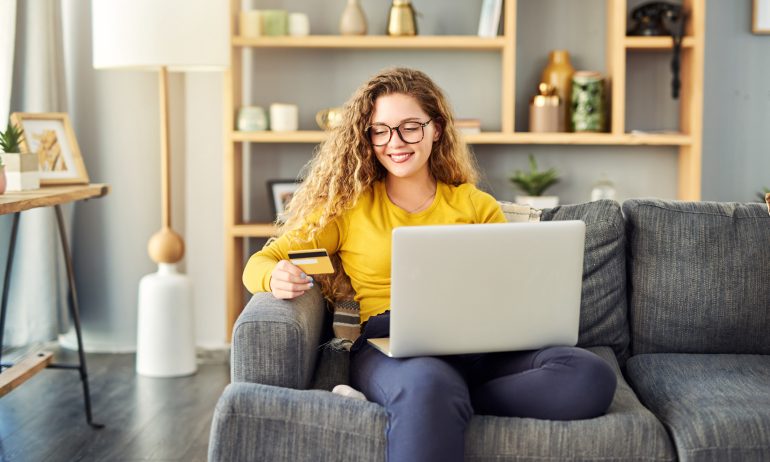 Many or all of the products featured here are from our partners who compensate us. This influences which products we write about and where and how the product appears on a page. However, this does not influence our evaluations. Our opinions are our own. Here is a list of our partners and here's how we make money.
The Sable One secured credit card, issued by Coastal Community Bank, removes a lot of the roadblocks on the journey to building credit. Unlike some other secured credit cards, it lets you choose your security deposit amount, it doesn't require a credit check, and it even earns rewards.
Plus, it's one of the few secured options that offer a direct path to unsecured credit. Sable — the mobile fintech company behind the card — uses your interactions, engagement and behavior with the secured credit card to determine eligibility on graduating to Sable's unsecured credit card.
However, you will need a Sable bank account to get a Sable credit card.
Here's what else you need to know about the Sable One secured credit card.
1. You'll need a Sable bank account and a deposit
There's no credit check required, but to qualify for the Sable One secured credit card, you'll need a Sable bank account, a security deposit and a Social Security number if you have one. Otherwise, it's possible to qualify with a passport, a U.S. visa or non-tourist I-94 and a U.S. address.
It's a low-fee bank account …
You can start using the bank account and secured card once the amount deposited is available in the account. Virtual cards for online transactions will be provided while you wait for physical cards to arrive in the mail. The Sable bank account doesn't charge overdraft fees or monthly fees or have a minimum deposit requirement. You might have to pay fees at an ATM, though, if the provider charges them.
The bank account will facilitate moving the security deposit amount of your choice into a reserve account, where it will be held as collateral.
... And the security deposit is flexible
Other secured credit cards typically require upfront deposits of hundreds of dollars, and that amount becomes your credit line. But with the Sable One secured card, you determine the amount you'll deposit.
Ideally, you'll be able to add enough money to maintain a low credit utilization ratio. That's the percentage of your total credit that you're using, and it factors heavily into your credit scores. It's recommended to not use over 30% of your card's credit limit, especially when building credit is the goal. If you put down $100 as a security deposit, for example, that would mean not charging over $30 on the card.
If you can't afford a large security deposit, it's possible to increase it — and therefore your credit limit — later.
If you don't want a bank account, it will be harder to find a secured credit card that doesn't charge several hundred dollars for a security deposit as a requirement. Consider the $0-annual-fee Capital One Platinum Secured Credit Card. Depending on your credit, a $200 credit line with an initial deposit of $49, $99 or $200 may be an option.
2. It offers decent rewards, a sign-up bonus and perks
The Sable One secured credit card earns 2% cash back at select brands — like Amazon, Spotify, Netflix, Uber and Uber Eats, Hulu and Whole Foods — and 1% back on all other purchases.
Those are decent rewards for a secured product, and new cardholders are also eligible for a potentially valuable sign-up bonus: Get a dollar-for-dollar match on all cash back at the end of your first year.
In addition, you'll also have access to money-saving benefits including:
If you prefer a credit card that offers rewards in broader categories that match other spending, consider the $0-annual-fee Discover it® Secured Credit Card. It earns 2% cash back at gas stations and restaurants on up to $1,000 in combined purchases each quarter. All other purchases earn 1%.
3. It has few fees and a relatively low APR
The Sable One secured credit card doesn't charge an annual fee or a late fee. On other cards, fees for paying late can run as high as $41, according to the Consumer Financial Protection Bureau.
As you're learning to manage credit, a card without late fees can be especially helpful for the occasional slip-up. But try to not make a habit of it because not paying the bill for 30 days or more can impact your credit scores. Eventually, after several months of missed payments, Sable will close your credit card account and potentially use the security deposit to cover the balance.
You'll also be charged interest on any ongoing balance. It's on the lower end compared with other secured credit cards, but if possible, it's still worth paying off the credit card in full every month to avoid interest. As of July 2022, the card was charging a variable 6.99% APR, plus the additional prime rate of 5.50%. (The prime rate is the interest rate that banks charge their largest customers. When the prime rate changes, credit card interest rates often do, too.)
4. You may be able to graduate to an unsecured Sable card
As with other secured credit cards, you can get your security deposit back, either by closing your Sable One secured credit card in good standing or upgrading to a different product — in this case, the Sable One Milestone credit card.
It's a traditional "unsecured" credit card that requires no deposit, and you can qualify for it in as little as four months depending on your account activity (or the "milestones" that you're able to meet). Those milestones include:
Making purchases of at least $250 per month.

Making at least 15 purchases per month.

Setting the secured credit card limit to at least $200.

Paying the monthly minimum balance every month.

Setting up payroll or direct deposits of at least $150 per month.
Not all milestones have to be met, but checking these boxes can improve the odds and speed at which you graduate, according to Towers Wilen, co-CEO of Sable. The company doesn't rely on external data collection to determine eligibility. Instead, it looks at interactions, engagement and behavior with the Sable account through the milestone path.
Sable will let you know whether you're eligible for graduation with an email or app notification. Once graduated, you'll keep the same card, and the rewards rates won't change. The account will become unsecured upon accepting the new terms and conditions provided in the app.
Once you become eligible to graduate to the Sable One Milestone credit card, your security deposit will eventually be returned in the form of a payment toward the outstanding balance. Any money left over will be issued as a statement credit on the unsecured credit card.
5. You can take advantage of several credit-building features
The Sable credit cards report your payments to Experian, Equifax and TransUnion, the credit bureaus that collect the information used to calculate credit scores. It's a key step in establishing credit.
And upgrading to the unsecured Sable One Milestone credit card has its own credit benefits. For starters, you'll get your deposit back without having to close the account. That's good for your credit scores. Plus, you don't have to submit a new application for a card, saving you a hard inquiry and the temporary ding to your scores that can accompany it.
You may even be able to make more progress with a credit limit increase. Sable conducts periodic reviews of the account to determine whether you're eligible for one. A credit limit increase can also improve credit scores, assuming that, again, you keep credit utilization low.
Find the right credit card for you.
Whether you want to pay less interest or earn more rewards, the right card's out there. Just answer a few questions and we'll narrow the search for you.
Get Started
Get more smart money moves – straight to your inbox
Sign up and we'll send you Nerdy articles about the money topics that matter most to you along with other ways to help you get more from your money.