What Is an RFID Credit Card (and Does it Matter)?
RFID credit cards are embedded with a tag that enables contactless payments, one of the safest ways to pay.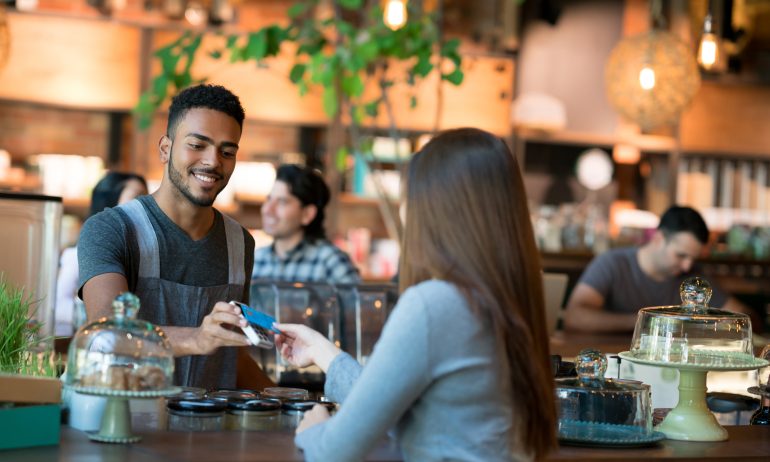 Many or all of the products featured here are from our partners who compensate us. This influences which products we write about and where and how the product appears on a page. However, this does not influence our evaluations. Our opinions are our own. Here is a list of our partners and here's how we make money.
If you have an EZ Pass in your car or a microchip in your pet, or if you've used a hotel keycard, you've been the beneficiary of RFID technology. RFID is also in credit cards and at the checkout line — but what is it? And does it protect your financial information?
Here's what you need to know about RFID use in credit cards.
RFID, or radio frequency identification, is a type of technology that sends information between a tag to a scanner. The scanner, or reader, emits radio waves that pick up signals from nearby items with RFID tags, which also send out radio waves.
With its ability to store and send huge amounts of data, RFID technology has been implemented in a number of sectors, including health care and the military, in a variety of applications.
Ready for a new credit card?
Create a NerdWallet account for insight on your credit score and personalized recommendations for the right card for you.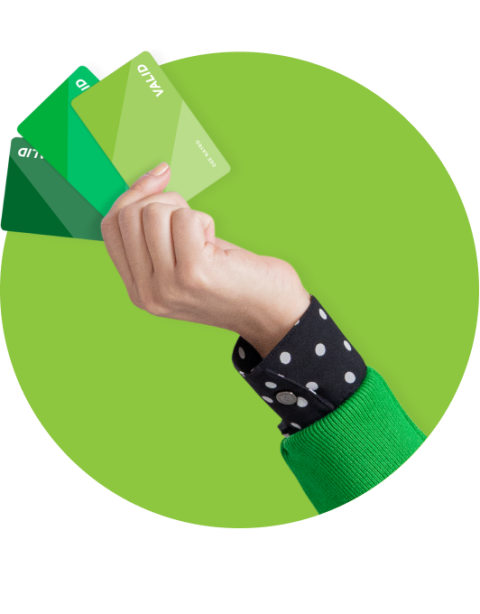 How can I tell if I have an RFID card?
Look for an icon on your card that resembles a horizontal WiFi symbol. It may be on the front or the back. The symbol is called a contactless indicator. If it's there, you have an RFID card.
Because of the tag, an RFID card can make contactless payments. Rather than swiping your card or inserting the part with the chip into a card reader, you merely have to wave your card in front of the reader long enough for it to access the card's information. This contactless payment method is also referred to as Tap to Pay.
If you're still unsure if your card is RFID, find a contactless reader — it will have the same WiFi-looking symbol as your credit card — and try to make a payment. If your payment goes through, you'll know you have an RFID card.
RFID payments work by transmitting information between a credit card — specifically, the computer chip and antenna embedded within it — and a contactless reader. That information takes the form of a code, or token, which is valid for that particular transaction only.
The transmission of the token from the credit card can only happen if the card is within 1 to 2 inches of a contactless reader. That's because contactless credit card payments are enabled by a type of RFID technology called near-field communication, or NFC. When you wave your credit card or phone's digital wallet in front of a contactless reader for a few seconds, the NFC technology is activated, allowing the payment to be processed.
The distance requirement should calm some fears that RFID makes it easier to steal credit card information.
RFID blocking refers to any technology that prevents the information in an RFID tag from being read by anything other than a legitimate reader. RFID blocking doesn't have to be fancy: A layer of aluminum foil wrapped around a credit card will do the trick. For those who don't want to go the homemade route, there are scores of RFID-blocking products such as wallets, purses and credit card sleeves.
But here's the thing: RFID blockers are largely unnecessary.
Yes, the RFID tags that are in some credit cards put out radio signals, but those tags must be within close range of a reader to be read. Any barrier between the card and the reader, such as a piece of clothing, further decreases the likelihood that the card's information will be skimmed. The idea that a bad actor could stand among a crowd of people with an RFID scanner and easily steal their credit card information isn't grounded in reality.
"If you want to buy a wallet that is RFID-blocking, there's probably no harm in getting it, but from my perspective, it is not something that you need," says Julie Scharff, head of Tap to Pay at Visa.
For most people with a credit card, RFID does matter. An increasing number of credit cards are now RFID cards. For example, American Express offers contactless cards for all of its products, and Wells Fargo only issues RFID cards to new customers. Chances are good that if you get a new credit card soon, it will be of the RFID variety, so you might want to know some basics about how it works.
RFID also has safety implications for our physical and financial health. Because RFID enables contactless payments, it's a more hygienic option during, say, a pandemic.
Furthermore, the tokenization process involved in contactless payments encrypts financial information when it's sent from the card to the reader, making that information less useful if it's stolen.
Find the right credit card for you.
Whether you want to pay less interest or earn more rewards, the right card's out there. Just answer a few questions and we'll narrow the search for you.
Get Started
Get more smart money moves – straight to your inbox
Sign up and we'll send you Nerdy articles about the money topics that matter most to you along with other ways to help you get more from your money.