Knock Down These 5 Roadblocks to Improving Credit
A new NerdWallet survey finds that half of Americans have barriers to improving their credit. Here's how to get past them.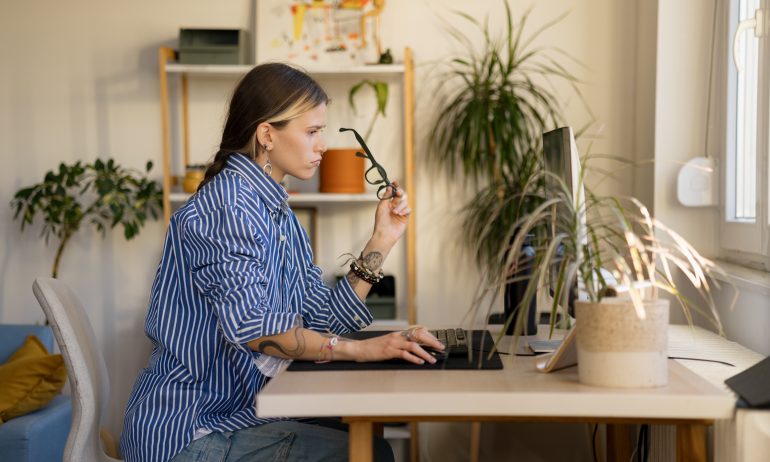 Many or all of the products featured here are from our partners who compensate us. This influences which products we write about and where and how the product appears on a page. However, this does not influence our evaluations. Our opinions are our own. Here is a list of our partners and here's how we make money.
If you're working on your credit score, it may feel like an uphill battle. Nearly 4 in 5 Americans (79%) say they're trying to improve their credit right now, according to a new NerdWallet report. But half of Americans (50%) say there are roadblocks to doing so. Here are five of the obstacles Americans say they're facing to build their credit score and how you can knock them down.
Having a low credit limit
One of the biggest factors in your credit scores is credit utilization, or the percentage of available credit you're using at any given time. It's recommended that you keep your credit utilization — both overall and per account — below 30%. This can be tricky to do when you have a low credit limit, a roadblock to improving credit for 15% of Americans, according to the survey.
Per the 30% rule, for example, if a card's limit is $1,000, the goal would be to keep the balance below $300, which may be less than you typically charge in a month.
There are a few options to lower utilization: decreasing your balances, increasing your limits or both. If you carry credit card debt month to month, create a debt payoff plan to begin getting your balances down. If you don't carry debt month to month, but your utilization still is high, try making multiple payments per month to keep the amount you owe down or switch some expenses to a debit card to avoid adding to your credit card balance.
You can also call up the issuer to see if you're eligible for a higher credit limit, particularly if your income has changed since getting the card. Ask your issuer if it needs to do a "hard credit pull" to approve a limit increase, as that could ding your credit in the meantime.
Not being able to make debt payments
According to the survey, 14% of Americans say a roadblock to improving their credit is not being able to make their debt payments. Similarly, 13% of Americans say not being able to make their credit card or loan payments on time is a barrier to improving their credit.
For both of these hindrances to building credit scores, talking to creditors is a good first step. Some credit card issuers have hardship programs to lower your interest or waive fees. Even if they don't, you may be able to negotiate a modified payment or due date.
Federal student loan borrowers may be able to reduce payments with the new income-driven repayment plan called SAVE. This new plan that replaces REPAYE increases the income exemption and eliminates any interest that isn't paid off with the monthly payment. Next summer, payments on undergraduate loans under SAVE will be halved — from 10% of discretionary income to 5%.
If you have lingering medical bills, call your doctor or hospital billing department to see if they'll settle for a lower balance paid or allow you to set up an interest-free payment plan. Whatever you do, don't ignore the problem. Communication with creditors can go a long way — you definitely aren't the first person to struggle to make payments, so they likely have plans that could help.
Not being able to get approved for a credit card
Around 1 in 7 Americans (14%) in the survey say a roadblock to improving their credit is not being able to get approved for a credit card. It's the credit paradox — you need good credit to get access to credit. So where do you start? One option is a secured credit card. A secured card is backed by a cash deposit often equal to your card's limit. On-time payments are reported to the credit bureaus, but the issuer doesn't take on a lot of risk due to the deposit.
Another option is becoming an authorized user on a loved one's account. As an authorized user, on-time payments by the primary cardholder can positively impact your credit, so if you go this route, make sure your loved one has healthy credit habits.
Not knowing how to build your credit score
For 13% of Americans, a roadblock to improving credit is not knowing how to build their credit score, according to the survey. As a general rule, the most important factors in your credit score are payment history and credit utilization. That means making every payment on time and using less than 30% of your available credit will have the biggest impact. Other lesser factors that are still important to keep in check are the length of credit history, mix of credit types and recent applications.
Your credit scores are calculated based on information in your credit reports, so it's also important to make sure your reports are accurate. You can pull credit reports from each of the major bureaus for free using AnnualCreditReport.com. If your reports contain any inaccuracies, take steps to dispute errors so they aren't harming your credit scores.
Not being able to afford the deposit to open a secured credit card
One in 10 Americans (10%) say a roadblock to improving their credit is not being able to afford the deposit to open a secured credit card, the survey found. A typical secured credit card has a deposit requirement of $100 or $200, which may be tough to save up when finances are tight.
Take a look at your spending to see where expenses can be cut, at least temporarily. Maybe you can pause subscriptions, opt for more walking or public transit instead of driving, or skip extras at the grocery store. This isn't meant to be a punishment or a long-term sacrifice, but building your credit with a secured card can open doors down the line if you can free up the cash for a deposit.

Find and move all your old 401(k)s — for free.
401(k)s left behind often get lost, forgotten, or depleted by high fees. Capitalize will move them into one IRA you control.