Debt Settlement Negotiations: A Do-It-Yourself Guide
Negotiating a debt settlement on your own is not easy, but it can save you time and money compared with hiring a debt settlement company.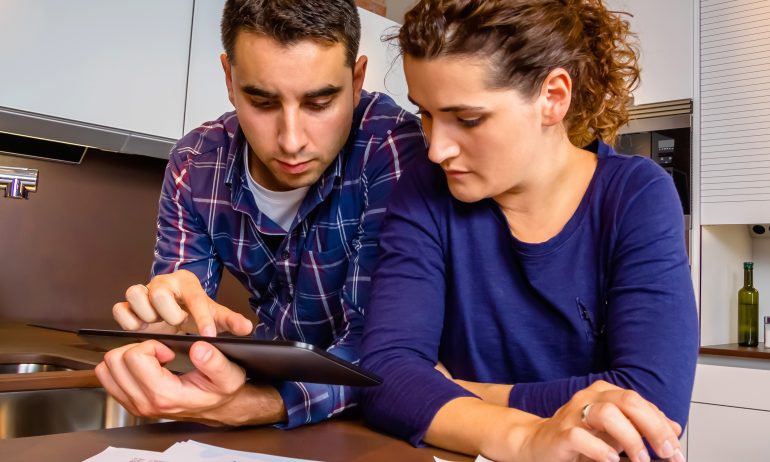 Many or all of the products featured here are from our partners who compensate us. This influences which products we write about and where and how the product appears on a page. However, this does not influence our evaluations. Our opinions are our own. Here is a list of our partners and here's how we make money.
With do-it-yourself debt settlement, you negotiate directly with your creditors in an effort to settle your debt for less than you originally owed.
The strategy works best for debts that are already delinquent. Creditors, seeing missed payments stacking up, may be open to a settlement because partial payment is better than no payment at all.
Debt settlement is an option if your payments are at least 90 days late, but it's more feasible when you're five or more months behind. But because you must continue to miss payments while negotiating, damage to your credit stacks up, and there is no guarantee that you'll end up with a deal.
There are better ways to handle your debt than DIY debt settlement. If you decide to proceed, handling debt settlement negotiations yourself may be a better option than using a debt settlement company, which can be expensive and ineffective.
Here's how DIY debt settlement compares to using a debt settlement company, and how to negotiate with a creditor on your own.
DIY debt settlement vs. debt settlement companies
Time and cost are the main distinctions between debt settlement through a company and doing it yourself.
Debt-settlement advertisements have claimed these companies can help customers reduce their debt by as much as 50% and get them out of debt in as little as 36 months.
You may be able to get faster results with DIY debt settlement. While completing a plan through a company can take two and a half years or more, you may be able to settle your debts on your own within six months of going delinquent, according to debt settlement coach Michael Bovee.
With a debt settlement company, you'll likely pay a fee of 20% to 25% of the enrolled debt once you agree to a negotiated settlement and make at least one payment to the creditor from an account set up for this purpose, according to the Center for Responsible Lending.
In addition, you'll likely have to pay setup and monthly fees associated with the payment account. If you pay $9 a month to manage the account plus a setup fee of $9, you could pay upward of $330 over 36 months on top of the fee taken for each settled debt.
Debt settlement companies also can have inconsistent success rates. The Consumer Financial Protection Bureau has logged more than 330 complaints against debt settlement companies since 2014. Among the most common issues were fraud and excessive fees. In 2013, the CFPB took legal action against one company, American Debt Settlement Solutions, saying it failed to settle any debt for 89% of its clients. The Florida-based company agreed to effectively shut down its operations, according to a court order.
While there are no guaranteed results with debt settlement — through a company or on your own — you'll at least save yourself time and fees if you go it on your own.
How to do a DIY debt settlement: Step by step
If you decide to negotiate with a creditor on your own, navigating the process takes some savvy and determination. Here's a step-by-step breakdown.
Step 1: Determine if you're a good candidate
Answer these questions to decide whether DIY debt settlement is a good option:
Have you considered bankruptcy or credit counseling? Both can resolve debt with less risk, faster recovery and more reliable results than debt settlement.
Are your debts already delinquent? Many creditors will not consider settlement until your debts are at least 90 days delinquent. Bovee, the debt settlement coach, says you'll have a better chance of settling a debt with the original creditor that is around five months delinquent, which is around the time many creditors will sell the debt to a third-party debt collector.
Do you have the money to settle? Some creditors will want a lump-sum payment, while others will accept payment plans. Regardless, you need to have the cash to back up any settlement agreement.
Do you believe in your ability to negotiate? Confidence is key to DIY debt settlement. If you believe you can, you probably can. If your confidence is wavering, DIY debt settlement may not be the best route for you, Bovee says.
You need to negotiate two things: how much you can pay and how it'll be reported on your credit reports.
For payment, you may be able to settle your debts for 40% to 50% of what you originally owed, Bovee says.
While you're technically working to settle your debt as a percentage of what you owed, also think about how much you can pay as a concrete dollar amount. Comb through your budget and determine what that figure is. Note that you may have to pay taxes on the portion of debt that's forgiven if the amount is $600 or more.
As for your credit, it's probably been wrecked by delinquent marks from missed payments by the time you're eligible to settle. But you may be able to slightly redeem yourself by clarifying how the settled debt is noted on your credit reports.
Settled debts are generally marked as "Settled" or "Paid Settled," which doesn't look great on credit reports. Instead, you'll try to get your creditor to mark the settled account "Paid as Agreed" to minimize the damage.
Dealing with your creditor will require persistence and persuasion. This is a crucial moment in the settlement process.
You may be able to resolve the settlement in one go, or it might take a few calls to find an agreement that works for both you and your creditor. If you don't have luck with one representative, try calling again to get someone more accommodating. Try asking for a manager if you're not making any progress with frontline phone representatives.
Approach the call with a clear narrative. Concisely portraying the financial hardship that made you unable to pay your bills can make the creditor more sympathetic to your case.
Don't lose sight of the amount you can realistically pay. Start by lowballing, and try to work toward a middle ground. If you know you can only pay 50% of your original debt, try offering around 30%. Avoid agreeing to pay an amount you can't afford.
Success can vary depending on the creditor. Some are open to settling, others aren't. If you're not making any progress, it may be time to reconsider other debt relief options, like Chapter 7 bankruptcy or a debt management plan.
Step 4: Finalize the deal
Before making any payment, get the terms of the settlement and credit reporting in writing from your creditor.
A written agreement holds both parties accountable. They have to honor the agreement, but if you miss a payment, the creditor can retract the settlement agreement, and you'll be back where you started.
"Debt settlement is about commitment. If you miss a payment, it's over," Bovee says. "Say you have a 12-month settlement plan. You pay the first six months, but if you miss month seven, they take the past six months (of payments) then put it toward your full balance."

Find and move all your old 401(k)s — for free.
401(k)s left behind often get lost, forgotten, or depleted by high fees. Capitalize will move them into one IRA you control.