Fed Pauses Rate; Powell Says Another Hike 'More Than Likely'
The federal funds rate range is paused at 5.25% to 5.5%.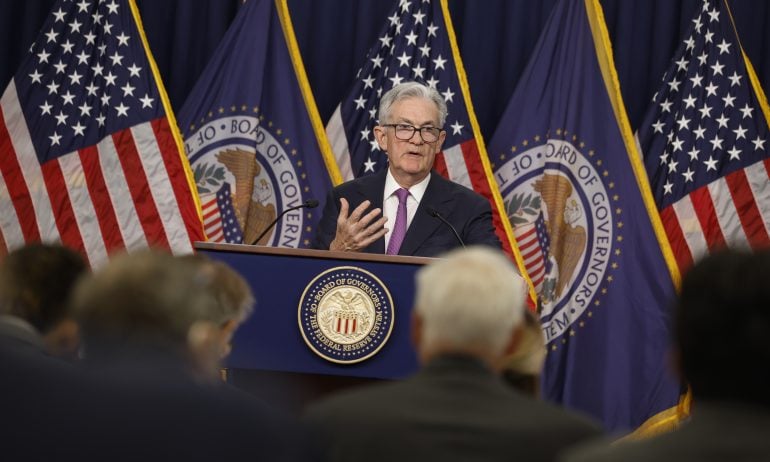 Many or all of the products featured here are from our partners who compensate us. This influences which products we write about and where and how the product appears on a page. However, this does not influence our evaluations. Our opinions are our own. Here is a list of our partners and here's how we make money.
The central bank previously made 10 consecutive rate hikes since March 2022 before pausing increases in June. Then, it raised the federal funds rate again in July to the current range of 5.25% to 5.5%. It will remain at that level while the Fed assesses further economic data.
During a news conference on Wednesday after the September meeting, Fed Chair Jerome Powell said that because the Fed had moved quickly in increasing rates to combat rising inflation, it now has the opportunity to proceed carefully in its rate decisions. He also said an additional hike at one of the two remaining Fed meetings for 2023 was "more than likely."
As to when the Fed may eventually decrease rates, Powell wasn't making any promises. "As we go into next year, that's the question we'll be asking," he said. "The time will come at some point — and I'm not saying when — that it's appropriate to cut."
Powell reiterated, as he has in the past, that price stability is the Fed's primary goal in order to "have the kind of economy we really want."
However, Powell also acknowledged that consumers are feeling the impact of higher rates. "When we raise rates, people who are living on credit cards and borrowing are going to feel that more," he said.
Inflation is slowing, unemployment remains low
Gasoline is the main contributor to U.S. inflation, according to the Bureau of Labor Statistics' consumer price index, or CPI, released on Sept. 13. From July to August, gas prices rose 10.6%. When measured year over year, gas prices are now up roughly 5.5%.
That increase is largely due to crude oil prices, which are spiking after the OPEC+ commitment to reduce oil production through the end of 2024. The crude oil futures price for West Texas Intermediate — a global oil benchmark — is up by $5.47 from a year earlier as of Sept. 19, according to the U.S. Energy Information Administration.
Powell said gas prices affect consumer sentiment, but the Fed typically excludes food and energy from consideration — since both are volatile, those price changes don't reflect much about overall inflation. "However, we're well aware that if energy prices increase and stay high, that will have an effect on spending," he said.
Other inflation data is more encouraging to the Fed's goal.
The September CPI showed an overall increase of 3.7% over the past 12 months. By comparison, in September 2022, the year-over-year increase was 8.2%. The Fed's target inflation rate is 2%. Core CPI — which excludes food and energy prices — rose 4.3% over the past year. In September 2022, core CPI had risen 6.6% over the prior 12 months.
While the CPI is a proxy for inflation, the Fed tends to use the Bureau of Economic Analysis' core personal consumption expenditures price index, or PCE, as its main bellwether. The most recent report, released on Aug. 31, shows the core PCE price index (which excludes food and energy) rose 4.2% over July of the previous year. By comparison, in July 2022, the core PCE price index rose 4.6% over the prior 12 months.
While inflation is coming down, the labor market remains strong. The unemployment rate remains low at 3.8%; the rate has hovered between 3.4% and 3.8% since Feb. 2022, according to BLS data.
Recession fears aren't yet allayed
Economic prognosticators have been expecting a recession for more than a year. But one hasn't arrived, and economists remain all over the map when it comes to the probability of a recession in the next year. In published reports since July:
Economists polled by The Wall Street Journal said the probability of a recession in the next 12 months was 54%.

JPMorgan Chase & Co. economists said they no longer expect a recession by the end of 2023. 

Economists polled by Reuters said the probability of a recession in the next 12 months was 55%.

Goldman Sachs says the chances of a recession in the next 12 months is 15%.
There's at least one signal that a soft landing is possible. The Fed adjusted its gross domestic product (GDP) forecast higher than the central bank expected at its June meeting.
"It's a good thing that the economy is strong," Powell said. "It's a good thing that the economy has been able to hold up under the tightening that we've done. It's a good thing that the labor market is strong." But, he added: "The only concern is if the economy comes in stronger than expected. That just means we'll have to do more in terms of monetary policy to get back to 2%, because we will get back to 2%."
Growth, as well as the labor market and inflation, will all be factors in the Fed's upcoming rate decisions, Powell said. But there's a potential snag. A looming government shutdown may prevent the Fed from getting data for those factors ahead of its next meeting scheduled for Oct. 31-Nov. 1.
Photo by Chip Somodevilla/Getty Images News via Getty Images
Get started with budget planning
Check your current spending across categories to see where you can save