Food Service Workers Prepped for Success in Other Jobs
Food service workers' people and stress-management skills help make for excellent employees.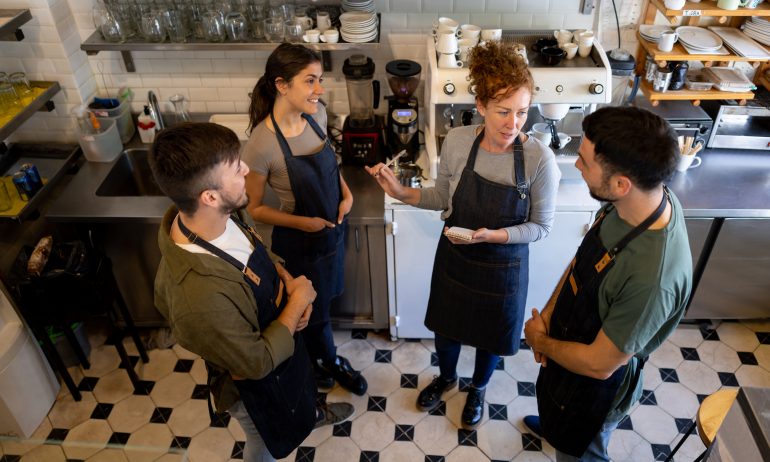 Many or all of the products featured here are from our partners who compensate us. This influences which products we write about and where and how the product appears on a page. However, this does not influence our evaluations. Our opinions are our own. Here is a list of our partners and here's how we make money.
My first time bartending I was left alone at the bar on a busy summer night with zero training. I cried in the back for a few minutes, then started pouring drinks. I mean, I didn't have a lot of options. At one point, I was so stressed I asked a customer how to make a gin and tonic.
That night taught me that I could rely on myself when others didn't show up. I could learn on the fly. I could advocate for myself by asking people to be patient, and I could operate under pressure.
So when I was struggling after transitioning into the tech industry, I often thought to myself: If I could handle that first night of bartending, I could certainly handle learning SEO and Zoom meetings.
Working in food service can be brutal, but you learn how to work hard, collaborate with others, manage stress and deal with people.
Despite that, it can feel like you're unqualified for so-called white-collar work when you're used to wearing an apron. And hiring managers may not always see the value food service workers can bring to the metaphorical table, even though they may be the most loyal and hardworking employees you could ask for.
"I'm just happy to be here"
My ex-food service friends and I still swap restaurant tales like war stories: The time a customer vomited on the bar. The time a guy threatened us after getting cold nachos. The time my friend was branded by his head chef with a spoon. All that for just over minimum wage?
When I started my first tech job, I nearly tripled my salary. Suddenly, I could save money for my future. It felt like my job valued me, versus at a restaurant, where I'd once had my tips withheld for going to a funeral.
Restaurant workers burn out for many reasons, and pay is only one of them. Most food service employees don't have benefits such as medical insurance or retirement accounts. The hours can be brutal and time off is a joke, not to mention rampant rates of sexual harassment.
When I read through the paperwork for my first tech job, I was shocked. There was paid parental leave and an education stipend. I made a dentist appointment for the first time in years, and gratefully watched an anti-sexual harassment training video. I kept telling my bosses, "I'm just happy to be here."
Food service builds valuable skills
Lawrence Lockhart Jr., of Olive Branch, Mississippi, was in food service for 17 years when he'd finally had enough and started to pursue coding through online courses and in-person meet-ups.
"If you are in food service for an extended period of time, and particularly in a leadership position, you will develop a resilience and a level of stress management that is simply uncommon," says Lockhart, now a developer advocate at a web development company. "When I talk about my learning journey and the starts and stops that I had, the ability to start again and not quit completely but give it another shot, all that came from a food service background."
In addition to managing stressful situations, food service workers often develop an impressive ability to deal with people — another soft skill that is often prized by hiring managers.
"I think the biggest [skill] coming from food service is actually being able to anticipate the needs of others," says Carleá Jean Magee, a freelance user experience (UX) researcher based in Omaha, Nebraska, who previously had spent almost eight years in food service.
"If a group of women comes in and they're giggling and smiling, you're going to offer them different things, as opposed to a man who comes in by himself with a newspaper. I work in very consumer-facing roles, so I have to anticipate the needs and wants of the user and clients, but also anticipate the needs of stakeholders and managers."
If you're a food service worker looking to transition, there are steps you can take to make your resume more attractive, say Lockhart and Magee. First, figure out what you want to explore, then get some experience. Use free online courses to see what you're interested in.
"​​I actually found UX research during a UX design course that I was taking, which was actually a Google career certificate," says Magee. "I would highly recommend those."
Then, network online and offline. Lockhart and Magee stressed the importance of local meet-ups and connecting with people on LinkedIn. While you're at it, update your LinkedIn profile to ensure recruiters can easily find you.
Finally, don't be afraid to try out something new. Lockhart says that he mentors others, and oftentimes, they are worried that coding will be too difficult.
"Don't write off code immediately because I promise you, if you can run five tables in a fast-food restaurant by yourself and memorize all the orders and bring everything out successfully on a Friday night, you have the mental capacity to learn to code," says Lockhart. "You just need to give yourself a shot."
This column was provided to The Associated Press by the personal finance website NerdWallet. Alana Benson is a writer at NerdWallet. Email: [email protected]. Twitter: @alananeedsanap.
Get started with budget planning
Check your current spending across categories to see where you can save