Gen Zers: How America's Newest Adults Are Doing Money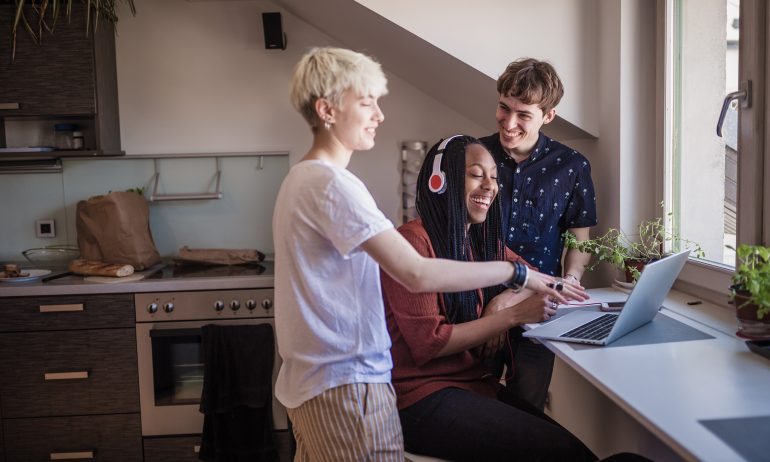 Many or all of the products featured here are from our partners who compensate us. This influences which products we write about and where and how the product appears on a page. However, this does not influence our evaluations. Our opinions are our own. Here is a list of our partners and here's how we make money.
Move over, millennials, there's a new generation entering adulthood: Meet Generation Z, comprising those born in 1997 or later. According to the Pew Research Center, Gen Zers are on track to be the most diverse and well-educated generation yet. They grew up in the age of technology, with the iPhone coming out when the oldest were just 10, making them more likely to have been influenced by the internet and social media than generations before. But what we want to know is how this unique upbringing has influenced their money habits.
In a survey of more than 3,000 Americans — more than 300 of whom are adult members of Generation Z (ages 18-23) — commissioned by NerdWallet and conducted online by The Harris Poll, we learned about Gen Z's financial situation and money misconceptions, as well as their feelings about their finances.
Parental support: Close to half of Gen Zers (46%) say their parent, guardian or another family member pays for their housing costs. More than 2 in 5 (42%) say the same about health insurance.

Financial misconceptions: More than a quarter of Gen Zers don't think young adults need to worry about building credit (26%) or investing for retirement (28%).

Money anxiety: More than 2 in 5 Gen Zers (41%) feel anxious about their finances, and 3 in 10 (30%) feel self-conscious about them.

Spending regrets: Close to three-quarters of Gen Zers (72%) feel regret about their personal spending at least sometimes. More than half who ever feel regret about their spending have felt this about food-related spending, including dining out (54%), on-the-go food/beverage purchases (54%) and food delivery (52%).
How Gen Zers handle finances
Members of Generation Z are newly minted adults, so they likely aren't quite as burdened as other generations when it comes to debt, at least not yet. Still, 3 in 10 (30%) have credit card debt, and more than a quarter (27%) have student loan debt.
Gen Zers are less likely than other generations to have written a check or visited a physical bank location for personal banking activities, according to the study. These two previous financial milestones may be less relevant in the era of peer-to-peer apps — like Venmo and PayPal — and online banking. Gen Z is also less likely than other generations to have applied for a credit card or started contributing to a retirement savings account.
More than two-thirds of Gen Zers (68%) use budgeting tools of some kind. Of those who use them, the most common "tool" is pen and paper (43%), followed by budgeting apps/websites (38%) and bank-provided tools (37%).
Gen Zers are content to do their banking completely online: Only 20% would rather use a brick-and-mortar bank for their everyday banking needs, while close to half prefer online (47%) and the remaining third (33%) have no preference.
Most of us have had to turn down activities we'd have liked to participate in for financial reasons, and Gen Z is no exception. More than 4 in 5 Gen Zers (83%) have been asked to do an activity they couldn't afford. Among them, just over half (51%) told the person inviting them they couldn't afford it and about a quarter (23%) made up a nonfinancial excuse not to go, but some decided to go anyway using savings (26%) or a credit card (17%).
Most of Gen Z has some financial support
Adult Gen Zers are college-age, and many of them have at least some financial support from their parents or others. Close to 3 in 10 Gen Zers (29%) say their parent/guardian/other family member pays for their groceries, and almost half (46%) say the same about their housing costs. It's reasonable to assume that many of these Gen Zers live at home while they're in college or just starting out in the working world.
Money misconceptions and where they might come from
No matter the generation, money misconceptions abound, and they can keep Americans from building credit and saving for the future. For instance, more than a quarter of Gen Zers don't think young adults need to worry about building credit (26%) or investing for retirement (28%), but both of these things are best started when you're young.
Around two-thirds of Gen Z (66%) think that building credit requires a person to keep a balance on their credit card at all times — an expensive, but very common, misconception. Using a credit card regularly can help consumers build credit, but rolling over a balance from month to month isn't necessary for credit health.
More than half of Gen Z (54%) — and close to half of Americans as a whole (48%) — think having multiple credit cards is bad for a person's credit, which isn't inherently true. There are five factors that go into most credit scoring models: payment history, credit utilization, average length of credit history, mix of credit types and recent applications. While applying for a new card may decrease the average length of credit history and penalize a person slightly for a new application, these two factors aren't as important as credit utilization.
Low credit utilization, or the percentage of available credit a person uses at any given time, is ideal for building credit. Some people might choose to decrease their utilization by getting a new card to increase their overall credit limit.
These misconceptions aren't unique to Gen Z, and some may have been passed down from older generations. Close to half of Gen Zers (48%) go to their parents for money advice. Fewer seek out money advice from finance websites, with less than a third of Gen Zers (32%) using financial service companies and other financial websites, like blogs.
Financial feelings and spending sorrows
Gen Z has plenty of feelings about their finances; the primary emotions they feel when thinking about the current state of their personal finances are anxiousness (41%), nervousness/confusion (40%), frustration (32%) and self-consciousness (30%).
Young Americans are more likely than older generations to have experienced regret about their personal spending — 83% of Gen Zers and of millennials (ages 24-39) say this, compared with 68% of Gen Xers (ages 40-55) and 49% of boomers (ages 56-74). Many Gen Zers experience this regret regularly, with more than a quarter (27%) saying they feel this way about their personal spending often or always.
Of those Gen Zers who feel spending regret, 54% feel regret about dining out and the same proportion about on-the-go food/beverage purchases. More than half (52%) feel regret about food delivery, and around a third (34%) feel the same about purchasing beauty products.
Use familial support as an opportunity to get your finances in order: "Gen Zers who are lucky enough to receive financial support from their parents or live at home with them can get ahead financially by paying off any high-interest debt and saving up for an emergency fund," says Kimberly Palmer, personal finance expert for NerdWallet. "Both of those steps will help prepare them for when they do one day live independently — and help reduce any anxiety about money."
Budget, budget, budget: Spending regret is rampant in the younger generations, and while a budget may seem restrictive, it can actually be freeing for those who feel bad about their personal spending. Many Gen Zers feel regret about their food spending, including dining out and food delivery, but if they have a specific amount of money set aside for this, they can spend it guilt-free.
"The 50/30/20 budget — where you put 50% of your take-home pay toward needs, 30% toward wants and 20% toward savings and any debt payments — allows you to make room for some splurges like food delivery while keeping them within safe limits," Palmer says.
Consider starting to save for retirement now: Retirement age may be a long way off, but the best thing you can give your retirement savings is time to grow. Saving in your 20s versus waiting until your 30s makes a huge difference.
Let's say you make $50,000 a year, contribute 10% of your income to a retirement account and earn a return of 6%. If you started saving at age 20, you would have $1.92 million at age 67. But if you started saving at age 30, you would have around $962,000. That's about half the final balance for waiting just 10 years to start saving. "Gen Zers have time on their side now — saving for retirement just as you're entering the workforce can seem daunting, since incomes are often relatively low and the payoff is still decades away, but starting early will pay off later. Your future self will thank you," Palmer says.
If your workplace offers a retirement account, like a 401(k) or 403(b), you get the benefits of automatic contributions from your paycheck and likely paying less in income tax — and possibly a match from your company, which is free money, like getting a salary increase for being a retirement saver. If you don't have access to a workplace retirement account, you can open an IRA and start contributing up to $6,000 per year (as of 2020). Even if you can't swing the full $6,000 yet, every dollar you save will make a difference.
Evaluate job offers with a focus on financial health: When asked how they would evaluate future job offers, Gen Zers were less likely than other generations to prioritize salary and benefits like 401(k) match and health insurance and more likely than other generations to prioritize perks like free food and travel. A 401(k) match on a starting salary might not seem worth considering, and having health care under a parent's plan may make Gen Zers deprioritize these aspects of a job at this point in their lives, but over time, they're probably more valuable than perks.
"While getting free food at work is nice, it's not going to help you pay off your student loans or afford to retire one day. Evaluating offers based on their long-term benefits can help you choose the best opportunity for you," Palmer says.
This survey was conducted online within the United States by The Harris Poll on behalf of NerdWallet from Jan. 15-17, 2020, among 3,001 U.S. adults ages 18 and older, 346 of whom are adult members of Generation Z (ages 18-23). This online survey is not based on a probability sample and therefore no estimate of theoretical sampling error can be calculated. For complete survey methodology, including weighting variables and subgroup sample sizes, please email [email protected].

Find and move all your old 401(k)s — for free.
401(k)s left behind often get lost, forgotten, or depleted by high fees. Capitalize will move them into one IRA you control.