How a High School Teacher Carved Out a Side Niche in Woodworking
Through trial and error, he created a side business out of a lifelong hobby.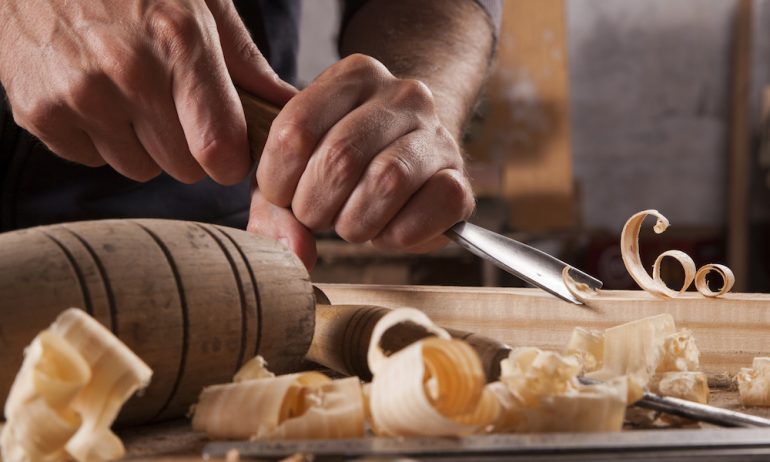 Many or all of the products featured here are from our partners who compensate us. This influences which products we write about and where and how the product appears on a page. However, this does not influence our evaluations. Our opinions are our own. Here is a list of our partners and here's how we make money.
In this series, NerdWallet highlights people with great side jobs. We share how they landed the gig, what they've learned and their tips for getting started.
Some of Steve Smith's earliest memories are of pounding nails and boards together in his grandfather's basement as a 5-year-old. That experience helped spark a lifelong interest in making things that eventually led the 58-year-old high school teacher to carve out a niche for himself in woodworking.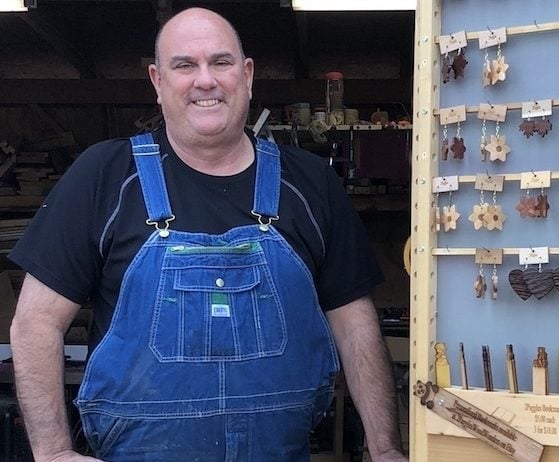 Smith, of Greensboro, North Carolina, has parlayed his hobby into a side business he named 2Puggles after his beloved dogs, Marty and Roxie. He sells bookmarks with laser-cut designs of animals, wooden jewelry and other items, primarily at craft shows but also on Etsy, an e-commerce platform for handmade and vintage items.
But success in this side gig didn't happen overnight. In fact, his first product flopped, and until recently he considered Etsy his "nemesis." Find out how he navigated those challenges.
Smith has always had an entrepreneurial spirit. Before he became a marketing teacher, a job he's held for 13 years, Smith owned two businesses — one focused on precision machining and the other on plastic processing. In late 2014, he came across a video of someone making intricate wooden snowflake earrings and thought to himself, "I can do this."
"

I have been looking for years to run a business that was flexible — something I could work on when I felt like it.

"
Steve Smith
In the 16-by-35-foot wood shop at the back of his property, he experimented with re-creating those earrings as holiday gifts for his wife, friends and co-workers, spending 15 hours making 20 pairs of earrings. They were so warmly received that the wheels started turning about monetizing his longtime pastime.
"I have been looking for years to run a business that was flexible — something I could work on when I felt like it," Smith says.
After the holidays, he created eight more versions of the snowflake earrings, each made with different colors and types of wood, and listed them on Etsy — but no one bought them.
Undeterred, he decided to sign up for his first craft show to try to sell there. Despite some bad luck with the weather at the outdoor show, he sold $130 worth of earrings and received dozens of compliments in the hour or so that skies were clear. It wasn't a lot of money, but it was enough to give him the confidence he needed to keep at it.
In April 2015, after attending a few craft shows, his business instincts kicked in.
"I was putting too much emphasis on sales without knowing what I was doing," Smith says. "I needed to get better at woodworking."
He created a plan: He'd devote the rest of 2015 to learning more about woodworking, the next year to building brand awareness and expanding his line of products, and the following year to maximizing profits by focusing on the best-selling items.
During the product expansion phase, Smith made "everything under the sun" in addition to earrings — necklaces, wine boxes, bracelets and coasters — to see what customers responded to. His most popular items have been earrings and bookmarks, so now he focuses on those.
Setting expectations: time and money
2Puggles wasn't immediately a cash cow. In the first year, Smith made around $5,000, before taxes and expenses. In 2016 and 2017, he brought in close to $13,000 and $14,000, respectively. This year, he doesn't have a specific revenue goal since he's preoccupied with an extensive home remodeling project. However, he thinks he can sell $20,000 worth of goods after the remodeling is complete.
With the remodeling, he can spend only six to eight hours a week on 2Puggles. Before the remodeling, he would spend anywhere from 20 to 30 hours a week on the business during the school year and up to 60 hours a week during summer break.
Smith attends more than two dozen craft shows around his home state of North Carolina each year, and although those generate 95% of his revenue, success can be hit-or-miss. One holiday show charged $700 for a booth, but he made only $1,100 in sales, compared with another show where he spent $60 on a booth and made $2,000.
Selling on Etsy has been a challenge, but he's finally figured out a strategy. He says there was a lot of competition for wooden earrings, but the bookmarks sold well on the site. As a result, he sells only his earrings at craft shows, and his Etsy page features only the bookmarks. (He sold $1,200 worth of bookmarks on the site this past holiday season.)
"

It's about the challenge and excitement of running a business, getting a product out there and selling to people.

"
Steve Smith
Since he and his wife both have full-time salaries and have plenty in savings, Smith prefers to invest his profits directly into the business by upgrading his tools.
"I'm so not motivated by money," he says. "It's about the challenge and excitement of running a business, getting a product out there and selling to people."
Tips for running a woodworking business
If you're thinking of exploring woodworking as a side gig, Smith offers the following tips:
Don't go overboard. "If you're starting a woodworking business, don't go buy a whole bunch of expensive tools. It's fun and enjoyable, but totally unnecessary," he says. Smith already had a functioning wood shop when he started 2Puggles, but he says $500 can get you the essential tools, which include sandpaper, glue, rags and nails.
Get feedback. Smith gets some of his best business ideas from an unlikely place: his classroom. "I casually told my students about 2Puggles and they were really engaged," he says. His students give him suggestions, such as which craft shows to attend, and some have even interned for him.
Differentiate yourself. Find a product you enjoy making, but make sure it stands out in some way. He homed in on wooden jewelry because he's seen so many woodworkers selling cutting boards and coasters at craft shows. "Someone doesn't need to buy multiple sets of coasters, but they might purchase another set of earrings or bring their friends," he says. He knows people who've had success selling picnic tables.
Test your products. Before you decide to make a lot of one item, test it on a sample population. Smith does this with his earrings. "Before I make a new style of earrings, I'll make 10 pairs to start. If they're popular, I'll go back and make 100 pairs," he says.
Lead with flash, but know that simplicity sells. One strategy Smith says has helped at craft shows: using his snowflake earrings as an attention-grabber but also offering simpler earring designs, like dots and heart shapes. "Put the most complicated, intricate stuff in the booth and don't worry about profit on those. It catches people's attention, but they may not sell well at all," he says. "Have simple stuff that a relatively conservative person would wear."