Debt Settlement: How It Works and Risks You Face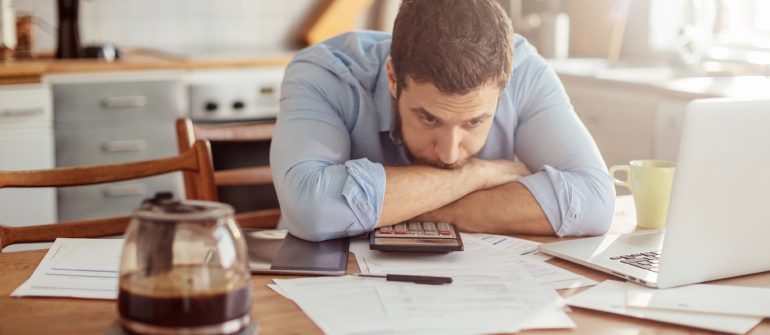 Many or all of the products featured here are from our partners who compensate us. This influences which products we write about and where and how the product appears on a page. However, this does not influence our evaluations. Our opinions are our own. Here is a list of our partners and here's how we make money.
Debt settlement means a creditor has agreed to accept less than the amount you owe as full payment. Once it accepts that deal, the creditor can't continue to hound you for the money and you don't have to worry that you could get sued over that particular debt.
It sounds like a good deal, but debt settlement can be risky:
Debt settlement can destroy your credit.

Reaching a settlement can take a long time to accomplish — often between two to four years.
Even if you are successful at debt settlement, it can take years and you may discover you owe tax on any forgiven debt. And if you use a debt settlement company, you'll pay fees. It is a last resort.
How debt settlement works
Debt settlement comes into play only when you have many late or skipped payments and possibly collections accounts. A creditor or collector is not going to accept less than you owe if there's reason to believe you could pay the full amount that you originally agreed to.
Your credit scores will have been shredded, you will feel hopelessly behind and your income won't be enough to keep up with your debt obligations.
Debt settlement companies negotiate with creditors to reduce what you owe, mostly on unsecured debt such as credit cards. It's not an option for certain types of debt, such as a house that can be foreclosed on or a car that can be repossessed. Companies typically don't settle federal student loans, but you might be able to settle your student loans on your own. If you're struggling with your student loans, an income-based repayment plan might help you.
Settlement offers work only if it seems you won't pay at all, so you stop making payments on your debts. Instead, you open a savings account and put a monthly payment there. Once the settlement company believes the account has enough for a lump-sum offer, it negotiates on your behalf with the creditor to accept a smaller amount.
Do debt consolidation loans hurt your credit?
How do I reduce my credit card debt?
Some debt settlement companies say they can reduce your debt by 50% and get you debt-free within 36 months.
However, the process is not as clear-cut or as easy as it sounds. Again, we believe debt settlement should be the last resort.
Here are risks associated with debt settlement:
Your credit will take a hit: If you're not already delinquent on your accounts, you will be once you divert debt payments toward the settlement account. Delinquent accounts and debt charged off by lenders stay on your credit reports for seven years.
Penalties and interest continue to accrue: You'll likely be hit with late charges and penalty fees as well. Interest will keep racking up on your balance.
There's no guarantee of success: The two largest debt settlement companies are National Debt Relief and Freedom Debt Relief. Freedom Debt, for instance, says it has settled more than $10 billion in debt for more than 650,000 clients since 2002. However, there's no guarantee that the debt settlement company can resolve your debt for significantly less, considering some creditors do not negotiate with them.
According to a study by the Center for Responsible Lending, a nonprofit research and policy group, most consumers would have to settle at least four accounts to receive a net benefit. In addition, debt totals may rise as fees accrue, and aggressive collection attempts may continue during the negotiation process.
You have to pay a fee when a debt settles: By law, these companies can't charge you upfront fees. Most of them charge a percentage of each debt they settle, based on that debt's balance when you enrolled it in the program. Some charge a percentage of the debt eliminated by the settlement.
For example, say you owe $10,000 and the agency negotiates a settlement for $6,000. The agency charges 25%.
If the agency charges a percentage of settled debt, you'd pay the creditor its $6,000 and pay the agency $2,500 in fees (25% of the $10,000 balance enrolled). Total: $8,500.

If the agency charges a percentage of eliminated debt, you'd pay the creditor $6,000 and the agency $1,000 in fees (25% of the $4,000 in eliminated debt). Total: $7,000.
You'll pay additional fees: Besides the fees paid to when a debt settles, customers can face other fees, such as a setup and monthly fee to maintain the dedicated account set up under the program.
Forgiven debt may be taxable: You should also be aware that the Internal Revenue Service generally regards forgiven debt as income. You may want to consult a tax professional about additional tax obligations you'll be taking on if you settle your debt.
If you do decide to enlist the services of a debt settlement professional, be careful. It's easy to let your guard down when you're feeling desperate and see promises of debt relief. The National Consumer Law Center has said debt settlement companies are "almost never worthwhile and can get consumers into even deeper financial trouble."
The Consumer Financial Protection Bureau takes a somewhat softer view, but still cautions consumers strongly, saying that dealing with such companies is risky and that other options should be explored first. There have been over 330 complaints against debt settlement companies to the CFPB since 2014. Among the most common claims were fraud and excessive fees.
Alternatives to debt settlement
Michael Bovee, a debt settlement coach and a frequent critic of his industry (he has testified before the Federal Trade Commission in favor of more regulation), advises erasing your debt through Chapter 7 bankruptcy and starting again, if you have the option.
For borrowers who are overwhelmed by unsecured debt such as credit cards, consider how your options compare, like debt settlement vs Chapter 7 bankruptcy. A Chapter 7 bankruptcy is almost always a better option. Yes, a bankruptcy will sully your credit history for years, but the rebuilding process can begin immediately. Consultations with a bankruptcy attorney are typically free, though you'll pay legal and filing fees if you choose this route.
"If you can erase your debts in a Chapter 7 bankruptcy, that's a much better option than trying to negotiate settlements," says NerdWallet columnist Liz Weston, author of "Your Credit Score" and "Deal With Your Debt." "Only if Chapter 7 isn't an option — you refuse to file for bankruptcy, or you can only qualify for a Chapter 13 repayment plan — should you consider debt settlement."
If you don't qualify for a bankruptcy or don't want to file one, consider a debt management plan offered through a nonprofit credit counselor. Going that route will not typically reduce the amount you must repay, but it may reduce your monthly payments by stretching them out or by reducing your interest rate. It will have less impact on your credit than either bankruptcy or a debt settlement.
If you decide to try settlement
If you feel that debt settlement is the best or most appropriate choice for you and you want some assistance in pursuing debt settlement, Bovee has tips for choosing a company wisely:
Stay away from any company that seeks money in advance or guarantees that your debt can be settled.

Make sure fees are structured as a percentage of debt eliminated rather than of debt balance at enrollment; that gives the company incentive to trim more of your debt.

Avoid companies that promise to help you challenge debts to have them declared "invalid" (a tactic that can backfire and result in more aggressive action against you).
If you don't want to use a debt-settlement company, consider using a lawyer or doing it yourself.
A lawyer may bill by the hour, have a flat fee per creditor, or charge a percentage of debt or debt eliminated.
Once you're significantly behind, it usually doesn't hurt to reach out to your creditors. Some banks have hardship programs that may be able to help. But be certain you can afford any reduced payment options your bank may offer.
You may want to gather as much cash as you can to make a lump-sum offer, whether this means taking a part-time job, selling sports equipment that's been languishing in the basement or borrowing money from your cousin. (Creditors may be likelier to take a lump-sum offer, which gives them money immediately, rather than taking a chance on payments that might not come.) Also be aware that some creditors may have a policy against settling debts.

Find and move all your old 401(k)s — for free.
401(k)s left behind often get lost, forgotten, or depleted by high fees. Capitalize will move them into one IRA you control.