How I Ditched Debt: Grad Gives Gift to Her Future Self
Many or all of the products featured here are from our partners who compensate us. This influences which products we write about and where and how the product appears on a page. However, this does not influence our evaluations. Our opinions are our own. Here is a list of our partners and here's how we make money.
In this series, NerdWallet interviews people who have triumphed over debt using a combination of commitment, budgeting and smart financial choices. Responses have been edited for length and clarity.

Ogechi Igbokwe didn't want to be another student loan statistic.
After graduating in 2014 from State University of New York, Old Westbury, with a master's degree in accounting and $26,000 in student loan debt, Igbokwe realized she could be paying for her education well into her 40s. She knew that to help her future self, she would have to make sacrifices now.
Igbokwe lived frugally for three years to attack her student loan payments, staying in a small apartment and driving a '99 Toyota Camry she paid for in cash. She paid off her loans in the spring of 2017, just in time to celebrate her 31st birthday.
The experience inspired her to create One Savvy Dollar, a website that helps students and recent grads manage their finances. She recently connected with NerdWallet to share her story, which may inspire you to pay off your debt.
Sign up to link and track everything from cards to mortgages in one place.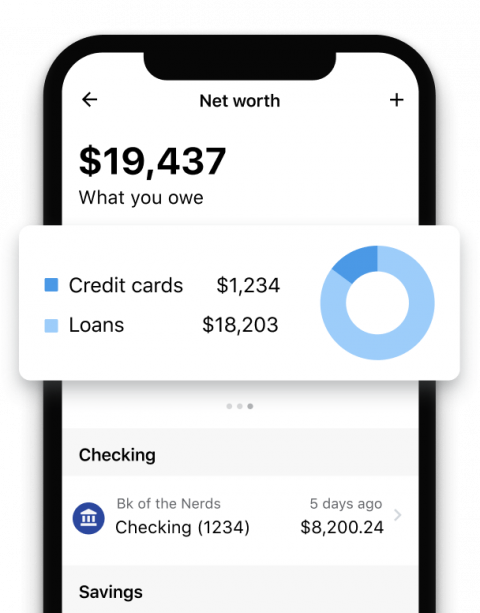 What was your total debt when you started your repayment journey and what is it now?
My total debt on my student loans was $26,000 when I completed graduate school. My annual salary when I started paying off debt was $40,000. Today, I have no debt except for a mortgage on a rental property. The rent covers my mortgage payment.
How did you end up in debt?
The debt really began when I decided to go to graduate school. I took the GMAT and GRE and enrolled for a master's in accounting. However, to get into the actual program, I needed to take some prerequisites, and that's when I started taking federal student loans. I had loans for both the undergraduate prerequisites as well as for graduate school.
What triggered your decision to start getting out of debt?
I wanted to give myself the gift of getting rid of my student loans. I realized that the older I get, the less entangled in debt I want to be. I didn't want to keep paying for student loans that I had acquired in my 20s in my late 30s or 40s. As you get older, you have more responsibilities and suddenly you realize you're just working to pay your bills.
What steps did you take to reduce your debt?
I was strategic about working for an employer who would help me pay for school. The bank where I worked paid for some part of my graduate degree.
I was on a standard repayment plan of 10 years for my debt, and I didn't change it because I wanted to get rid of my debt quickly with as little interest paid as possible.
My salary increased over three years, but I had to make a conscious effort to not increase my lifestyle choices. I didn't buy a new car, and because I had an older car, I didn't get full [insurance] coverage, which saved a lot of money. In addition, I didn't get a fancy or huge apartment while living in New York.
One resource I used was a little book, "The Richest Man in Babylon." I read it many years ago, and it really helped me change my mindset [about finances].
What challenges did you face along the way?
The biggest hurdle was peer pressure. I had friends who said I should be driving a nicer car. They didn't know my goal, and I didn't share it with them.
It took a lot of mental fight to not give in, but paying off my loan was important to me. [To stay motivated,] I kept my goals in front of me, either visually or written down; I write a lot, so I carry a notepad with me. When I was done, I told my friends, and they were happy for me.

How do you remain debt-free today?
I put the same student loan payment amount toward my retirement every month. I also changed my car, but it's a used car I got at an auction and paid for in cash. I also keep building my emergency funds for unexpected expenses.
How to tackle your own debt
As Igbokwe notes, an emergency fund is crucial to cover unforeseen expenses. Set one up before you tackle debt. Once that's established, you can address your student loans using these steps:
If you have federal loans and the payments are too high, compare your options to lower them, which include income-driven repayment plans, federal loan forgiveness, deferment and forbearance

If you have private loans, you can refinance them. Federal loans can also be refinanced, but you lose some borrower protections in the process.

Use the calculator below to assess how much refinancing your loan could save you