How to Eat Healthy on a Budget
Here are 10 tips for eating nutritious meals and watching your wallet, including meal prepping, shopping your pantry and hitting up your local farmers market.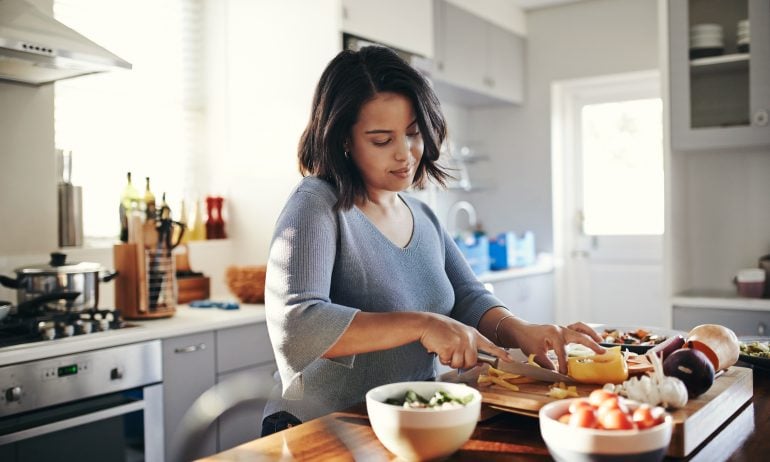 Many or all of the products featured here are from our partners who compensate us. This influences which products we write about and where and how the product appears on a page. However, this does not influence our evaluations. Our opinions are our own. Here is a list of our partners and here's how we make money.
Anyone who has been to the store lately knows that grocery prices are rising. If you're trying to eat healthy on a budget, the cost can feel overwhelming and create an obstacle to cooking wholesome meals at home. But with a little planning and strategic shopping, you can eat nutritiously while watching your wallet.
Definitions of "healthy" vary depending on your age, sex, activity level or other health conditions. One guideline comes from the U.S. Department of Agriculture, which suggests that every plate feature half fruits and vegetables, one-fourth grains and one-fourth protein, with a side of low-fat dairy.
Here are 10 tips to eat cheap and healthy at home:
1. Make your meals instead of ordering takeout
Cooking at home can help you meet two goals: You eat healthier by controlling the ingredients, such as using a fraction of the butter and salt that restaurants tend to use, and you spend less money, especially if you've been using a meal delivery service to order takeout.
You can get creative with leftovers for lunch the next day, making that midday meal a little less stressful and taking away the temptation to grab something on the go. Roasting a chicken one night? Shred the leftovers, add some salsa and toss it on a tortilla for lunch the next day. Or mix it up with a little mayo and a diced apple for a tasty chicken salad.
By repurposing leftovers, you can also save money by reducing food waste.
Make a double batch to freeze for later
If you're planning a healthy recipe that's easy to double, go ahead and make that second batch. You can pop it in your freezer for a day when you're too tired to cook or can't make it to the store.
2. Plan your weekly menu, and stick to your list
Meal planning is a great way to adhere to a healthy diet without blowing up your budget. Map out your meals and snack options for the week, and make a grocery list. The key: Avoid impulse purchases and stick to your list at the store.
To cut down on miscommunications and repeat purchases, try a grocery list app like AnyList or OurGroceries. Other members of your household can add to the list and access it, no matter who ends up going to the store. And you're likely not going to forget your list if it's on your phone.
You might have made this mistake: You're starving but need to make a quick trip to the grocery store. Before you know it, your cart is filled with things that caught your eye. And you leave wondering how you spent so much more than you expected. Avoiding the grocery store while you have an empty stomach will likely save you money on impulse purchases and prevent food waste down the line.
3. Before you shop, take inventory
You've planned your meals and made your list; now it's time to investigate what you have on hand. Checking your inventory will keep you from over-shopping and buying multiples of things you already have.
Taking stock of your pantry and refrigerator is also helpful if you're in a cooking rut. If you find too many cans of diced tomatoes or produce that's on its way to wilting, you can meal plan in reverse to maximize your past grocery purchases. A quick internet search for "recipes with diced tomatoes" will produce dozens of ideas.
4. Don't shy away from frozen and canned produce
Fruits and vegetables are a staple of any healthy diet. But fresh produce has a short shelf life and can be pricey. Opt for frozen goods to save money — without sacrificing nutritional value.
"Produce is flash frozen at peak ripeness, meaning flavor and nutrients remain intact," consumer savings expert Andrea Woroch says. "Plus, frozen goods store longer than fresh, and you can stock up during sale time."
If eating healthy is top of mind, steer clear of canned goods packed in syrup and choose items that come in water instead, according to the Centers for Disease Control and Prevention.
Store brands — sometimes called private labels — are often identical to their name-brand counterparts in ingredients and quality. Where they differ is price.
"Shoppers can save 30% to 50% when they buy generic or store brands of such healthy foods as whole wheat pasta, canned organic vegetables and more," Woroch says.
6. Try cheaper cuts of meat or protein alternatives
Think beyond boneless, skinless chicken breasts, which will likely cost you more than $4 per pound, according to U.S. city average data from the Bureau of Labor Statistics. Instead, snag some chicken legs for less than $2 a pound.
Add meatless Monday to your calendar
If meat prices are putting you over budget each week, there are other ways to get protein. Cheaper substitutes like beans, tofu and lentils can cut your grocery bill and fill you up.
Introducing more plant-based foods into your diet can also help your heart health and put you at less risk for stroke and diabetes, according to the Mayo Clinic.
7. Shop at discount grocers, or buy in bulk
Eating healthy doesn't require shopping at Whole Foods. Discount stores like Aldi, Trader Joe's and Grocery Outlet offer nutritious items for less than mainstream grocery chains. However, these stores carry more limited products — for example, only two types of canned black beans rather than the many found in traditional supermarkets.
Shopping at a discount store might require you to make multiple stops to get everything on your list, so if you're in an area with high gas or transit prices, you'll need to gauge whether the extra trips make financial sense.
Consider wholesale clubs for bulk items
Buying in bulk can help fill your pantry with nutritious staples while saving money. A membership to a wholesale club like Costco, BJ's or Sam's Club is especially helpful for shelf-stable items.
To lower your weekly grocery bills, try buying meat at wholesale clubs and freezing it for later. This way, you'll need to stock up only on produce, dairy and other fresh food each week.
Going in on a membership with a friend or family member and splitting the haul is another way to get wholesale prices without overloading your cabinets. This option can also help you use perishables before they go bad.
8. Shop seasonally at your local farmers market
There's no better place to connect with your community and buy healthy, locally grown goods than a farmers market. Shop what's in season for tastier food that's also less money because it's currently in abundance. Shopping seasonally can also encourage you to try a larger variety of foods, which is an important part of a healthy diet.
Many markets accept federal and state food benefits, such as the Supplemental Nutrition Assistance Program, commonly referred to as SNAP. Some even offer matching dollar programs, helping your benefits go further. The USDA keeps a list of farmers markets around the country that accept SNAP.
9. Take advantage of credit cards and cash-back apps
Being strategic with how you pay for groceries — or the occasional takeout — could save you money, too. Some credit cards offer cash-back savings or extra points when you use the card on groceries. Check the cards in your wallet to see whether you have one with these perks that you haven't been using.
Cash-back apps can also help offset costs. Try uploading receipts using an app like Fetch Rewards to get points you can redeem for gift cards. Apps like Ibotta allow you to find coupons before shopping and then upload your receipt later to get cash back.
10. Seek out food assistance programs
If you're finding it difficult to afford meals, you might be eligible for a food assistance program. School lunch programs are available to help children in need. And local food banks can be a resource during challenging times.