How to Fight the 'Pink Tax' Amid Inflation
To beat gendered pricing, compare unit prices, opt for gender-neutral hygiene products and research before shopping.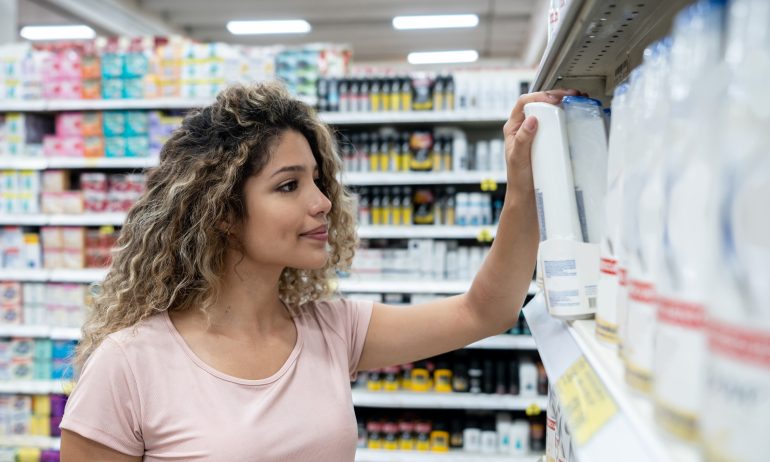 Many or all of the products featured here are from our partners who compensate us. This influences which products we write about and where and how the product appears on a page. However, this does not influence our evaluations. Our opinions are our own. Here is a list of our partners and here's how we make money.
Trae Bodge, a shopping expert who lives in the New York City area, sees higher prices for products and services marketed to women everywhere: Socks, razors, shampoo and apparel are a few of the product types aimed at women that tend to cost more. 
"I don't know why brands think this is acceptable," Bodge says. "It's another punch to the gut as we're trying to manage our budgets right now," she adds, referring to rising prices across consumer goods categories due to inflation. 
The phenomenon known as the "pink tax," when products and services aimed at women cost more than their counterparts aimed at men, is well-documented across many goods and services. A 2021 paper co-authored by Stephanie Gonzalez Guittar, assistant professor in the sociology department at Rollins College in Florida, found that women pay more for deodorants and lotions, and that personal care products are increasingly differentiated by gender. For example, lotion for women cost an average of $2.97 per ounce compared to $1.86 for men. 
While Equal Pay Day on March 14 focuses on the pay gap between men and women, it can also be a reminder to consider why being a woman so often comes with a higher price tag — and what to do about it.
Here are ways to avoid paying the pink tax.
Opt for gender-neutral products
As Gonzalez Guittar points out, there is no reason why women need to use lavender scents while men stick with pine. Companies also often market multiple products to women — such as separate shampoo, body wash and conditioner — while marketing a three-in-one product to men. 
"These are basic hygiene products that don't need to be gendered," she says. Shoppers can save by purchasing more generic or gender-neutral products instead of the gendered versions, she says. "Ultimately, [these products] are pigeon-holing what femininity looks and smells like, and that comes at a price."
Gonzalez Guittar urges consumers to take a close look at the ingredients and size information on the packaging to help make more informed decisions before they buy.
"Look at the price per ounce, because women's products tend to be smaller," she says, and you can often get a better deal by purchasing unscented products in larger quantities instead. At grocery and drugstores, you can often find the unit pricing on the shelf tag in front of the product. 
Comparison shop in advance
Ian Ayres, a professor at Yale Law School, first identified that car dealers often offered the best deals to customers who were white men with research in the 1990s. Follow-up studies since then have affirmed the persistence of discriminatory pricing along with some progress, especially at online and no-haggle dealerships, Ayres adds.
"You can get a competitive interest rate by shopping around and you don't need to go through the dealerships," Ayres says. 
When it comes to services such as dry cleaning or haircuts, men's prices tend to be lower, but Bodge says they don't have to be.
"If I'm having a cotton oxford shirt cleaned, I just ask for the men's option, especially if the pricing is posted," she says. "With haircuts it's trickier, but if you have a short pixie cut, ask for the men's price."
California and New York have passed laws against gender-based pricing, which provides a legal recourse for consumers who notice price discrimination based on gender. You can report violations to the New York State Division of Consumer Protection or the California Department of Consumer Affairs. Other states have proposed similar legislation.
"We have to look at how we push back with legislation. When we think about economic justice, we often only think of equal pay, but that's not the only area where women are experiencing economic injustice," says Christian F. Nunes, president of the National Organization for Women, an advocacy group dedicated to defending women's rights. 
"They charge you more, but also underpay you," says Nunes. "It's harder to have a sustainable life."
Given the wage gap and women's longer expected lifespans, it's essential for women to amass savings to get through the post-retirement years, says Cindy Hounsell, president of the Women's Institute for a Secure Retirement, a nonprofit that advocates for women's retirement security. "People always say, 'I wish I had saved more,'" she says. 
That means leveraging all available work benefits, such as 401(k)s, as well as cutting back on extraneous spending.
"It makes a big difference how you spend your money," she adds. She urges people to use online calculators to figure out how much you will need in retirement so you have a clear goal. "Everyone needs a different amount."
Meanwhile, given the high rates of inflation across many consumer categories, the additional cost of the pink tax only makes it even harder for women to save. 
Says Bodge: "It's another hurdle that we need to leap over."
This article was written by NerdWallet and was originally published by The Associated Press. 

Find and move all your old 401(k)s — for free.
401(k)s left behind often get lost, forgotten, or depleted by high fees. Capitalize will move them into one IRA you control.