Late Car Payments? Avoid Repossession in 3 Quick Steps
To avoid repossession, know where your finances stand, explore your options, then call your lender.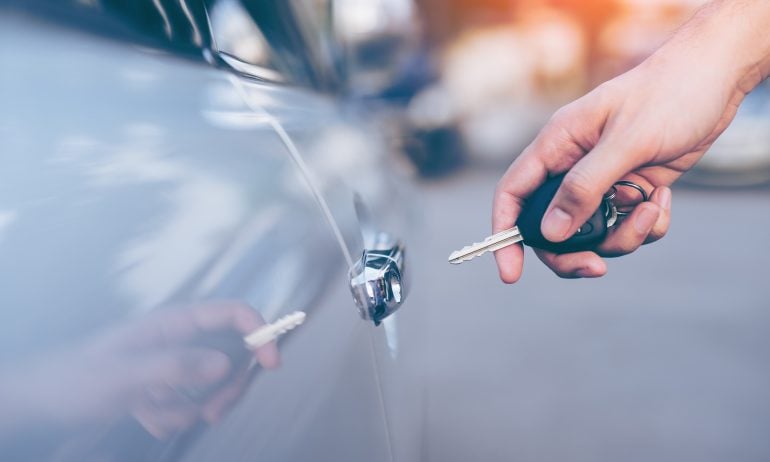 Many or all of the products featured here are from our partners who compensate us. This influences which products we write about and where and how the product appears on a page. However, this does not influence our evaluations. Our opinions are our own. Here is a list of our partners and here's how we make money.
If you've missed a payment on your car loan, don't panic — but do act fast.
Two or three consecutive missed payments can lead to repossession, which damages your credit score. And some lenders have adopted technology to remotely disable cars after even one missed payment. You have options to handle a missed payment, and your lender will likely work with you to find a solution.
Whether you just forgot to send the payment or can't afford the full amount, having an informed, honest conversation with your lender is key to limiting the damage.
How to avoid repossession after missed car payments
1. Know what you owe and how much you can pay
If you simply overlooked the payment but can cover it, great. Skip ahead to Step 2. But if you're having a hard time pulling together your payment, start with a little research.
Know your loan details: Make sure you understand your loan balance, interest rate and term (how long the loan runs). Check to see if there's a fee for a late or missed payment.
Know what you can pay: Review your budget to see if you can trim any expenses so you can put more toward your loan payment. (If you don't have a budget, start now with at least a simple one like the 50/30/20 option below.) Try to pull together some extra cash.
Once you've identified how much you can pay this month, take an honest look at your overall situation. Think about whether this is one tight month or if your car payment is an ongoing problem. In general, try to keep car expenses — including loan payments, insurance, gas and maintenance — at no more than about 20% of your take-home pay.
2. Understand your options
How you proceed depends on whether your missed payment is a one-time issue or a sign that your loan is unaffordable.
If you can afford the payment
For a payment you simply forgot to make, call the lender to make the payment as soon as you can. You may have to pay a late fee for missing the due date. In the future, you may want to consider setting up automatic payments to avoid missing the payment again.
If you can't afford the payment
One-time late payment: Loan deferment is a common solution for an isolated missed payment. The missed payment is pushed to the end of the loan term, and you'll generally have to pay only the interest owed this month. Some lenders may waive late payment fees as well. In general, lenders are more forgiving when you've taken the initiative to communicate and made an effort to resolve your missed payment.
Then, immediately look into longer-term solutions, such as refinancing or trading in your car for a more affordable one. If you've missed multiple loan payments, your lender may suggest these options when you call.
Once you know what you can pay and your likely options, it's time to pick up the phone. Explain your situation and ask your lender about potential solutions, such as deferment. Remember, you're asking for help, so be courteous rather than defensive or angry.
Vince Shorb, CEO of the National Financial Educators Council, has one piece of advice: Know your story. Explaining the context of your missed payment — and what you'll do to resolve it — can make lenders more inclined to cut you a break.
"If you have a good story and see that light at the end of the tunnel, the lender may be more willing to work with you than someone who's on a downward spiral," Shorb says. "If they feel confident you'll be able to repay the loan, they'll feel more comfortable working with you."
You'll likely have to prove your story. For example, if you can't pay this month because you recently lost your job, but you have a new one starting soon, your lender may ask for employment verification.
Before signing on to any loan adjustment such as a deferment, be sure you fully understand the terms and get them in writing for future reference.
The good news is that your lender wants you to succeed in paying your loan rather than spend its money and time repossessing your car. Following these steps to assess, understand and communicate can head off damage to your credit.
Get score change notifications
See your free score anytime, get notified when it changes, and build it with personalized insights.