Smart Money Podcast: How the Nerds Do It: How a Mortgage Nerd Bought a House
Many or all of the products featured here are from our partners who compensate us. This influences which products we write about and where and how the product appears on a page. However, this does not influence our evaluations. Our opinions are our own. Here is a list of our partners and here's how we make money.
Welcome to NerdWallet's Smart Money podcast, where we answer your real-world money questions.
This week is another episode of our series "How the Nerds Do It," where we talk with Nerds about how they personally tackled the issues they write about every day. In this episode we talk with mortgage Nerd Kate Wood about how she bought a house.
Check out this episode on any of these platforms:
Before you build a budget
NerdWallet breaks down your spending and shows you ways to save.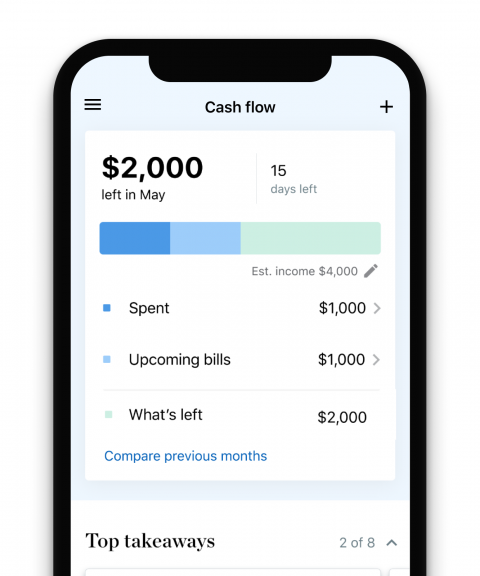 Mortgage Nerd Kate Wood really wanted to live with her dog. OK, there was more to it than that, but Kate's pet was a big part of her decision to move in with her mom. She also realized that rent where she lived was extremely expensive and that living at home gave her a serious opportunity to save some money.
Once she had a down payment saved, Kate got to work buying a home. Along the way, she realized the importance of having the right real estate agent, and that you shouldn't be afraid to change it up if they're not working for you. After Kate bought her house, she understood how being cognizant her income could fluctuate in the future had put her into a home that was well within her budget, but maybe not the best option for her since she now has a lot of repairs to worry about.
Kate also talks about letting go of FOMO, or the fear of missing out, in a competitive market. Just because other people are buying up the supply doesn't mean that you should waive the home inspection. Especially if there are arsenic-poisoned wells involved.
Find a top-notch buyer's agent. Note, you don't pay their commission, so there's zero reason to compromise on a buyer's agent.

Stick to a price point where the mortgage payment will work for you. Budget for everything that will go into your mortgage payment, including your principal and interest as well as costs such as homeowners association fees.

Don't succumb to FOMO. In a hot market, it's easy to get despondent and think you'll take anything. Make sure you really want that property — it's not just a house, it's your home.
More about homebuying on NerdWallet:
Alana Benson: Welcome to the NerdWallet Smart Money podcast. I'm NerdWallet investing writer Alana Benson. This episode, we're continuing our series called "How the Nerds Do It," where we talk with Nerds about how they personally tackle the issues they write about every day.
This week we're talking with Kate Wood, a mortgage Nerd who bought a house. She's going to talk us through how she managed to do it, some important details non-Nerds may not think to look into. And at the end, Kate will share her tips for how you can buy a house in a difficult market.
Alana Benson: I think this is a super interesting topic for a lot of reasons. The housing market has been crazy for a long time, and we all know millennials used to get made fun of because none of us were buying houses, but then all of a sudden we were buying houses. What made you want to buy a house versus rent? And how did you know that you were financially ready?
Kate Wood: I bought in 2020, which at the time, both talking to my colleagues at NerdWallet and talking to real estate professionals as I did my home search, everyone was like, "Oh my goodness, this is an unprecedented market. I can't believe this is all happening." Little did we know that 2021 was coming down the pike and that 2021 was going to be an even more intense housing market. It was a really interesting moment to be buying a home. But I was at a point where I was living at home. I had actually moved back in with my mother because I wanted to be able to live with my dog, pretty much.
Rent in Connecticut is very expensive, and if you want to live with a dog, even a small friendly dog like mine, it's just really, really hard to find rentals that will accept any pet. That was a big issue for me. I was living with my mom, saving up a whole bunch of money, and at some point I realized, "I think I have a down payment saved up here." That was a wild thing to realize.
Alana Benson: And did you do anything else aside from working and staying at home to save up for that? You just came upon the fact that you were able to do it, but you weren't trying to cut costs specifically?
Kate Wood: Yeah. So frankly, I had moved into having this job, and we here at NerdWallet are remunerated well, and that is really a blessing. So between having a higher income than I had had previously, and then being in a living situation where I paid a few of the bills, but in general I had already cut most costs that people have. I was in a really, really privileged position that I had a parent who was willing to let me live with them, because that meant that I was not paying housing costs. I was not paying that much in terms of food and things like that. Not to mention that it was 2020 — we spent a bunch of months quarantining. I couldn't have gone out and spent money if I wanted to because everything was closed. So when that's going on, you do end up building a nest egg, whether you mean to or not.
Alana Benson: That's so funny because for me, like you said, when I started at NerdWallet, my first thought immediately was, "I want to buy a house within two years." That was a very strong goal for me. But it's interesting how you come about it in different ways. I was like, "I am canceling all my subscriptions because I will save a down payment," which did eventually happen.
What did you learn in the process that non-Nerds may not necessarily realize about buying a house?
Kate Wood: I'd only been a Nerd for maybe six or eight months when I got started. I was still really learning the ins and outs of mortgages and I made a real rookie error. I had been spending a lot of my free time on my phone, scrolling through real estate listings, favoriting houses, just having that be a big part of my recreation. Eventually I saw this one house and I just thought, "Oh my goodness, drop everything. I want to see this house immediately." And so whichever app I was on, I clicked the "tour this home now" button.
When you click the "tour this home now" button, usually it takes you to a form that you fill out where you give them your email address and phone number. It's essentially a lead generation form. Someone from the company calls you, they'll talk to you very briefly, and then they put you on the phone with a real estate agent. I ended up spending, oh goodness, about eight weeks of working with this agent who was very uninterested in working with me, who — even though I wanted to see homes in certain parts of the state — really only wanted to show me homes that were convenient for her to drive to.
She also only wanted to show me homes where she was also the selling agent. You should absolutely never use the same agent as the buyer's agent and the selling agent. That's actually illegal in a bunch of states. That ended up being just a big time suck, and mercifully I hadn't signed anything with her, so I didn't have an exclusivity agreement or anything like that. We basically wasted a bunch of each other's time and I politely said, "Look, I think my search is going in a different direction." And she was just like, "Cool, thanks. Bye," which also tells you, "You're not the right agent." And so having made that mistake I realized, "OK, I need to get serious."
Having the right real estate agent makes a really big difference. As soon as you put out there that you're looking to buy a house, everyone you know, knows someone who has a real estate license and they're like, "Oh, you should just call them." And while in theory, that's great — it's always good to support your friends, or family, or neighbors, or whomever — it's a really big purchase. You want someone who's really good, so it's worth your while to get a really great buyer's agent. And so that was pretty much what I did.
Also, I knew what I wanted in a house. I knew that I wanted an older home. I didn't realize how old of a home I was going to end up buying, but I knew I wanted an older home. I was looking for someone who had experience with historic homes and looking at my eventual agent's website and then talking to her, it was very clear that this was the person who I wanted to work with. I am so glad that I took the time and did that because she and I ended up looking at about two dozen houses together in person over the course of four months.
You end up spending a lot of time with your agent, and you need to be able to rely on them for all kinds of stuff. She was also just really supportive. She helped me out with some of the parts of the process, which again, even though I was working at NerdWallet and writing about mortgages, there were parts of the process with which I was less familiar.
Alana Benson: It's crazy to think about all the things that we don't necessarily know about before we get started. But tell me about one of the things or a few of the things that you think that you did really well in the homebuying process?
Kate Wood: I was extremely budget minded, and I thought in terms of "What is the mortgage payment I want" instead of "How much could I qualify for?" Because getting on the phone with lenders and talking to loan officers, they want to be like, "Oh, let's see how much we can qualify you for today. This will be exciting, it'll be a big number." It might have been an exciting big number, but I didn't want a mortgage that big. I wanted a mortgage that felt manageable and affordable for me. I would counter by saying, "Well, this is what I'm looking for in terms of my principal and interest payment. How can we work with that? What can you do for me?" That was something that sometimes they were pretty taken aback by, but that was really helpful because we didn't even get into this sort of like, "Oh, you could have this giant mortgage."
And that also brings up something else I did that is, again, something I don't know that I would've done where I'm not a Nerd. I shopped around and talked to multiple mortgage lenders. Another thing that I think I did well was really sticking to my must haves, and that was hard to do at times. There was one day in particular where I remember going to an open house and it was a house that was so-so. It met my needs enough, but it did have a bunch of things about it I didn't like. But one thing it did have that was nice was a beautiful in-ground pool.
And the day I was looking at the house, it was about 95 degrees. All of a sudden, that house was looking pretty good, but I was like, "Let's put the brakes on here. Yes, I want to jump in that pool right now, but I don't know that this is the house that I actually want to own." This was also important when it came to really having blinders on and ignoring some of the wild competition that was going on around me. Again, I was buying in 2020, so things really were only going to get more heated and more competitive.
But even then, there was stuff going on that was just unbelievable. There was one property that I remember. I saw it online, everything about it looked terrific. It had tons of things that I really wanted, but it turns out that this house has a well, so it's not hooked up to any city water or sewer, and that the well is contaminated with arsenic. And so, given how competitive the real estate market is, I start looking up, "Can you mitigate arsenic?" "No, not really. You can put a whole house filter on, but you can't always be sure that's going to work. You have to constantly be testing your water to make sure it's OK." So then I'm searching effects of arsenic. Oh my gosh, they are not good. They are not good at all.
Alana Benson: Yeah, that's not something you want to mess with.
Kate Wood: Arsenic contamination just was a deal breaker for me even if everything else about the house seemed great. My agent let me know that that house got 24 offers. So someone definitely bought that house and hopefully has the whole house filter and is testing. But when you're in that kind of really heated environment where there are all these other buyers and everyone's putting in offers, you can really start to feel like, "I should be putting in an offer too. I don't want to miss out." I'm really glad and honestly a little bit surprised just knowing my personality that I didn't get swept up in that.
Alana Benson: That's such a great tip because it can be really easy if you're like, "Oh, I'm missing out," to jump into something that maybe wouldn't be a great fit for you or maybe isn't in your budget.
Kate Wood: In that case is literally toxic, could really mess you up.
Alana Benson: Yeah. What are some things that you would do differently if you were going to buy a house all over again?
Kate Wood: There are definitely a few things that I think I would do differently. I knew I wanted an older home. I was thinking I wanted a home from the 1950s or '60s. I ended up buying a home that is from the 1740s. It's very, very old. I knew this going in. But given my background and different outside expertise that I had, I thought, "This is something that I can take on. This won't be a problem." And it's really been a lot.
One thing that might have helped me — so, a condition of the sale was that I could not have a home inspection. At NerdWallet on the mortgages team, our view is you should absolutely always have a home inspection no matter what. The property that I ended up buying was bank owned and they were really, really trying to offload it, and given its age and also that it had been unoccupied for a while, I knew there were things wrong with it. It needed a ton of stuff done.
But at the same time in retrospect, there are a lot of workarounds that you can do to still get a home inspection. Because bear in mind, I did not buy this house site unseen. It was actually the first house that I saw once I was with my new better, awesome agent. I caught feelings for this house as soon as I saw it, but something about this house just captured me. And then my agent called the selling agent and he was like, "Oh, we've actually got someone, but since it's still pending, it hasn't closed yet. I figured I'd let you show it." She was like, "Thanks, cool."
And so months go by, she and I see roughly 23 other houses in person. We go through many, many more online. And then there was one day where all of a sudden I'm in a meeting and I can see my phone lighting up that she's calling me. What turned out to be the fourth buyer in a row had fallen through, wasn't going to close. And so now the house was available again. My agent caught that it was back on the market within something like 20 minutes of it being listed. We put in an offer, more or less right away, but the inspection contingency, or rather lack thereof, probably should have been more of an issue for me.
I think I was a little bit overconfident. I knew that a lot of things were going to need to be replaced, and I have replaced a lot of things. I added a septic system, for example. I replaced the furnace. I did a huge amount of rewiring. So a lot of stuff. But in general, if you're in a situation — because sometimes people are just in a situation where it's a competitive market and you don't want to look like, "Oh, I'm that fussy annoying buyer who wants an inspection," — there are a lot of different workarounds that you can do.
You aren't going to still get the full home inspection experience, but you will at least have gotten a home inspector to lay eyes on the property. And since I did have access to the property multiple times where it was just me and my agent, I could have snuck someone in there with me at some point.
Alana Benson: I feel like there's so many homebuying stories. I have similar clandestine homebuying stories.
Kate Wood: Yes, you've told me.
Alana Benson: The stars aligned and I fell in love and it was amazing, but I got to have an inspection. I feel like it's a lot harder and more nerve-wracking to go without one.
Kate Wood: Yeah, I wasn't nervous at the time. I probably really should have been. The other thing that I wish I had done differently, I mentioned earlier that when I was buying the home, I had been at NerdWallet for a while, but not incredibly long time. That was very new for me. I was coming from a background of freelancing and media jobs, and having a bit of a catch-as-catch-can income situation. I kept thinking, "Well, you're in this great position now, but what are you going to be like in the future?" And so I kept my budget really, really low because I kept thinking, "If my employment changes, if something else goes on, I really want to be sure I can afford the mortgage payment." I was thinking, "This house I buy is going to be my forever home. It's going to be my forever mortgage."
Really, probably none of that is the case, especially because just the way the stairs are in this home as they are in many very old houses, oh, this is not a home that is appropriate to aging in place. I feel like if I were going to do it differently, I think I would've maybe talked to a financial planner just to get a better sense of what my finances were really like, and to have someone who had a more balanced perspective. In the grand scheme of things, I think that I probably would have been better off spending a little bit more and having a larger monthly payment, and having fewer repair and renovation headaches/nightmares.
Alana Benson: Well, that's such an important thing to point out, balancing that if you are especially going to be purchasing an older home that will need those repairs, is that going to weigh more heavily than the mortgage. It's all like a balancing act, especially when things go wrong as they inevitably will in a new house.
How much of a strain is that going to put on your budget versus, could you afford a slightly larger monthly payment for your mortgage and how that balances out?
Kate Wood: Yeah. When I bought this house, I had my down payment savings, but I also already had a substantial renovation and repair fund saved up. And let me tell you, I zipped right through that. Once I had run through my home repair nest egg, I have taken out a couple of personal loans to pay for some of the larger things like the septic system.
Alana Benson: And that could maybe be a really helpful tip for our listeners too. There are other ways of financing those kinds of repairs down the line. It doesn't just have to be cash out of your pocket right away.
Kate Wood: No, it definitely does not. The other thing that I did, one of the tips that people always give you is that before you close on your home, basically do not touch your finances, don't do anything. Because you've given the lender this whole snapshot of what your income is and what all your debts are, all that kind of stuff, your credit score, you don't want to do anything to change that before you close. So the buyer before me on my house, that was exactly what they had done and that was why it didn't close. They had their offer accepted, they started the closing process and then they decided to buy a car.
And buying a car gives you, in this case, a new structured debt that you're working with that changed how much the lender was willing to let them borrow. Now they can no longer buy this house that they've committed to buy. That was why it fell through.
That was something I was very conscious of. Do not touch your finances, wait until everything is all said and done. Everything is signed, then ball at the mall. That is exactly what I did. I kept everything in tiptop shape. So by the time I'd closed, my credit score was I think literally excellent. And so within days of closing on my home, I applied for the best credit card that I could find. And obviously I researched it on NerdWallet. I'm not a credit card Nerd, but I certainly turned to them. They know their stuff. I looked into basically what was the best card that I could get that had the longest 0% APR period and went for that.
And then I used that so that I could buy a house full of furniture because going from apartment living, or in my case I was moving out of my childhood bedroom into a house, there was a lot of stuff I didn't own, like a couch or chairs that I needed. And so being able to make all these big purchases and then pay for them over time, because I wasn't paying interest on the credit card, that was really helpful.
Alana Benson: That's smart. I get all of my furniture at yard sales, but I might have to look into that.
Kate Wood: Don't get me wrong, I absolutely have Craigslist furniture. My dining set is Craigslist. I have antique mall furniture. But there were some things where I had sort of had these as dreams, things I had stuck on Pinterest boards years ago. I absolutely bought my dream area rugs for the house using the credit card. And then there were other areas where I scaled back because they were less important to me.
Alana Benson: Well, Kate, this has been amazing. I feel like you've given us a lot to think about. What are your takeaway tips for us?
Kate Wood: Find a top-notch buyer's agent. You do not pay their commission. There is no reason that you should compromise on your buyer's agent. You want a buyer's agent who will be your rock and your ersatz therapist at times, but who also is a really strong negotiator and who's going to be willing to go to bat for you when it comes to dealing with sellers and their agents.
Budget as inclusively as possible, and then stick to a price point where the mortgage payment is going to work for you. And that means thinking not just about your principal and interest, but everything that's going to go into your mortgage payment. If you're considering a single-family home or a condo or a town home where it's part of a homeowners association, think about the homeowners association fees.
And then my final tip is really just don't succumb to FOMO. Do not give into fear of missing out. It's really easy to get despondent and hit the wall and think, "Oh my gosh, I'll take anything with four walls and a roof. It can have a poisoned well, that's fine." You really need to make sure that you want that property because it's not just a house, it's your home. You are going to live there. So no matter how tired you might be of having offers rejected or getting turned down, if this is something that you feel really strongly about and you're really committed to, it's worth it to stick it out and make that happen.
Alana Benson: Thank you so much for joining us, Kate.
Kate Wood: No, thank you for having me back.
Alana Benson: And that's all we have for this episode. Do you have a money question of your own? Turn to the Nerds and call or text us your questions at 901-730-6373. That's 901-730-NERD. You can also email us at [email protected]. Also, visit nerdwallet.com/podcast for more info on this episode.
Kate Wood: And here's our brief disclaimer, thoughtfully crafted by NerdWallet's legal team. Your questions are answered by knowledgeable and talented finance writers, but we are not financial or investment advisors. This Nerdy info is provided for general educational and entertainment purposes and may not apply to your specific circumstances.
Alana Benson: With that said, until next time, turn to the Nerds.