Don't Let Your Love of Logos Become a Financial Faux Pas
Logo mania is back in fashion. Here's how to play along without putting your finances in peril.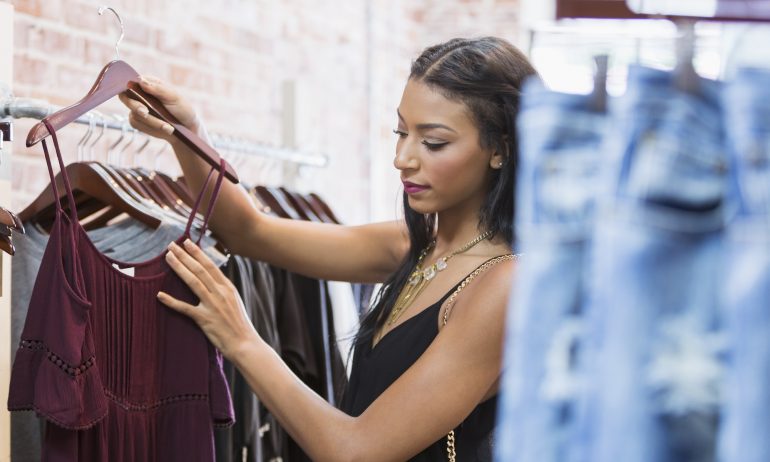 Many or all of the products featured here are from our partners who compensate us. This influences which products we write about and where and how the product appears on a page. However, this does not influence our evaluations. Our opinions are our own. Here is a list of our partners and here's how we make money.
If you don't keep up with the Kardashians, here's what you're missing lately: Logos are back in fashion.
A few months ago, Kim Kardashian posed in head-to-toe clothing dripping with Fendi's logo next to Louis Vuitton-emblazoned garbage bins (yes, really). More recently, model Hailey Baldwin was photographed in a denim-on-denim look with Versace written all over it — literally. And in a recent video with wife Beyonce, Jay-Z wore a suit covered in, you guessed it, a repeating Gucci logo.
Despite Us Weekly's claims, stars aren't just like us — and most of us can't afford their style. An ensemble similar to Baldwin's retails for $2,600, and a suit like the one Jay-Z rocked will set you back nearly $6,500. All of which makes part of Kardashian's get-up seem comparatively cheap; Fendi sells pantyhose for "just" $220.
"

The logo is worn differently; it's more irreverent now.

"
Oliver Chen

,

retail analyst
Some industry folks refer to the trend as logo mania, or Guccification. Whatever you call it, it's been making its comeback the past two years or so, says Oliver Chen, a managing director who analyzes retail and luxury goods companies at financial services firm Cowen & Co.
What's different now compared to other periods when logos dominated fashion — say, the 1980s — is how consumers interpret this trend, he says.
"The logo is worn differently; it's more irreverent now," Chen says, adding that there's a sense of nostalgia and playfulness in today's logo worship.
If this trend is a fashion do in your book, here are some tips for wearing the hippest apparel without putting your finances in peril.
Today's fashions versus tomorrow's passions
Chasing fashion trends can be fun. But before you rush to buy, make sure your love of logos doesn't result in a financial faux pas. Thanks to the magic of compounding interest, every dollar you spend today is a dollar-plus not saved for the future. Before spending hundreds (or thousands) of dollars on today's fashions, can you honestly answer "yes" to the following three questions?
Are you free of high-interest debt obligations, like credit card debt?

Do you have a rainy-day fund established that can cover your monthly expenses for at least three months?

Are you regularly setting aside money for retirement with a 401(k) and/or an individual retirement account?
If you answered "no" to any of the above, resist that impulse purchase for now. Instead, invest some time with a budget calculator to see how much you can afford to spend on things you want. NerdWallet recommends a 50/30/20 budget, in which no more than 30% of your take-home income is allocated to wants.
Fashion wants aren't necessarily needs
Conspicuous fashion doesn't offer many ways to fake the look on the cheap — you're either wearing a brand-name piece or you're not.
Consumers today are bombarded by marketing campaigns designed to get them to make a purchasing decision quickly, says Kathleen Grace, a certified financial planner and managing director at United Capital Financial Advisers in Boca Raton, Florida. And those "wants" can seem like "needs" in a culture where "it's become more prevalent to be flashy."
Even Grace, who wrote the financial planning novel "Prince Not So Charming," checks in with others to keep herself accountable before making impulse purchases.
"I love Chanel bags and shoes, but I've learned that when you put time in between that final purchasing decision, you make better decisions," she says.
When you're deciding whether those "wants" are justified, Grace recommends the following:
Identify how and why you spend money. Using behavioral finance learnings, United Capital offers an interactive tool that can help you make better spending decisions.

Ask yourself why. Contemplating a $700 pair of shoes? Ask why you need those in lieu of a $100 pair, and whether this purchase justifies spending less money on something else — say, a trip.
"Everything in life is a trade-off," Grace says.
Paying full price is boring
Luxury brands are expensive, but consumers can incorporate these looks into their wardrobes without paying full price.
"There are no rules," Chen says. "Vintage stuff is cool, too; it's all about how you make it your own."
"

Vintage stuff is cool, too; it's all about how you make it your own.

"
Oliver Chen

,

retail analyst
This logomania trend comes at a time when the luxury fashion industry is undergoing a "revolution," becoming increasingly inclusive and accessible to more consumers, he says.
Don't feel obliged to rock logos head-to-toe. "I don't think you have to over-invest. You can pull off a look by mixing and matching," Chen says. And there are ways to stay on trend for cheap — shopping at vintage stores and consignment websites, participating in the sharing economy or upcycling old items from your (or someone else's) closet, he suggests.
Grace balances a love of luxury items with a desire to get the best deal. "There are some amazing websites today where you can buy brand-name items much cheaper," she notes.
Buy pieces with a long shelf life
Investing in the stock market has a proven track record for delivering long-term returns. (Read more about how to start investing.) But luxury pieces can also return more than compliments for some consumers. That is, you may be able to recoup some of the money you initially spent when you resell a look you're done with.
To do so, prioritize spending on items with a longer shelf life — both fashion-wise and in terms of durability. Consider this: For about the same amount ($950 or so), you can currently buy a leather wallet at Chanel or a cotton T-shirt at Fendi.
In addition, some brands retain their value better than others, Chen says. Time spent researching a big-ticket purchase in advance may reap bigger returns when it comes time to part with an item. And you may be surprised by how much money you'll get from an item that you've derived a lot of pleasure from, he adds. "People's closets can have a lot of liquidity."