SAG-AFTRA Members Ratify Contracts: Who's on Strike in the U.S.?
Major strikes in 2023 have included auto workers and Hollywood actors and writers, following an increase in labor action in 2022.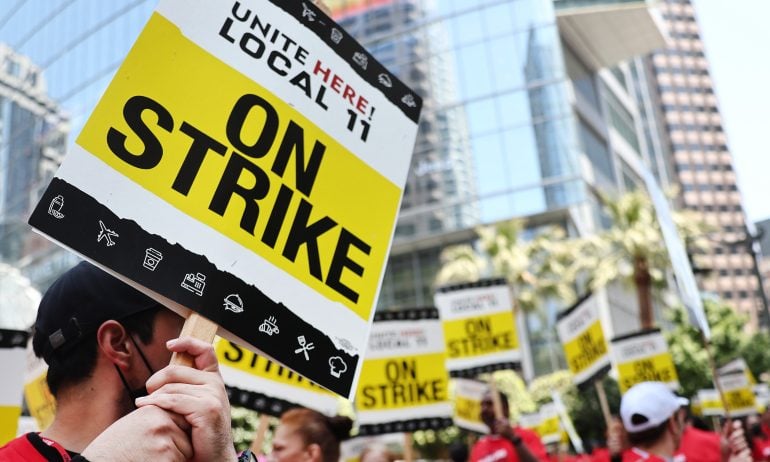 Many or all of the products featured here are from our partners who compensate us. This influences which products we write about and where and how the product appears on a page. However, this does not influence our evaluations. Our opinions are our own. Here is a list of our partners and here's how we make money.
Updated on Dec. 7. SAG-AFTRA members voted to ratify the contract after a 118 day strike. Read more below about how the strike unfolded.
Recent strikes are part of a larger trend of increasing strikes over the last couple of years: The number of workers involved in a major strike (involving at least 1,000 workers) increased by 50% in 2022 compared to 2021, Bureau of Labor Statistics' data shows.
Going on strike means workers withhold labor from their employer in order to gain leverage to bargain for things like higher compensation and benefits, more protections, as well as improved working conditions. Workers don't have to be part of a union to strike, but unions often organize and authorize strikes, as well as represent workers in negotiations.
As of Dec. 7, there have been 385 labor actions in 647 locations across the U.S. in 2023, according to the Cornell University School of Industrial and Labor Relations (ILR) Labor Action Tracker. Here are some of the major strikes happening right now in the U.S.
Participants: 1,750 hotel workers.
What's happening: Strikes at multiple hotels in Los Angeles by members of Unite Here Local 11. The union is bargaining with the Coordinated Bargaining Group.
What do workers want: Higher wages; better benefits and improved working conditions; and permanent jobs for replacement workers.
Strike update: On Nov. 17 hundreds of hotel workers walked out on strike at the Hilton Anaheim to protest understaffing since the start of the pandemic.
Robert Wood Johnson University Hospital
Participants: 1,700 nurses.
What's happening: Members of United Steelworkers Local 4-200 in New Brunswick, New Jersey (which represents the nurses), are striking after months of bargaining for a new contract. The nurses' previous contract expired on June 30, then extended to July 21.
What workers want: Appropriate staffing to combat shortages; higher pay; and a solution to rising health insurance costs.
Possible strikes to come:
Culinary and Bartenders Unions
Potential participants: Up to 40,000 hospitality workers in Las Vegas.
What's happening: Contracts have expired for 40,000 Las Vegas hospitality workers represented by the Culinary Workers Union Local 226 and Bartenders Union Local 165. On Sept. 26, union members voted overwhelmingly to authorize a strike.
On Nov. 2, the Culinary Workers Local 226 announced a potential strike if a deal isn't reached by Nov. 10.
What do workers want: A new five-year contract that includes wage increases; reducing workload, especially housekeeping room quotas; enhancing safety protections; strengthening existing technology protections; and extending recall rights so that workers have job security in the event of another pandemic or financial crisis.
Service Employees International Union (SEIU) Local 721
Participants: 11,000 city service workers.
What's happening: The SEIU Local 721 is bargaining with the City of Los Angeles. The union completed a one-day strike on Aug. 8, but more strikes could be on the way as bargaining continues. The union represents sanitation workers, lifeguards, shuttle drivers and heavy-duty mechanics, traffic officers and engineers, as well as port boat captains, among others. An agreement is still in place until December, but the union is bargaining for a new contract and claims the city is not acting in good faith.
What do workers want: Increased pay, improved benefits and increased staffing.
Association of Professional Flight Attendants
Potential participants: More than 26,000 flight attendants.
What's happening: On Aug. 30, members of the Association of Professional Flight Attendants (APFA) voted yes to authorize a strike on behalf of American Airlines flight attendants. APFA National President Julie Hedrick said the union is "fired up and ready for a contract," adding that American Airlines may "ignore this strike vote at their peril." But don't expect a strike soon; it takes a long time and a lot of red tape for airline unions to legally strike, and could even be blocked by the federal government. But voting to authorize a strike still puts pressure on American Airlines to negotiate.
What do workers want: Increased payment amounts and payment for boarding time; increased profit sharing; benefits like parking reimbursement and additional vacation time; and an improved retirement plan.
Strikes that ended in 2023
Screen Actors Guild - American Federation of Television and Radio Artists (SAG-AFTRA)
Participants: 160,000 actors and entertainment professionals.
Tentative end date: Nov. 8.
Official end date: Dec. 6
What happened: SAG-AFTRA went on strike to negotiate a new contract with the Alliance of Motion Picture and Television Producers (AMPTP) — the bargaining group that represents major Hollywood studios and streaming services including Amazon, Apple, Disney, NBCUniversal, Netflix, Paramount, Sony and Warner Bros. Discovery.
What workers wanted: Wage increases, improved health care coverage, compensation for virtual auditions, and protections around their likeness and talent being exploited via artificial intelligence.
What workers got: Higher wages for workers  including background actors, stand-ins and photo doubles; requirements to obtain explicit and clear consent from performers to create and use their digital likeness; actors must be compensated during the time spent to make their digital likeness and, when the digital likeness is used, actors must be paid their daily rate; streaming bonuses for streaming series and films that reach high viewer counts; increased residuals; and elimination of fees during casting calls.
United Auto Workers (UAW)
Potential participants: Up to 150,000 if all plants go on strike.
What's happening: The UAW has a tentative deal with the Big Three auto companies — Ford, General Motors and Stellantis (a multinational conglomerate that includes Chrysler). The union's contract expired as of 11:59 p.m. on Sept. 14, which signaled the beginning of a strike.
What do workers want: Elimination of payment tiers; double-digit pay raises; restoration of cost-of-living adjustments; a secure pension and increased retiree pay; right to strike over plant closures; protection for temporary workers; and more paid time off.
Strike updates: After six weeks, the United Auto Workers reached tentative agreements with all of the Big Three auto manufacturers — Ford Motor Co., Stellantis and General Motors. Members at all three automakers voted to ratify the contracts on Nov. 20.
The UAW posted on X (formerly Twitter) "This contract is about more than just economic gains for autoworkers. It's a turning point in the class war that has been raging in this country for the past forty years. For too long it's been one-sided and working class people have been losing."
The Big Three deals include numerous concessions on wages and other key issues including an historic 25% raise in base wages over four-and-a-half years.
Here's what led up to the deals:
On Sept. 22, UAW expanded strikes to 38 parts-distribution centers in 20 states. The new locations are operated by GM or Stellantis. Ford was spared.

On Oct. 11: 8,700 UAW members at Kentucky Truck Plant were instructed by UAW President Shawn Fain to strike after bargaining negotiations with Ford failed..

On Oct. 6, General Motors agreed, in writing, to bring its electric battery manufacturing under the UAW's National Master Agreement — the union's labor contract. The agreement averted what would have been an additional strike at one of GM's biggest auto factories.

On Oct. 23, some 6,800 UAW workers at Stellantis's largest plant, Sterling Heights Assembly joined the strike.

On Oct. 24, some 5,000 UAW workers went on strike at GM's largest plant, located in Arlington, Texas.

On Oct. 25, the UAW and Ford announced a tentative agreement, sending about 20,000 striking workers back to their jobs.

On Oct. 28, the UAW and Stellantis announced a tentative agreement. Some 14,600 workers went back to their jobs.

On Oct. 30, the UAW and GM announced a tentative agreement.

UAW members of each of the Big Three ratified their contracts on Nov. 20.
United Auto Workers (UAW) — Mack Trucks
Participants: 4,000 UAW members at Mack Trucks factories in Pennsylvania, Maryland and Florida.
What happened After months of contract negotiations, truck manufacturing workers rejected a proposed five-year contract by Mack Trucks, which is owned by Volvo. The strike began on Oct.9 and officially ended on Nov. 16.
What do workers want: Wage increases; cost-of-living allowances (COLA); job security; 401(k)s and pensions; healthcare and prescription drug coverage; overtime and more.
What workers got: Neither the UAW or Mack Trucks released details of the contract.
Coalition of Kaiser Permanente Unions
Participants: More than 75,000 Kaiser Permanente health care workers in California, Colorado, Oregon, Washington, Hawaii, Georgia, Washington, D.C., Maryland and Virginia.
Strike start date: A three-day strike beginning on Oct. 4.
What's happened: The Coalition of Kaiser Permanente Unions bargained a national agreement for contracts for Kaiser Permanente health care workers in local unions across nine states. More than 75,000 of the coalition's 85,000 members began a three-day strike on Oct. 4. The workers' contracts expired on Sept. 30.
Strike end date: Kaiser Permanente Unions reached a tentative agreement on Oct. 13 following the largest-ever health care strike. The national contract was ratified on Nov. 9.
What workers wanted: The workers' chief complaint was short staffing largely due to the COVID pandemic. They were bargained for increased pay to encourage workplace recruitment and retention; a $25 hourly minimum wage for all health care workers; fixes to "broken" hiring processes and elimination of hurdles that prevent full staffing; and more investment in the education and training for future workers.
What workers got: The deal includes wage increases: a starting minimum hourly wage of $25 in California and $23 in all other states. Workers are also set to receive a 21% wage increase over four years. Kaiser Permanente also agreed to address the staffing crisis through more training, education and hiring.
Writers Guild of America (WGA)
Participants: 11,500 writers in film, television, radio and online media.
Tentative agreement reached: Sept 24.
What happened: Both WGA West and WGA East went on strike following failed negotiations with AMPTP.
What workers wanted: Higher compensation and residuals, especially for streaming content; minimum staffing and duration of work for writers' rooms; and regulated use of artificial intelligence on projects.
What workers got: The $233 million, three-year deal with the Alliance of Motion Picture and Television Producers includes raises in wages; increases in residual bases and minimums; bonuses to writers based on popularity and viewership for content on streaming services; minimum staffing for TV writers rooms based on TV episode length; regulations for how studios use Artificial Intelligence. Late night talk shows were the first productions to get back up and running since scripted series and films are still being impacted by the SAG-AFTRA strike.
How many strikes happened in 2022?
Here are some of the key findings from the 2022 Labor Action Report from ILR.
There were 424 work stoppages in 2022, including 417 strikes and seven lockouts. In total, approximately 224,000 workers were involved in these work stoppages.

Work stoppages increased by 52% from 2021 to 2022.

The number of workers involved in work stoppages increased by 60% from 2021 to 2022. 

Most work stoppages lasted a short period of time: 46% lasted one day or less.

Nonunion workers organized 32% of all strikes in 2022. 

The majority of work stoppages in 2022 were in the accommodation and food services industry — about one-third of all stoppages. But these stoppages were composed of 7,000 workers, which accounts for only 3% of total workers involved in stoppages for the year. The majority of accommodation and food services workers were led by Starbucks Workers United — an organizing effort to unionize Starbucks locations — or the Fight for $15 campaign — an organizing effort to unionize underpaid workers and secure a $15 minimum wage. 

The majority of workers, about 60%, involved in all work stoppages during 2022 were in the educational services field.
(Photo by Mario Tama/Getty Images News via Getty Images)
Get started with budget planning
Check your current spending across categories to see where you can save