Aumenta la popularidad de los cuidados hospitalarios a domicilio: ¿son adecuados para usted?
La pandemia impulsó el concepto de enviar a los pacientes a casa para ciertos tipos de cuidados. Lo que debe saber.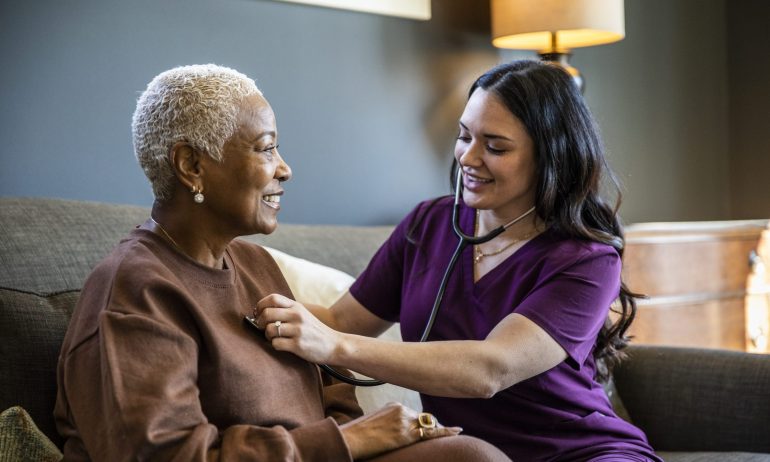 Many or all of the products featured here are from our partners who compensate us. This influences which products we write about and where and how the product appears on a page. However, this does not influence our evaluations. Our opinions are our own. Here is a list of our partners and here's how we make money.
Alarmas constantes de los monitores de los pacientes. Comida de hospital. Controles nocturnos de los signos vitales. Oir los quejidos de sus nuevos compañeros de habitación.
Así es: estar en el hospital no le agrada a nadie. Y no solo se debe a que esté recibiendo tratamiento para una enfermedad aguda o una lesión grave.
Hace décadas que los médicos empezaron a preguntarse si ciertos pacientes que acudían a urgencias con determinadas enfermedades y lesiones podían o no ser enviados a casa para ser controlados de cerca y tratados allí, en lugar de ser ingresados en un hospital. Esto parecía factible para muchos enfermos crónicos que sufren recaídas, como las personas con complicaciones derivadas de la diabetes o determinadas afecciones cardiacas.
"¿Quién no preferiría estar en casa en vez de en el hospital?", dice el Dr. Jeff Levin-Scherz, profesor adjunto de la Escuela de Salud Pública T.H. Chan de Harvard y consultor de gestión sanitaria de WTW, una empresa de servicios financieros. Y el estresante entorno hospitalario no solo es desagradable para los pacientes, sino que también puede impedir su curación.
La adopción de este concepto cobró impulso a finales de 2020, cuando la saturación de los hospitales que trataban a pacientes con COVID-19 motivó al gobierno federal a autorizar y reembolsar por los costos de atención hospitalaria a domicilio en todo el país. Estos programas, actualmente disponibles en cerca de 300 hospitales de 37 estados, están demostrando cierta capacidad para prestar atención hospitalaria intensiva a los pacientes en sus propios domicilios, mediante una combinación variable de visitas de proveedores, infusiones y otros tratamientos, monitorización remota y diagnósticos portátiles.
Muchos médicos de urgencias están dispuestos a considerar la posibilidad de hospitalizar a domicilio a los pacientes adecuados. "Ofrece a los médicos de urgencias una opción adicional para los pacientes que están pensando en dejar hospitalizados", afirma el Dr. Gregg S. Meyer, presidente de la División Comunitaria y vicepresidente ejecutivo de Value-Based Care del sistema sanitario Mass General Brigham de Boston.
Pero la atención hospitalaria a domicilio puede no ser la mejor opción para todos los pacientes a los que se ofrece. Los datos sobre resultados sanitarios son limitados, y las preferencias personales del paciente y su situación en el hogar deben tenerse en cuenta a la hora de elegir un entorno de cuidados intensivos. La cobertura del seguro para la atención hospitalaria a domicilio puede no ser la misma que para la atención hospitalaria tradicional.
Esto es lo que usted o alguien cercano a usted debe saber sobre los cuidados hospitalarios a domicilio, por si acaso.
¿Qué enfermedades se pueden tratar mejor por medio de atención hospitalaria en casa?
Los programas de hospitalización a domicilio pueden tratar enfermedades como la neumonía, la enfermedad pulmonar obstructiva crónica, la diabetes, las enfermedades hepáticas y la insuficiencia cardíaca (una enfermedad crónica), así como afecciones agudas como infecciones graves de las vías urinarias o de la piel. Cada institución proveedora crea su propia lista de enfermedades y afecciones para las que puede ofrecer cuidados intensivos a domicilio.
Además de la atención médica directa, las instituciones suelen ofrecer una serie de servicios para un ingreso hospitalario a domicilio. El programa de cuidados avanzados a domicilio de Kaiser Permanente ofrece servicios como equipos médicos, oxígeno, pruebas de laboratorio, comidas y suministros médicos, diagnóstico móvil, farmacia, extracciones de sangre y transporte.
Aun así, hay motivos para ser precavido. Por un lado, la tarea de los médicos de elegir a los pacientes adecuados a los que ofrecer cuidados intensivos a domicilio ("los que no están demasiado enfermos, pero sí lo suficiente") es compleja, escriben los autores de un artículo de 2023 que analiza la eficacia de los crecientes programas de hospitalización a domicilio, publicado en Public Policy & Aging Report. "La investigación al respecto es mínima, y aún no se han establecido normas ni diagnósticos fiables".
Y este servicio hospitalario a domicilio, ¿lo va a pagar mi seguro?
Si usted cuenta con un seguro privado a través de una empresa o del mercado estatal o federal, póngase en contacto con su aseguradora e infórmese sobre la cobertura de los servicios de hospitalización a domicilio que ofrecen hospitales específicos de su zona. Medicare ha liderado el pago de la atención hospitalaria a domicilio, al reembolsar a estos programas por sus servicios la misma compensación que si el paciente estuviera en el hospital. La cobertura de Medicaid para la atención hospitalaria a domicilio varía según el estado. Póngase en contacto con la oficina de Medicaid de su estado para obtener más información.
¿Hasta qué punto es buena la calidad de la atención a domicilio?
Dado que los programas de hospitalización a domicilio están empezando a ganar adeptos, los estudios sobre la calidad de la asistencia que ofrecen son limitados. Pero hasta ahora, los datos son bastante alentadores.
"Hay decenas de ensayos controlados y aleatorios que demuestran que los cuidados intensivos a domicilio son superiores a los cuidados tradicionales en el hospital en muchísimos parámetros", afirma el Dr. David Levine, investigador clínico del Brigham and Women's Hospital y profesor adjunto de la Facultad de Medicina de Harvard.
Según los datos del Mount Sinai Health System sobre su programa de hospitalización a domicilio, las tasas de reingreso a los 30 días de sus pacientes atendidos a domicilio fueron inferiores a la mitad de los que recibieron tratamiento en el hospital: 7.8% frente al 16.3% en los dos años que finalizaron en diciembre de 2016.
En otra medición clave, el tiempo que un paciente permanece en cuidados intensivos, los impresionantes resultados del Mount Sinai estuvieron en línea con los de muchos otros programas de atención hospitalaria a domicilio. La duración media de la estadía para cuidados intensivos fue de 5.3 días para los pacientes en el hospital frente a 3.1 días para los pacientes atendidos a domicilio del sistema. (Desde 2020, la estadía media por hospitalización en casa ha aumentado a 4.4 días, probablemente por motivos relacionados con la pandemia de COVID-19).
Sin embargo, las preocupaciones sobre la calidad y la seguridad de la atención al paciente han hecho que muchos médicos se muestren reacios a enviar a los pacientes con enfermedades agudas a recibir atención hospitalaria a domicilio, según el documento Public Policy & Aging Report. "Hasta la fecha, un pequeño y riguroso número de estudios ha encontrado resultados positivos en cuanto a costos y calidad, pero se basan en muestras minúsculas de pacientes".
¿Es segura la atención hospitalaria a domicilio?
¿Qué tan protegidos están los pacientes en casa en comparación con la atención en un hospital? Cada entorno tiene sus pros y sus contras. En un hospital, una enfermera está siempre a segundos de distancia y un médico puede estar junto a la cama del paciente en cuestión de minutos. Pero los hospitales tienen sus propios problemas de seguridad. Según los Centros para el Control y la Prevención de Enfermedades, en 2015 murieron en el hospital unos 72,000 pacientes con infecciones adquiridas durante la atención hospitalaria.
En general, la atención hospitalaria a domicilio tiene "una mortalidad inesperada muy, muy baja y unas tasas de complicaciones muy bajas", afirma el doctor Bruce Leff, director del Centro de Investigación Geriátrica Transformadora de Johns Hopkins Medicine.
Algunos pacientes que reciben cuidados intensivos en casa dicen sentirse más seguros en su propio entorno doméstico que en un hospital. Ese fue el caso de Theresa Corcoran, de 87 años, que en abril de 2023 sufrió un corte en la pierna que requirió muchos puntos de sutura. Semanas más tarde, tras presentar una grave infección cutánea en la pierna herida, Corcoran fue evaluada en el Brigham and Women's Hospital de Boston durante una estadía de 24 horas y luego ingresada en el programa de hospitalización a domicilio del sistema, que le proporcionó infusiones de antibióticos y cuidados de la herida.
"No le resultaba fácil desplazarse hasta el baño" mientras estaba hospitalizada, explica Bridget Ellis, enfermera titulada. Ellis fue una de las enfermeras que visitó en casa a Corcoran durante el tiempo que estuvo hospitalizada en casa. Corcoran afirma que durante el tratamiento se sintió más segura al moverse por su propia casa en Belmont, Massachusetts.
El entorno doméstico también ayuda a los pacientes en cuidados intensivos a mantener su salud mental mientras se curan físicamente, afirma Ellis. "Si alguien se despierta en el hospital en plena noche, se siente muy confundido sobre el lugar donde está. Al no estar rodeados de caras y entornos familiares, la gente se confunde mucho y algunos reaccionan con agresividad; puede resultar difícil garantizar su seguridad". Un estudio de la Johns Hopkins Medicine reveló que el delirio se observaba en el 9% de los pacientes hospitalizados en casa, frente al 24% de los ingresados.
¿Qué se siente al ser un paciente hospitalizado en casa?
Cuando el hospital ofreció a Corcoran ingresar en el programa de hospitalización a domicilio del Mass General Brigham, "lo primero que pensé fue: 'Oh, ¿irme a casa? Me pareció bien", dice. "Los lugares más cómodos para mí están en mi propia casa". En el hospital, "había gente en camas en el pasillo". Corcoran dice que en casa era más fácil seguir los consejos de sus médicos. "Una de las ventajas es que puedo encontrar un lugar cómodo en mi casa y mantener la pierna en alto". Corcoran también dice que dormir en su propia cama con tranquilidad y comer cuando lo desee le ayudó a preparar el terreno para la curación.
Cuando Corcoran empezó a recibir cuidados hospitalarios a domicilio, "vinieron muchas personas, se hicieron muchas llamadas telefónicas y sonaron muchos timbres" para preparar los equipos y los servicios que Corcoran iba a necesitar, dice Jane Chiarelli, hija de Corcoran. "Creo que es muy importante que el paciente tenga a alguien a su lado, al menos al principio".
Los pacientes del programa de hospital en casa de Mass General Brigham tienen la opción de recibir atención las 24 horas del día con asistentes médicos a domicilio.
¿Cómo evolucionan los pacientes hospitalizados en casa después del alta?
Según la experiencia de Ellis, los pacientes por lo general evolucionan de mejor manera después de ser dados de alta de la atención a domicilio que cuando son dados de alta de un hospital.
"Estando en el hospital, a veces los pacientes están en cama tres o cuatro días seguidos sin levantarse mucho", dice. "Se debilitan mucho y acaban en rehabilitación. En casa, no dependen de las enfermeras para que les lleven la comida, los acompañen al baño o les den la vuelta en la cama. Se levantan y se mueven mucho más, y así no pierden las fuerzas".
Este artículo fue publicado originalmente en NerdWallet en inglés.