Cómo decidir si es el momento ideal para comprar una casa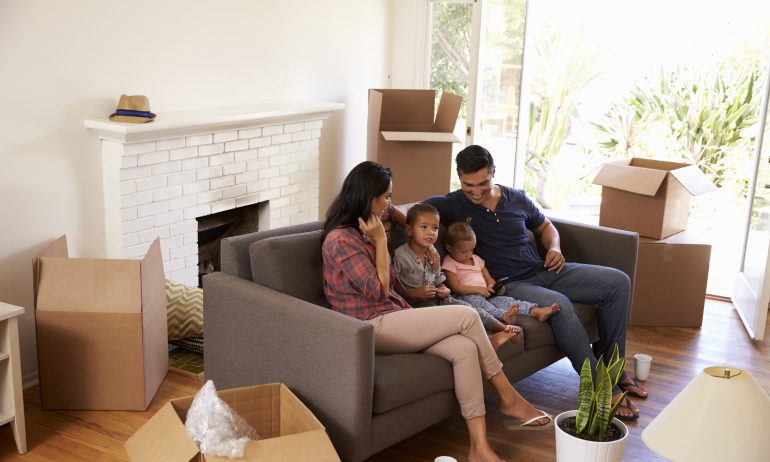 Many or all of the products featured here are from our partners who compensate us. This may influence which products we write about and where and how the product appears on a page. However, this does not influence our evaluations. Our opinions are our own. Here is a list of our partners and here's how we make money.
A veces todo lo que se necesita es ver un "Se vende" delante de una casita que siempre le ha gustado cuando pasa camino al trabajo por la mañana. O escucha los comentarios de una amiga sobre la satisfacción de saber que las reparaciones a la casa que acaba de comprar aumentan el valor de su propiedad. O quizás solo quiere un pequeño patio para que los niños jueguen o donde pueda reunir a toda su familia.
De un momento a otro, algo lo hará pensar en comprar una casa.
La decisión de ir de un alquiler a ser propietario de una casa es muy compleja emocional y financieramente. Considere los siguientes factores para decidir si comprar una casa es lo correcto para usted.
El mejor momento para comprar
Ser dueño de una casa era antes un requisito para alcanzar lo que se le llama el sueño americano. Pero esto sucedía cuando la gente miraba televisión en blanco y negro, la gasolina costaba 30 centavos el galón y la vida era menos complicada. Comprar una casa es una opción inteligente para mucha gente, pero no siempre es la mejor para otros. Eso depende del mercado donde vive y de factores como el tiempo que piensa pasar en esa casa y el tamaño de la misma en comparación con la que tiene en alquiler al momento.
Antes de comprometerse a comprar, tenga en cuenta los siguientes puntos:
  Se requiere una gran inversión inicial. Tiene que pagar mucho dinero cuando usted compra una casa, desde los costos de cierre (aproximadamente un 3% del valor de compra de la casa) hasta el mismo pago inicial. A casi nadie le sobra esa cantidad de dinero.

  ¿Puede manejar esa deuda?  Los prestamistas a menudo observan su relación deuda-ingresos: cómo se comparan los pagos de su hipoteca y otras deudas con su sueldo. Los prestamistas convencionales a menudo usan lo que se llama la regla del 28/36 para determinar si pueden ofrecerle un préstamo. Los pagos relacionados con la compra de su casa (hipoteca, impuestos, seguro) no deben ser más de un 28% de sus ingresos antes de los impuestos, y todas las otras deudas combinadas no deberán exceder un 36% de sus entradas mensuales antes de deducir los impuestos. (Más adelante se explicará esto.)

  Comprar una casa es más caro de lo que piensa. Simplemente, no debe comparar su hipoteca mensual con su renta mensual —esto sería como comparar peras con manzanas, particularmente cuando considere que la casa que compre no necesariamente va a tener el mismo tamaño que la que alquila al momento. A pesar de que usted puede deducir algunos de sus gastos como propietario, tendrá que pagar impuestos sobre la propiedad, seguro de asociación de dueños y probablemente seguro de hipoteca; así como renovaciones, mantenimiento, servicios públicos y otros gastos que típicamente los cubre el arrendador de una casa o apartamento.

 Comprar una casa disminuye su habilidad de mudarse. Hoy en día, el mercado de empleos cambia constantemente y muy poca gente puede decir con certeza que van a tener el mismo empleador en cinco años. Es más fácil, y menos caro, salirse de un contrato de alquiler de un año que vender una casa.

 ¿Cómo es de activo el mercado en su localidad? El mercado de bienes raíces es local y cíclico, así es que considere si su área se presta más al alquiler que a la compra de casas.
Algunas personas prefieren invertir el dinero en la plusvalía (o sea, el capital acumulado en la vivienda) en su propiedad en vez de dárselo a un arrendador. Si bien los números tienen sentido para muchos –especialmente aquellos que tienen planes de quedarse en la casa el tiempo suficiente para pagar la hipoteca— nadie puede predecir si los precios de las casas subirán o bajarán en un plazo determinado. Por eso, no cuente con que su casa sea una mina de oro.
Lo que debe hacer antes de actuar
Si está pensando en comprar, siga los siguientes pasos antes de actuar.
Calcule sus deudas pendientes, incluyendo préstamos de carro, pagos de tarjeta de crédito y préstamo estudiantil. Acuérdese de la regla 28/36 mencionada anteriormente.

Considere cuánto dinero en efectivo tiene.  Deberá tener por lo menos algo para cubrir el pago inicial y los gastos de cierre y no se olvide de dejar suficiente en su cuenta de banco para cubrir cualquier emergencia imprevista.

Asegúrese entregar una cantidad suficiente en su pago inicial. Tradicionalmente, los prestamistas exigen pagos iguales al 20% del precio de venta de la casa, pero existen programas especiales que le permiten hacer un pago inicial de solamente un 3%.  (Un pago inicial de un 20% de una casa que cuesta $300,000 requiere tener $60,000 en el banco —además de un pago adicional de unos $9,000 para los costos de cierre.)

Obtenga un préstamo con aprobación previa. Póngase en contacto con un prestamista para conseguir aprobación previa para una hipoteca. No es necesario que usted acepte el préstamo; solo es una manera de demostrarle al agente de bienes raíces y a los vendedores que usted está hablando en serio. Una de las primeras cosas que un posible agente le preguntará es que si ha sido aprobado previamente, así es que salga de este paso lo antes posible en el proceso.
¿Será mejor para usted alquilar?
La decisión de alquilar o comprar es grande y necesita preguntas como "¿Dónde estoy?" y "¿Adónde voy?" Puede ser que alquilar sea la mejor opción para mantener más flexibilidad por razones personales o profesionales, o que no se sienta cómodo con la idea de meterse en más deudas.  Si este es el caso, lo más seguro es que no esté listo para enfrentarse con las responsabilidades de ser propietario de una casa: reparaciones, mejoras, mantenimiento, trabajo de patio y todo lo demás. Aun pensando en la diferencia de limpiar un apartamento de 800 pies cuadrados y una casa de 2,400 pies cuadrados puede sentarlo a pensar profundamente.
También, el mercado local de bienes raíces puede estar en contra suyo. Si vive en un mercado competitivo con gente muy ansiosa por encontrar y pocas ofertas de casas, es mejor esperar el momento apropiado para aprovechar la oportunidad de una mejor compra.
Get more smart money moves – straight to your inbox
Sign up and we'll send you Nerdy articles about the money topics that matter most to you along with other ways to help you get more from your money.