Cómo evitar la trampa de los préstamos de día de pago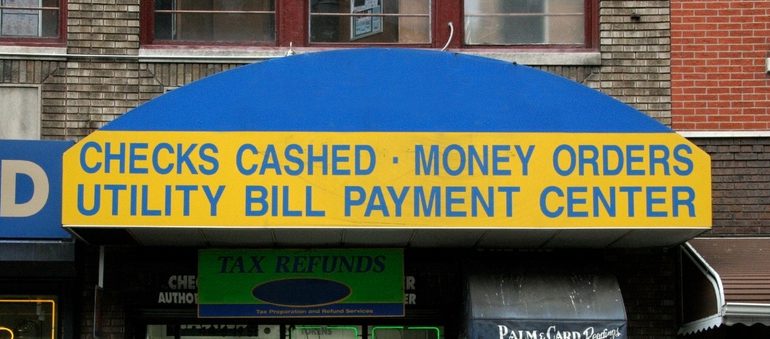 Many or all of the products featured here are from our partners who compensate us. This may influence which products we write about and where and how the product appears on a page. However, this does not influence our evaluations. Our opinions are our own. Here is a list of our partners and here's how we make money.
En un mundo perfecto, usted tendría suficiente dinero ahorrado para poder lidiar con lo imprevisto dentro de sus finanzas. Pero muchas personas viven con lo justo, esperando el cheque de un mes a otro y sin prepararse para gastos sorpresivos. A un 40% de los norteamericanos les sería difícil recoger $2,000 en un período de 30 días para cubrir una emergencia, según un estudio del 2012 de la Autoridad Regulatoria de la Industria Financiera (FINRA, por sus siglas en inglés).
Aunque la mayoría de las personas tienen múltiples opciones para estas situaciones, muchos recurren a uno de los métodos financieros a corto plazo más costosos —el préstamo de día de pago. Antes de tomar esa vía, trate de entender por qué se deben evitar este tipo de préstamo y aprenda más sobre las alternativas que se ofrecen, ya sean buenas o malas.
Los préstamos de día de pago son préstamos pequeños y a corto plazo que se obtienen fácilmente porque el prestamista raramente chequea el crédito del prestatario. Usted escribe un cheque por la cantidad del préstamo que desea más el cargo que cobra el prestador, o da permiso a éste para que saque dinero automáticamente de su cuenta bancaria después de que usted reciba su próximo cheque de la paga.
Los cargos que cobran estos prestadores son altos, típicamente $15 por cada $100 que se toma prestado. Cuando llega la fecha determinada, se puede dejar que el prestamista vence el préstamo, o la deuda puede ser prorrogada, dilatando el pago a cambio de más cargos.
Aquí está el problema: Los cargos elevados que cobran los prestamistas suben la tasa de interés efectivo a un nivel exorbitante. Un cargo de $15 para tomar prestado $100 puede parecer una tasa de interés de 15%, pero en realidad, es el equivalente a una tasa anual de 390% —más de 10 veces la tasa típica para un avance de efectivo de una tarjeta de crédito, la cual es una opción carísima.
De acuerdo con un estudio de Pew Charitable Trusts del 2012, el promedio de las personas que piden un préstamo de día de pago, toma ocho préstamos de $375 cada uno por año y paga la enorme suma de $520 en intereses.
Tomar solamente un préstamo el día de pago no lo va a arruinar, dice Johanna Fox Turner, una contadora pública certificada y planificadora financiera de Milestones Financial Planning en Mayfield, Kentucky.
"El problema es que una vez que lo hace y ve lo fácil que es, es todavía más fácil la próxima vez… Pero estos préstamos son como ponerle un parche a una herida en vez de curar la causa del problema," dice ella.
Más de un 80% de préstamos del día de pago son renovados o continuados con otro préstamo en el curso de dos semanas, dice un reporte del 2014 de la Oficina para la Protección Financiera del Consumidor. Esa agencia ha advertido que estos préstamos rápidamente se convierten en un círculo vicioso, dificultando enormemente el pago de la deuda.
Alternativas para préstamos de día de pago
Hay muchas y mejores opciones que los préstamos de día de pago –además de otras que pueden ser peores. Las siguientes estrategias son algunas alternativas para atravesar una emergencia financiera.
Préstamos personales: Préstamos sin garantías —o "préstamos personales"— de bancos y asociaciones de crédito son preferibles para aquellos con acceso a esta clase de prestamistas. Estos típicamente vienen con una tasa de interés fija y requieren que el prestatario pague la deuda con un programa de pagos mensuales fijos. Las compañías financieras ofrecen productos similares, llamados préstamos a plazos.
"Los préstamos a plazos tradicionales son la mejor alternativa a los préstamos del día de pago para los consumidores, porque ofrecen una ruta clara para eliminar sus deudas a través de pagos iguales mensuales que son llevaderos (o manejables)," dice Karen Klugh, ex portavoz de la Asociación Americana de Servicios Financieros, un grupo industrial.
Klugh dice que las compañías de financiamiento al consumidor determinan que el prestatario tiene la habilidad para pagar. También reportan el pago de la deuda a las principales agencias de calificación crediticia, lo cual puede ayudar al prestatario a establecer un puntaje de crédito bueno.
Los préstamos a plazos también le ofrecen mucho más tiempo para pagar la deuda, dice James Chilton, fundador y director ejecutivo de la Sociedad para Conocimientos de Finanzas SOFA, un grupo sin fines de lucro enfocado en la educación financiera. Este financiamiento usualmente le permite tomar más dinero prestado y a una tasa considerablemente más baja que la de los préstamos de día de pago.
Anticipo de sueldo: Pídale a su empleador un pago adelantado de su sueldo, que usualmente no le cuesta nada. Algunas compañías también les ofrecen préstamos de costos bajos a los trabajadores que están pasando una crisis. Si usted ha sido un buen trabajador por varios años, esta puede ser una opción excelente, dice Turner.
"Los empleadores, especialmente los dueños de pequeños negocios, usualmente son muy compasivos con sus empleados y está dispuestos a ayudarlos si disponen del efectivo," dice ella.
Indulgencia de cuentas: Busque acreedores que no carguen intereses, como los de servicios públicos o compañías de cable-televisión, y averigüe si ellos aceptan pagos retrasados. Use el dinero que le quede por no pagar esas cuentas, para sus necesidades en caso de una emergencia. La gente que ya tiene préstamos pendientes puede pedir modificaciones a sus deudas para ayudarles a aumentar más flujo de dinero.
Pídale prestado a sus amigos o familiares: Trate de pedir prestado a gente que conoce, dice Chilton: Los parientes y amigos pueden ofrecerle una flexibilidad incomparable, pero tenga en cuenta que una deuda puede complicar sus relaciones con ellos.
Cuenta de adelanto a corto plazo: Algunos bancos y asociaciones de crédito ofrecen adelantos de efectivo a corto plazo como una alternativa al préstamo de día de pago. Mientras los costos no son tan altos, aún así pueden ser bastante caros. Por ley, las asociaciones de crédito no pueden cargar más de un 28% de la tasa del porcentaje anual en préstamos pequeños a plazos cortos, así es que estos pueden ser más razonables que los bancos.
Préstamos respaldados por la iglesia: Algunas iglesias ahora les ofrecen a miembros que se enfrentan con una crisis financiera pequeños préstamos a unas tasas bastante bajas para ayudarlos a evitar los préstamos de día de pago. Averigüe si en su parroquia o templo ofrecen pequeños préstamos para emergencias.
Adelantos en efectivo de una tarjeta de crédito: Si tiene una tarjeta de crédito y la cuenta tiene un buen historial, esta puede ser una opción, pero es cara. Usted tendrá que pagar un cargo, típicamente cerca de un 5% de la cantidad, además del interés, que puede ser cerca de un 30%. Aun a esta tasa, esto es mucho menos caro que un típico préstamo del día de pago.
Casas de empeño: Las casas de empeño pueden parecer poco fiables, pero usted puede legítimamente recibir dinero rápido si tiene algo de valor que no necesita por cierto tiempo. Estos préstamos a base de garantía son regulados de manera diferente en cada estado, así es que los cargos financieros pueden variar. Pero esta alternativa puede ser mejor que un préstamo de día de pago. También hay casas de empeño en línea que ofrecen préstamos por sus bienes.
Pedir prestado a su cuenta de retiro: Otra opción puede ser sacar fondos temporalmente de un plan de ahorros IRA o una cuenta de 401(k). Aunque está cogiendo prestado a su propia cuenta en vez de a un prestamista, aun corre un riesgo. Usted puede coger prestado de su IRA sin cargos por penalización una vez al año si devuelve el dinero dentro de los próximos 60 días. Si no cumple con este plazo, tiene que pagar impuesto sobre la renta sobre el dinero, además de un 10% de penalización en la cantidad si tiene menos de 59½ años de edad.
Si su empleador le permite préstamos a su cuenta de 401(k) —y no todos lo hacen- usted puede coger prestado tanto como la mitad del balance de su cuenta, hasta $50,000, y tiene cinco años para pagarlo. Sin embargo, si usted no hace los primeros pagos por 90 días, se considera como un ingreso gravable y entonces se paga igual que un préstamo a su IRA que no ha sido saldado.
También, un préstamo a su 401(k) puede resultar en pagos de intereses por la deuda y hacerle perder el rendimiento de inversiones que le habría producido ese dinero. Si usted dejara el trabajo, tendría que pagar el préstamo al 401(k) en cierto período de tiempo o sino se enfrentaría con cargos e impuestos.
Préstamos sobre el título de su carro: Estos préstamos a plazos cortos, cuando son legales, requieren que usted entregue el título de su vehículo como garantía para la deuda. Frecuentemente son comparados a los préstamos de día de pago, pero pueden ser peor: Si usted no paga la deuda, el prestamista le puede quitar su carro.
Si su única alternativa es coger prestado, un préstamo personal o a plazos es preferible a muchas de las otras opciones, aunque se necesita un buen historial crediticio. Aquellos que tengan un historial deficiente deberán considerar todas las otras alternativas antes de escoger el préstamo de día de pago y arriesgarse a caer en un círculo vicioso de deudas.
Get more smart money moves – straight to your inbox
Sign up and we'll send you Nerdy articles about the money topics that matter most to you along with other ways to help you get more from your money.