Pregúntele a un Nerd de los viajes: Por qué no debe comprar un paquete de viaje
Los paquetes de viajes pueden parecer un ahorro a simple vista, pero no siempre son la mejor manera de hacer una reserva.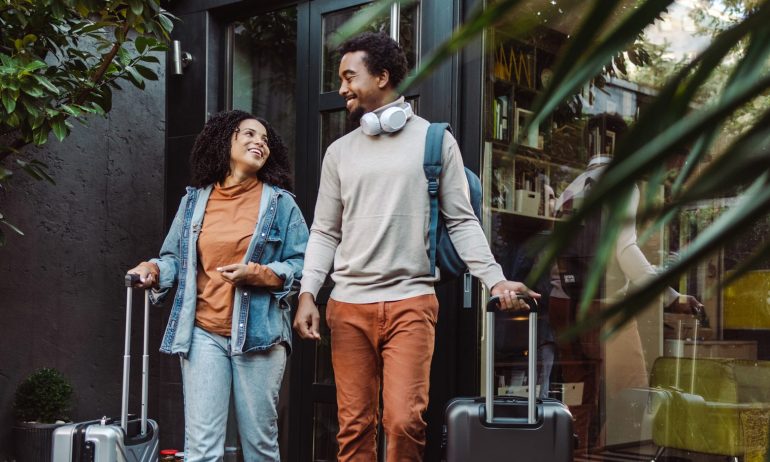 Many or all of the products featured here are from our partners who compensate us. This influences which products we write about and where and how the product appears on a page. However, this does not influence our evaluations. Our opinions are our own. Here is a list of our partners and here's how we make money.
Los paquetes turísticos son un producto popularizado por las agencias de viajes online, como Expedia, Priceline y Kayak, que recomiendan reservar vuelos, hoteles y vehículos de alquiler en la misma reserva. Los proveedores de viajes también por lo general ofrecen la opción de combinar los servicios (por ejemplo, cuando aparece una ventana emergente en el sitio web de una aerolínea pidiéndole que reserve también un vehículo de alquiler).
Viajar ya es de por sí bastante complicado, y comprar una paquete de viaje no contribuye a simplificarlo. De hecho, no hace sino complicarlo aún más. Aquí le mostramos las razones por las que casi nunca se deben combinar los servicios turísticos en una sola reserva.
Las opciones son limitadas
Al preferir un paquete de viaje, usted limita sus opciones a los servicios de las empresas asociadas. Por ejemplo, en la actualidad Costco Travel no ofrece vuelos por medio de Southwest ni de Spirit Airlines, lo que elimina una gran lista de posibles vuelos que de otro modo usted podría reservar.
Los cambios y cancelaciones pueden ser más caros... y más complicados
Al combinar los servicios de un viaje, usted está sujeto a dos tipos de políticas de cambios y cancelaciones: la del proveedor del viaje y la del proveedor con el que ha reservado. También puede estar sujeto a dos tipos de cargos.
En el caso de las agencias de viajes pequeñas, no es raro que le cobren cargos por cancelación de la reserva, además de los que le cobra el proveedor de viajes. Las agencias de viajes online más grandes tienen menos probabilidades de cobrar cargos por cancelación, aunque muchos sitios aplican los cargos cobrados por el proveedor de viajes.
Más allá de las comisiones, los paquetes turísticos pueden darle más quebraderos de cabeza si hay que hacer cambios o cancelaciones. Estos son algunos factores que hay que tener en cuenta a la hora de combinar los servicios de su viaje:
Las políticas de cambio y cancelación pueden ser irregulares
Al combinar viajes, usted no solo está sujeto a las políticas de la agencia, sino también a las del proveedor de viajes. Esto puede resultar difícil, ya que las políticas pueden diferir para cada viaje, incluso si no es la primera vez que usted haya reservado a través de una determinada agencia.
A veces no se pueden hacer cambios por internet
Hacer cambios en un elemento de su paquete de vacaciones (en inglés) puede, por lo general, convertirse en un proceso molesto.
Por ejemplo, en la actualidad Expedia no permite hacer cambios en internet en los paquetes de vacaciones, por lo que usted tendrá que ponerse en contacto con un agente por chat en línea o por teléfono. Los tiempos de espera no suelen ser más de un par de minutos, pero también pueden ser más largos, sobre todo en situaciones como los grandes colapsos de las aerolíneas (en inglés).
Es normal que los cambios lleven más tiempo
Pasar tiempo al teléfono no es lo único que lleva tiempo. Los viajes combinados añaden un intermediario innecesario al proceso de cambio o cancelación de planes. Por lo general, el viajero se pone en contacto con el proveedor con el que ha hecho la reserva, que a su vez se dirige al proveedor del viaje para realizar los cambios.
El intermediario puede suponer un quebradero de cabeza similar a la hora de pedir un reembolso, e incluso requerir más tiempo para tramitar las devoluciones. Tener un intermediario suele crear una oportunidad más de que se pierdan los cambios o reembolsos. De hecho, Expedia recomienda ponerse en contacto directamente con los proveedores de viajes si se realizan cambios o cancelaciones a través de Expedia y usted sigue viendo cargos en su estado de cuenta.
¿Hay situaciones en las que convenga comprar un paquete de viaje?
Si bien combinar los servicios presenta dificultades, a veces puede dar resultado, y muchos servicios de paquetes están ganando más dinero que nunca. De hecho, Expedia registró los mayores ingresos de su historia en el primer trimestre de 2023: 2,700 millones de dólares, lo que supone un aumento del 18% respecto a 2022.
Una de las principales ventajas de los paquetes es que solo hay que hacer 1 seguimiento de la reserva. En lugar de tener que llevar cuenta de varios números de confirmación, inicios de sesión y transacciones con tarjeta de crédito, solo hay uno.
A veces, la combinación de servicios puede ahorrarle dinero, ya que las agencias pueden utilizar la autoridad de compra que tienen para negociar tarifas más bajas, y luego traspasar ese ahorro en los clientes. Por ejemplo, Priceline (en inglés) afirma que sus clientes ahorran una media de $240 por transacción al combinar servicios de viajes (por ejemplo, vuelo + hotel). Expedia, por su parte, afirma que sus clientes en Estados Unidos ahorran hasta un 10% en comparación con las reservas que se hacen por separado.
Comprar un paquete de viaje no es necesariamente más barato
Combinar los servicios no siempre es más barato. Incluso la estadística del 10% de Expedia viene con la salvedad del "hasta", dando a entender que es posible llegar a ese nivel de ahorro pero de todos modos pasa.
Muchos proveedores de viajes ofrecen mejores descuentos cuando se reserva directamente con ellos que con una empresa que ofrece un servicio combinado. Por ejemplo, Ovolo Hotels es una cadena de hoteles boutique que ofrece encantadores servicios gratuitos, como autoservicio de lavandería, happy hour y desayuno bufé, pero usted solo puede disfrutarlos si hace la reserva directamente.
Ello se debe en gran medida a que las empresas suelen pagar comisiones a la empresa que deriva a los clientes, como las agencias de viajes online. Las grandes marcas hoteleras, como Hilton, Hyatt e IHG, pagan de comisión hasta un 10% por la mayoría de los ingresos por habitación. Los hoteles pueden trasladarle a usted parte de ese ahorro, lo que significa que podría ahorrar dinero si no reserva directamente.
Este artículo fue publicado originalmente en NerdWallet en inglés.