¿Quiere retener a sus empleados? Pruebe con reducir la semana laboral
La cultura de una empresa es clave para implantar con éxito una semana laboral de cuatro días.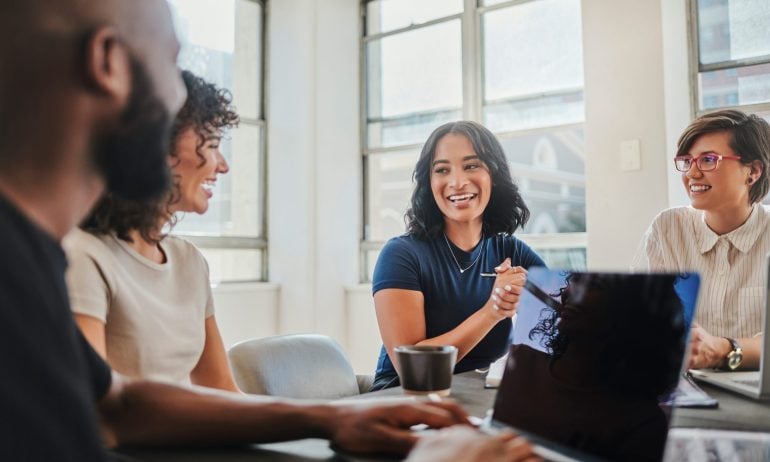 Many or all of the products featured here are from our partners who compensate us. This influences which products we write about and where and how the product appears on a page. However, this does not influence our evaluations. Our opinions are our own. Here is a list of our partners and here's how we make money.
La semana laboral de cuatro días es la tendencia más reciente en los lugares de trabajo, con experimentos y encuestas que destacan la mejora de la moral, la retención y la productividad de los empleados.
En un estudio realizado en 41 empresas de EE.UU. y Canadá (la mayoría con 25 empleados o menos), el 40% de los empleados encuestados afirmaron estar menos estresados después de haber reducido su semana laboral. Además, el 60% de los empleados declararon tener un mejor equilibrio entre la vida laboral y personal, y el 32% dijeron que era menos probable que renunciaran, según un informe de julio de 2023 de 4 Day Week Global, una organización sin fines de lucro que promueve semanas laborales más cortas.
ThredUp ha sido testigo de esta tendencia en su propia empresa en los últimos dos años. En 2021, la empresa revendedora de ropa online pasó a ofrecer una semana laboral de cuatro días a sus empleados corporativos. Las renuncias voluntarias entre ese grupo cayeron un 55% en comparación con 2019, y la contratación recibió un impulso (en inglés). La mayoría de las nuevas contrataciones citaron la semana más corta de la empresa como un factor decisivo para el empleo, dijo Natalie Breece, jefa de personal y diversidad de ThredUp, por correo electrónico.
¿Puede una semana laboral más corta hacer lo mismo por su empresa? La respuesta es breve: depende.
"No se puede implantar algo así si la cultura que hay detrás no apoya y fomenta la confianza en los empleados", afirma Janet Lenaghan, decana de la Escuela de Negocios Frank G. Zarb de la Universidad de Hofstra.
Para que una semana laboral de cuatro días funcione, hace falta una cultura que dé poder a los empleados y valore los resultados más que el tiempo presencial, afirma.
La planificación, la capacitación y la ejecución son también fundamentales para que la transición a una semana laboral más corta tenga éxito.
Ajuste las prioridades y ofrezca capacitaciones
Pedir a los empleados que reduzcan cinco días de trabajo a cuatro no se hace sin ajustes. Los directivos deben evaluar la carga de trabajo, los objetivos y las métricas de éxito. También deben invertir en herramientas para racionalizar o automatizar tareas, como informes contables (en inglés) u otras responsabilidades administrativas, de modo que los empleados puedan priorizar mejor su tiempo. Lenaghan aconseja a los líderes que "se focalicen en las áreas que generan los resultados finales".
No obstante, de arriba hacia abajo, todos los miembros de la organización tendrán que aprender a trabajar con más eficiencia (en inglés).
Los proyectos piloto a gran escala de 4 Day Week Global, que se han llevado a cabo en todo el mundo, incluyen dos meses de talleres, asesoramiento y orientación. Las empresas que participan en las pruebas también reciben apoyo continuo.
Antes de que ThredUp pusiera en marcha su semana laboral de cuatro días, organizó sesiones de capacitación sobre temas como "cómo dirigir una reunión eficaz, cuándo cancelar o retirarse de las reuniones y cómo comunicarse eficazmente con los empleados", explica Breece.
Los directivos y propietarios también deben ser motivadores y dar buen ejemplo, lo que implica abstenerse de enviar correos electrónicos o esperar que los empleados trabajen en los días libres.
Un programa piloto es una forma menos arriesgada de probar una semana laboral más corta y resolver cualquier problema antes de convertirlo en una política permanente.
Poll Everywhere, una empresa tecnológica que crea encuestas en directo y herramientas de feedback, se atrevió con una semana laboral más corta implantando los "viernes de verano" en 2022. El intento de ocho semanas tuvo algunos tropiezos, como los días feriados, que redujeron a tres días las semanas que ya de por sí eran cortas.
"Algunos de los problemas que surgieron durante la ejecución y el incumplimiento de los plazos pueden haber tenido tanto que ver con cómo se organizó la logística como con la idea de trabajar cuatro días a la semana", dice Rob Graham, CEO de Poll Everywhere.
La empresa revivió los "viernes de verano" en 2023 con algunos retoques y capacitación adicional basada en las opiniones de los empleados y el análisis de datos.
"Reestructuramos el horario para que los días festivos se consideren ahora el día libre designado para esa semana en particular", dice Graham. Los directivos también recibieron capacitación especial para ayudar a mejorar la comunicación y la eficiencia a pesar de haber menos reuniones.
Adapte el programa a su empresa
Algunas empresas pueden trabajar de lunes a jueves sin que ello afecte a los clientes o al negocio. Otras necesitan cierto nivel de personal de cinco a siete días a la semana.
Poll Everywhere optó por un horario escalonado para equipos específicos, en el que algunos empleados tenían el viernes libre mientras que otros elegían otro día.
En ThredUp, sus 273 empleados asalariados corporativos trabajan de lunes a jueves. En cambio, los empleados de los centros de distribución de su revendedor de ropa trabajan de tres a cinco días a la semana, dependiendo de su turno.
Anticipe baches en el camino
Ningún cambio empresarial importante está exento de dificultades. Intente anticiparse a ellos y sea proactivo en la búsqueda de soluciones cuando sea posible. Y reconozca que algunos baches pueden ser simplemente el nuevo costo de las actividades de su negocio.
Los períodos de mucho trabajo, como cuando hay que terminar un gran proyecto o los informes financieros de final de trimestre, siempre serán agitados. Y hay que esforzarse para volver al trabajo después de un fin de semana largo, afirma Breece.
"Pero estos retos no son exclusivos de una semana laboral de cuatro días", afirma.
Este artículo fue publicado originalmente en NerdWallet en inglés.