Best Classic Car Insurance Companies
Compare the best classic car insurance companies, including Hagerty and Grundy, to find the right fit for you.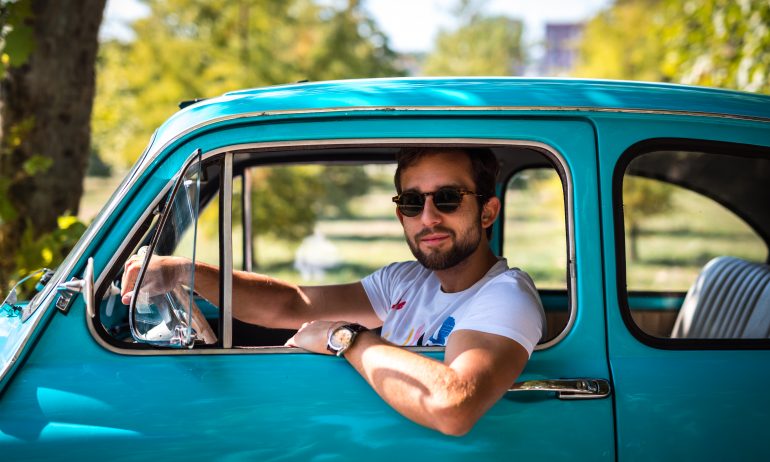 Many or all of the products featured here are from our partners who compensate us. This may influence which products we write about and where and how the product appears on a page. However, this does not influence our evaluations. Our opinions are our own. Here is a list of our partners and here's how we make money.
A classic car is a true collector's item. Whether you're proudly driving your antique beauty to a car show or painstakingly restoring it in your garage, you'll want to find the best classic car insurance companies to protect your investment.
Classic car insurance, also known as collector car insurance or antique car insurance, is often cheaper than an ordinary auto policy since your prized possession generally spends less time on the road. But it typically comes with limits like mileage restrictions and rules about where you park your vintage vehicle.
No single insurer is best for every collectible car. The ideal coverage for a Model T might not be the right fit for a muscle car, and the way you use your vehicle makes a big difference in the insurance you need.
Several specialty agencies focus on classic and collector car insurance, and many big-name insurers also offer it — often through a specialty partner. Specialty insurers might offer customized policies and perks a car hobbyist appreciates, but large or traditional insurers might offer bundling discounts and conveniences the specialty insurers can't. That's why it's smart to get from several companies and compare features.
Here are some standouts we found.
Driving your vintage car to work every day is a no-go for most collector car insurance policies. You're limited to pleasure use, such as Sunday afternoon drives and trips to car shows. If that's too restrictive for you, Safeco offers regular-use coverage as an option for your classic car, with an annual limit of 10,000 miles.
However, most classic car insurers restrict use to pleasure rides only. Mileage options from some other companies include:
Hagerty offers extras for drivers who love the classic car lifestyle. You can insure your "automobilia" — historic collectibles like gas pumps, license plates and hood ornaments. You can take a spin in someone else's vintage vehicle or allow other drivers to rent yours through Hagerty's DriveShare program. Or you can join the company's Drivers Club, with events and forums to help classic car enthusiasts connect. You can join the club even if you don't buy insurance from Hagerty.
Your collector car may become more valuable over time, and you'll want your insurance to keep up. With most classic car insurance, you and your insurer agree in advance on how much your car is worth, and that's the amount you'll get if the car is stolen or totaled. Grundy's optional Motor Vehicle Program adds a cushion: You can get up to 150% of the insured amount if your car's value has gone up.
Policies from American Collectors include inflation protection of up to 6% for no additional premium.
When driving a decades-old vehicle, you need to be prepared for breakdowns and other hazards. Many antique car insurance companies offer coverage for towing and roadside assistance, but American Collectors adds some notable extras in the gold and platinum levels of its Towing & Labor for Collectors Plan.
If your vehicle is stolen, for instance, the insurer will offer a cash reward for information leading to its return — $2,500 if you have the gold plan, $5,000 if you chose the platinum plan. Those plans also will reimburse some nonrefundable car show and hotel fees if you miss a car show because of an accident or mechanical breakdown. If things really go awry on the road, the platinum plan even provides $5,000 of coverage for bail bond and $1,000 for legal defense. Benefits vary by state.
The companies above are just some of the carriers available for classic car insurance. It's important to pay attention to the details as you shop to make sure you get the best insurance for you. To that end, here's a more exhaustive list of our options.
Age alone doesn't turn a car into a classic. If your historic vehicle is held together by rust and duct tape, you may have trouble finding collector car coverage. Although classic car insurance companies don't always require appraisals, they have qualifications you and your car must meet.
Requirements vary from one company to the next, but here's an idea of what you can expect.
Age. Auto insurers typically require a car to be 10 to 20 years old to be considered a classic and 25 years old to be an antique. Companies have different age requirements, but a new car generally won't qualify for collector car insurance unless it's an exotic vehicle like a Ferrari, a Lamborghini or a reproduction Shelby Cobra roadster.
Condition. Insurers expect classic cars to be well-maintained. For example, Heacock Insurance says vehicles "must show pride of ownership."
Use. A collector car isn't intended to be your daily ride. Some policies allow occasional use, while others strictly forbid running errands in your classic car or driving it to work while your regular vehicle is in the shop.
Storage. Classic car insurance typically requires your vehicle to be kept in a locked garage. Some companies will consider alternatives like a carport or driveway, but your premium is likely to be higher.
Age and experience. Collector car insurance typically requires drivers to be at least 25 years old or have five to 10 years of driving experience.
Driving record. Insurers want to see a clean driving record for anyone behind the wheel of a collector vehicle. Many require applicants to have no major violations or accidents in the past three to five years.
Additional car. Companies typically require you to own a separate vehicle for regular use.
Whether your baby is a hot rod or a classic antique, it needs special treatment. When you shop for classic car insurance, ask about these features to make sure the policy is as unique as your car.
Agreed value. If your everyday car is totaled, regular car insurance typically pays the "actual cash value" at the time, which can be much less than you paid for the vehicle. That model doesn't work well for collector cars, which can increase in value over time. So most antique car insurance is based upon "agreed value," or "guaranteed value," which means you and your insurance company agree in advance on what your car is worth, and you're guaranteed to get that amount, minus your , if the car is totaled.
Some companies offer "stated value," which sounds similar to "agreed value." But these policies may say that if your car is totaled, you'll get the stated value or actual cash value, whichever is less. If you want a guaranteed value, check the fine print to be sure.
Restoration coverage. If you're bringing a tired old vehicle back to life, you'll probably want insurance while you restore it. Several companies offer this coverage. You may need to increase your agreed value along the way as improvements make your car more valuable. Hagerty offers a Vehicle Under Construction plan that does this for you, boosting your guaranteed value 10% per quarter during restoration.
Spare parts coverage. Anyone who tinkers with cars knows how expensive auto parts can be, especially for collectible vehicles, so many classic car insurance policies offer parts coverage. For example, American Modern, Heacock and Leland-West all provide $2,000 of coverage for lost or stolen spare parts, with an option to buy more in some cases.
Solid collectible car coverage can be affordable, even though your dream wheels may have cost more than your daily ride. Classic car insurance companies offer a wide variety of discounts.
As you compare collector car policies, ask the companies if these discounts and savings opportunities are available to you.
NerdWallet's can help you check quotes from multiple insurers. While the tool focuses on traditional car insurance, you can get classic car insurance quotes from some of these companies. To get quotes from specialty agencies that don't appear here, contact the agencies directly.