Cheapest DUI Car Insurance for 2022
Car insurance can cost about $126 more a month after a DUI. Here's the best way to get cheaper rates after a DUI.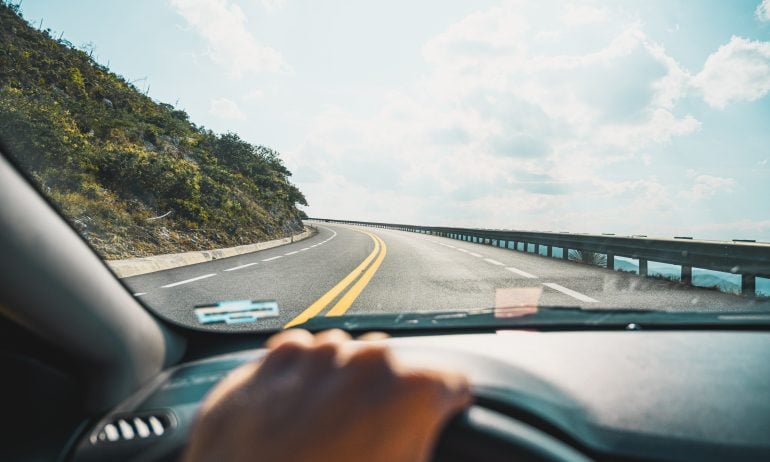 Many or all of the products featured here are from our partners who compensate us. This influences which products we write about and where and how the product appears on a page. However, this does not influence our evaluations. Our opinions are our own. Here is a list of our partners and here's how we make money.
Getting a DUI makes it harder to find car insurance and can raise your rates significantly. In fact, NerdWallet's recent analysis of third-party data found that a DUI increases auto insurance rates by 93% on average.
But while finding cheap DUI insurance may seem impossible, the trick is shopping around. For instance, out of the nation's four largest insurers, NerdWallet found that Progressive is the cheapest on average for full coverage insurance if you've had a DUI. Policies with full coverage include comprehensive and collision insurance, which pays for damage to your own car from most causes.
But averages aren't always a good predictor of the price you'll pay: Your rates are determined by individual factors like your age and location, and smaller regional insurers might offer better rates than more well-known companies. Getting cheap DUI insurance will take diligence, but comparing quotes can help.
"DUI insurance" isn't an official policy you can buy. Rather, "DUI insurance" may refer to auto insurance available to drivers with a DUI on their record.
Cheapest DUI insurance by company
DUI insurance from large companies
To find the lowest prices for drivers with a recent DUI, we looked at large companies that are available in many states and can serve the most consumers.
Here are average monthly rates from the nation's four largest auto insurance companies for drivers with a recent DUI, ranked from cheapest to most expensive:
Note that USAA has even cheaper average rates than Progressive, but wasn't included in our analysis because it is available only to members of the military, veterans and their families.
DUI insurance from smaller companies
But big companies aren't your only options. Out of the insurers we have rates for, American National had the cheapest rates on average after a DUI, with drivers paying only $77 a month.
And in many areas, smaller statewide and regional insurers have the cheapest rates. For instance, Indiana Farmers has the second cheapest rates after a DUI in the nation, costing drivers $80 a month on average. However, the company sells policies in only Illinois, Indiana and Ohio.
Cheapest DUI insurance by state
The cheapest car insurance company in one area may not be the cheapest in another.
For instance, in NerdWallet's analysis:
Geico was the cheapest insurer for drivers with a DUI in Florida, Maryland, Oklahoma and Utah — but the most expensive option in North Carolina and North Dakota.

Farm bureaus: North Carolina and Virginia drivers can find the cheapest insurance on average at their respective state's farm bureaus, but Texas Farm Bureau was the costliest option in Texas.

Travelers was the cheapest for drivers with a DUI in Delaware, but the most expensive in Massachusetts.
In a majority of states, the least expensive insurer for a driver with a clean record isn't the cheapest after a DUI. In North Carolina, for example, Geico was the cheapest for a driver with no violations but the most expensive company after a DUI, with prices more than five times as much as before.
Check the table below to see which companies have the lowest rates after a DUI where you live.
Full coverage with one DUI

Southern Farm Bureau Casualty

Southern Farm Bureau Casualty

*USAA was not included in our analysis because it is available only to military, veterans and their families.
How much does car insurance go up after a DUI?
You're unlikely to escape a rate hike for DUI insurance even with minimum required insurance coverage, which is typically a third of the price of full coverage. Average rates for both types go up 93% or more after a DUI.
While buying only the minimum required insurance coverage in your state is one way to keep rates low after a DUI, it's not an option for everyone. Auto loans and leases typically require full coverage.
Additionally, minimum coverage insurance often has relatively low liability limits. If you cause a crash and don't have enough insurance to pay for damage, you'll have to pay out of pocket.
Full coverage car insurance for a driver with one DUI costs about $262 a month, on average. That's $126 more a month than a driver with no violations would pay.

For a driver with one DUI, minimum coverage costs $95 a month, on average — $48 a month more than someone with a clean driving history would pay.
How to find cheap auto insurance after a DUI
After a DUI, your car insurance company considers you a high-risk driver, or more likely to file an insurance claim than most people, for several years. Your premium will almost certainly increase, and your carrier might even decide to drop you. Here's what you can do:
Start your car insurance search quickly. The threat that your policy might be canceled means you should start getting auto insurance quotes immediately after a DUI. This gives you time to compare rates.

Disclose your DUI status when you shop around. An insurer might not be aware of your recent DUI if you compare quotes right away. To get the most accurate rate, you'll need to share any recent traffic infractions, including DUIs.

Use comparison tools. Factors such as where you live, your age and your credit score will affect your premium. NerdWallet's car insurance comparison tool can help you weigh your options.

Get multiple quotes. Companies vary greatly in how they price policies. The only way to find the cheapest rate is to get car insurance quotes from several competitors.

Shop again three and five years later. Rates after a DUI tend to drop after these milestones, and other insurance companies might be cheaper than yours at those points.

Avoid any other traffic violations. Although you have a DUI, it won't affect your insurance rates forever. Avoid any other DUIs, accidents or speeding tickets to keep your car insurance bill down now and in the future.

Consider nonowner car insurance. If you don't own a car and occasionally drive someone else's vehicle, you can get nonowner car insurance and still meet your state's liability insurance requirements. Liability insurance pays for damage you cause to another person (or their car) in an at-fault accident.
Even if your DUI was the result of a mistake that will never happen again, insurers will still consider you "high-risk." This may feel stigmatic, but you're not alone. High-risk drivers can include people who have tickets or at-fault accidents, are newly licensed, are elderly, have poor credit, have allowed their coverage to lapse, and/or own an exotic vehicle.
If you're still struggling to find insurance, you may need to get coverage from a specialty insurer (see below).
Alternative car insurance after a DUI
Many big insurance companies serve high-risk drivers, and some smaller companies cater specifically to this market. After a DUI, it's a good idea to get rates from these nonstandard carriers as well as from the big ones, if possible.
If you can't find a company willing to insure you because of your driving record, you can turn to your state's "high-risk insurance pool." These programs exist to provide coverage to people who have trouble buying auto insurance through normal channels. To start, find your state in the directory of the Automobile Insurance Plan Service Office.
Frequently asked questions
How long does a DUI stay on your insurance?
Do you need an SR-22 as proof of insurance after a DUI?
How much does DUI insurance cost?
NerdWallet averaged rates based on public filings obtained by pricing analytics company Quadrant Information Services. We examined rates for 35-year-old men and women for all ZIP codes in any of the 50 states and Washington, D.C. Although it's one of the largest insurers in the country, Liberty Mutual is not included in our rates analysis due to a lack of publicly available information.
In our analysis, "good drivers" had no moving violations on record; a "good driving" discount was included for this profile. Our "good" and "poor" credit rates are based on credit score approximations and do not account for proprietary scoring criteria used by insurance providers.
These are average rates, and your rate will vary based on your personal details, state and insurance provider.
Sample drivers had the following coverage limits:
$100,000 bodily injury liability coverage per person.

$300,000 bodily injury liability coverage per crash.

$50,000 property damage liability coverage per crash.

$100,000 uninsured motorist bodily injury coverage per person.

$300,000 uninsured motorist bodily injury coverage per crash.

Collision coverage with $1,000 deductible.

Comprehensive coverage with $1,000 deductible.
In states where required, minimum additional coverages were added. We used the same assumptions for all other driver profiles, with the following exceptions:
For drivers with minimum coverage, we adjusted the numbers above to reflect only the minimum coverage required by law in the state

For drivers with a DUI, we added a single drunken-driving violation.
We used a 2019 Toyota Camry L in all cases and assumed 12,000 annual miles driven.
These are rates generated through Quadrant Information Services. Your own rates will be different.
Get more smart money moves – straight to your inbox
Sign up and we'll send you Nerdy articles about the money topics that matter most to you along with other ways to help you get more from your money.