What Is Collision Insurance, and What Does It Cover?
Collision insurance pays for vehicle damage from most types of crashes but may not be worthwhile for older cars.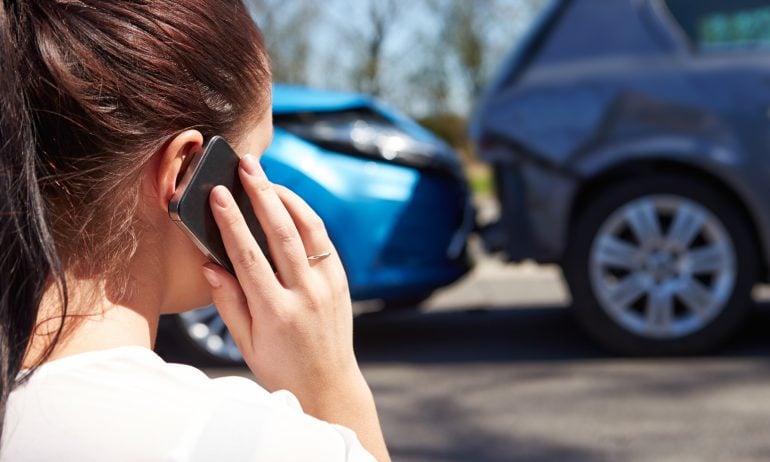 Many or all of the products featured here are from our partners who compensate us. This influences which products we write about and where and how the product appears on a page. However, this does not influence our evaluations. Our opinions are our own. Here is a list of our partners and here's how we make money.
Collision insurance sounds pretty straightforward, but it won't cover every bill after a crash. Collision coverage pays to repair your own car's damage when you hit another vehicle or an object such as a lamppost or fence. It may also pay if another driver hits your car and doesn't have enough insurance to pay for the damage.
Collision insurance isn't mandatory in any state, but lenders typically require it if you finance or lease a car. Here's a little more about what collision car insurance will — and won't — pay for, plus how to know if it's worth the cost.
Key terms in this article
Here are some common terms you will see associated with collision coverage.
| | |
| --- | --- |
| | A deductible is a set amount that is subtracted from a claim payout. When you buy your insurance policy, you select your deductible. If you choose a high deductible you will have a lower car insurance premium, but you will also pay more out-of-pocket if you make a claim. |
| | The value of your car in its current condition, not the price when you bought it or the trade-in value at a dealership. Cars decrease in value over time, so the actual cash value of your car will be less (sometimes significantly) than the purchase price. |
What does collision insurance cover?
Collision insurance covers damage to your own car from:
A crash you cause with another driver.

A collision with an object such as a tree or mailbox.

Another driver hitting your car, if they don't have any or enough insurance to cover damage costs, and you don't have uninsured/underinsured motorist property damage coverage.
Lenders often require collision insurance because it can be quite expensive to repair or replace a new car. In the event that your vehicle is damaged but not totaled, collision insurance pays to repair your car to its previous condition, minus your deductible. If your vehicle is totaled, collision insurance will pay the actual cash value of your vehicle, minus your deductible. Without collision insurance, if disaster strikes, you could be stuck paying thousands of dollars for car repairs or for a new vehicle.
How collision insurance works when the other driver is at fault
If you're in a crash and another driver is entirely at fault, that driver's liability car insurance pays for damage to your car. Assuming the at-fault driver has this type of coverage, you'd make a claim to their insurance first. Auto liability insurance is mandatory in every state except New Hampshire and Virginia, which don't require auto insurance.
However, in many states, liability auto insurance minimum limits are low — just $5,000 or $10,000. A driver with only state-required property damage limits wouldn't have enough coverage to pay for a newer vehicle if totaled. If you are in an accident and the at-fault driver's liability limits are too low, then your collision insurance would kick in to pay for repairing your car.
If your car is totaled, collision insurance pays for the value of your car at the time it is destroyed, minus your deductible. However, if your loan is more than the value of your car, you will still have to pay the remaining balance on your loan, which can be thousands of dollars. If you have a newer vehicle it's a good idea to ask your insurer about gap insurance, which can help cover the difference and pay off the loan.
While collision insurance pays for collision-related incidents, comprehensive insurance pays for non-crash damage to your vehicle, such as fire, hail or theft. Collision and comprehensive insurance, combined with liability insurance, is typically referred to as full coverage insurance.
How the collision insurance deductible works
Usually, collision insurance is subject to a deductible, a set amount subtracted from any collision claim check. You can choose your deductible amount, which typically ranges from $500 to $1,500.
For example, say you swerved to avoid hitting a squirrel in the road and accidentally hit a lamppost instead, and you have a collision deductible of $1,000. Your insurance company would pay for the cost to repair the damage to your car, minus $1,000.
If the cost of the damage was less than your $1,000 deductible, you wouldn't want to make a claim because your insurer wouldn't pay — and would likely increase your rates later for having a claim. If the vehicle was destroyed by the impact, your insurer would subtract $1,000 from your car's estimated value before the crash and send you a payment for that amount.
Reducing or waiving your collision deductible
Keep in mind that your collision deductible applies even when you're not at fault. If the at-fault driver doesn't have sufficient insurance to pay for the damage and you don't have underinsured or uninsured motorist property damage coverage, collision insurance would pay for the damage.
If it seems unfair that you'd have to shell out to fix damage caused by someone else, you might want to consider adding a collision deductible waiver to your policy. Available only in some states, this waives your deductible if an uninsured driver causes an accident and your collision coverage has to pay.
Another way to reduce your collision deductible burden after an accident is by adding "disappearing deductibles" (which go by several monikers) to your policy. Some auto insurance companies will reduce your deductible by a certain amount — typically $100 — for each year you go without an accident or ticket. Details vary by company, but it generally costs extra and may not be worth it if you don't end up getting into an accident.
The cost of collision insurance
The average annual cost of collision coverage in the U.S. was about $381 in 2019, the latest year for which data is available, according to the National Association of Insurance Commissioners. Your own cost may be higher, as this figure includes discounts and may account for group policies that are typically cheaper than an individual policy you could buy online.
Depending on the company, you might not be able to buy collision insurance without comprehensive coverage, or vice versa. This could be because you have an active loan or lease that requires both, or because your insurer requires one to purchase the other.
Collision insurance tends to cost a lot more than comprehensive insurance because collision claims are more common. Choosing higher deductibles can lower your premium, as long as you can cover the out-of-pocket costs.
Do you need collision insurance?
Much like your car, collision coverage becomes less valuable over time, because it will never pay out more than the vehicle's value. If you don't have a loan or lease requiring it, collision insurance eventually loses its worth, costing more to have than it would pay you after a crash.
Not sure when to drop collision insurance? To figure out whether it's worth what you're paying for it, start with the value of your car and your deductible. If you have a $1,000 collision deductible, it's not worth paying for collision coverage on a vehicle worth $1,000 or less.
Next, it's time to look at how much your collision insurance costs. If it isn't on a recent bill, you can look on your auto policy's declarations page, typically one of the first pages. If the cost of collision plus its deductible add up to more than your car's value, you won't see any benefit if your car is totaled, the worst-case scenario for this coverage.
Subtract your collision deductible from your car's value. This is the most you could get from a collision claim. If you can come up with this much out of pocket, you could cut the coverage, knowing you'd have to pay for your own car's damage after a crash.

Take the amount above and subtract the cost of your collision insurance for the duration of the policy, usually six months. This reflects the highest possible value of your collision insurance — the most you'd gain if your car was totaled, considering the cost of coverage.
Negative, you're paying more for collision insurance than it's worth.

Small but positive, the coverage can still benefit you, but a claim for a total loss would only be worth this much, now that you've factored in the cost of coverage. So you might decide to take the risk of canceling it now and saving on premiums.

Large and positive, keeping collision insurance makes sense. The coverage would pay a large sum if your car were totaled, and much more than you've paid for the coverage itself.
Additionally, if there's no way you could come up with the amount from step one in an emergency, keeping collision insurance makes sense. Also keep in mind that if your car wasn't totaled, the claim check would be for less than the first number you calculated.
Even if you decide collision insurance is worth it for now, revisit the math as your car ages and any time you get car insurance quotes.
Frequently asked questions
When should you drop collision insurance?
Do I need collision insurance on an old car?
Is collision insurance required by law?
Get more smart money moves – straight to your inbox
Sign up and we'll send you Nerdy articles about the money topics that matter most to you along with other ways to help you get more from your money.