What Is Full Coverage Insurance?
Full coverage insurance combines liability, comprehensive and collision insurance to provide coverage for most scenarios.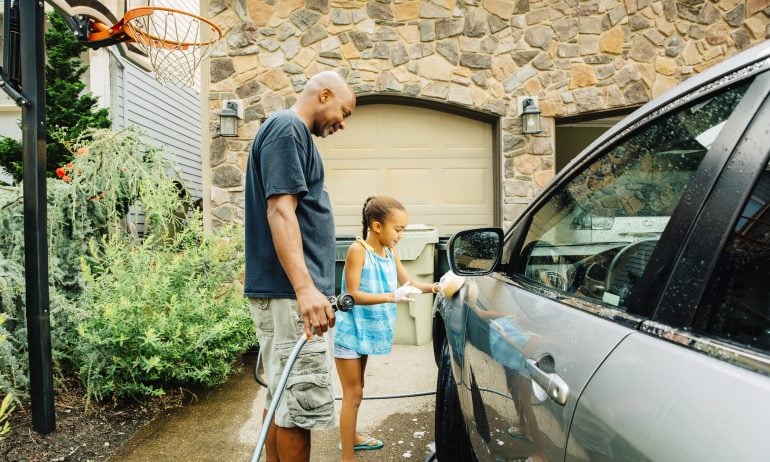 Many or all of the products featured here are from our partners who compensate us. This influences which products we write about and where and how the product appears on a page. However, this does not influence our evaluations. Our opinions are our own. Here is a list of our partners and here's how we make money.
Full coverage car insurance is typically a combination of comprehensive, collision and liability coverage.

It provides coverage for most scenarios, including damage to your car from the weather, an at-fault accident, hitting an animal or vandalism.

You may want or need full coverage insurance if you have a new car, live in a place with extreme weather conditions or have an auto loan or lease.
You may have heard the term "full coverage car insurance" while shopping for coverage. But while that sounds like a single type of insurance that covers you in every possible situation, the truth is "full coverage insurance" usually refers to a combination of separate coverage types.
What is full coverage insurance?
Full coverage insurance typically refers to an auto policy that combines liability insurance with comprehensive and collision insurance. This combination pays for damage to your car and also covers injuries or damage you cause to others.
Full coverage usually includes:
Liability insurance, which pays for other people's medical bills and property damage from an accident you cause.

Comprehensive insurance, which pays for damage to your vehicle from circumstances outside your control, like natural disasters or theft.
Full coverage car insurance isn't required by law. Most states require a minimal amount of liability insurance, but this only covers damage or injuries you cause to others, not your own injuries or car repairs. Full coverage offers extra financial protection after a crash beyond your state's minimum requirements.
What does full coverage car insurance cover?
Full coverage insurance provides coverage for most situations, like damage to your car from a storm, an at-fault accident, hitting an animal or even vandalism. And if your car is stolen, your full coverage insurance will even pay out the current value of your car so you can afford to replace it.
Below are the coverage types you may get in a full coverage insurance policy and how they work.
| | |
| --- | --- |
| | Medical costs due to injuries or deaths from an accident you caused. |
| Property damage liability | Repair costs for property you damaged in an accident. |
| Uninsured motorist bodily injury liability | Medical costs after an accident with an uninsured driver. |
| Uninsured motorist property damage coverage | Repair costs after an accident with an uninsured driver. |
| | Repair costs to your car if you crash with another vehicle or run into an object, such as a tree or a telephone pole. |
| | Repair costs from events outside your control — including weather, hitting an animal while driving, theft and vandalism. |
You can think about full coverage car insurance like a knight's suit of armor. You start with your state's mandated car insurance requirements, just like a knight starts with a breastplate. But sometimes that minimum amount of protection isn't enough. Opting into additional coverage types will give you financial protection in even more situations, just like how a knight with more armor pieces will have other parts of their body protected.
How much is full coverage car insurance?
The national average for full coverage auto insurance is $2,148 per year, or about $179 a month, for a 35-year-old good driver with good credit, according to NerdWallet's analysis. That's more than double the price of minimum-required liability insurance, which is why it pays to shop around and compare quotes from multiple companies to find the cheapest rate.
Although Liberty Mutual is one of the largest insurers in the country, it is not included in our analysis because it does not provide rate data.
Why you can trust NerdWallet
Who needs full coverage auto insurance?
Full coverage insurance may be a good match if you:
Drive a new or expensive car.

Have an auto loan or lease.

Regularly commute in heavy traffic.

Live in a place with extreme weather, high car theft rates or a high risk of animal collisions.

Can't afford to repair or replace your car if it's wrecked or stolen.
But full coverage may not make sense if you drive an older vehicle. Comprehensive and collision insurance will only reimburse you up to the value of your car at the time it's damaged or stolen. And these types of coverage usually come with an insurance deductible, which is an amount you're expected to pay out of pocket toward repair or replacement costs.
If your deductible is more than the value of your car, you may want to skip these coverage types. For example, let's say you have a car worth $1,500. You opted into comprehensive and collision insurance, which costs $600 per year with a $1,000 deductible.
If you get into a car accident and total your car, the most you'll get from your insurer is a $500 check, which is your car's value minus your deductible. In this case, you're left with $500, which is $100 less than what you paid for the coverage.
Although full coverage insurance doesn't make sense here, you'll still need to buy minimum coverage to legally drive.
How to save on full coverage car insurance
Shop around. It's important to shop around if you want to find cheap auto insurance. Compare rates with at least three companies to find the cheapest rate for you.
Look for discounts. There are car insurance discounts for everything from getting good grades to owning a new car. Call your agent to confirm what's offered to maximize your savings.
Consider increasing your deductible. One way to lower your car insurance bill is by raising the deductible, which is what you're on the hook for before insurance pays out. Doing this will lower the overall cost of your policy, although savings vary by company.
Avoid traffic infractions. Speeding tickets, accidents and DUIs can increase your car insurance rates drastically, even after one incident. These infractions can stay on your record for three to five years, so make sure to drive cautiously if you want the cheapest rates.
Work on your credit. Although it isn't always easy to build your credit, it can impact your auto insurance bill. Our analysis of the average cost of car insurance found having poor credit can increase your rates more than a recent DUI for some drivers. There are exceptions to this, however: California, Hawaii and Massachusetts don't allow insurers to use credit when determining car insurance rates.
Frequently asked questions
What isn't included in full coverage?
Is full coverage car insurance worth it?
Do I need full coverage on a financed car?
NerdWallet averaged rates based on public filings obtained by pricing analytics company Quadrant Information Services. We examined rates for 35-year-old men and women for all ZIP codes in all 50 states and Washington, D.C. Although it's one of the largest insurers in the country, Liberty Mutual is not included in our rates analysis due to a lack of publicly available information. Poor credit rates from The Hanover were removed in both Connecticut and New York.
In our analysis, "good drivers" had no moving violations on record; a "good driving" discount was included for this profile. Our "good" and "poor" credit rates are based on credit score approximations and do not account for proprietary scoring criteria used by insurance providers. These are average rates, and your rate will vary based on your personal details, state and insurance provider.
Sample drivers had the minimum required coverage by law in each state. Some policies include additional coverage at the insurer's discretion.
We used a 2020 Toyota Camry L for all drivers and assumed 12,000 annual miles driven.
Get more smart money moves – straight to your inbox
Sign up and we'll send you Nerdy articles about the money topics that matter most to you along with other ways to help you get more from your money.