Why Your Dog Needs Liability Insurance Even if She's Perfect
Even very good dogs can cause injuries. If they do, liability insurance can ensure you don't pay through the snout for it.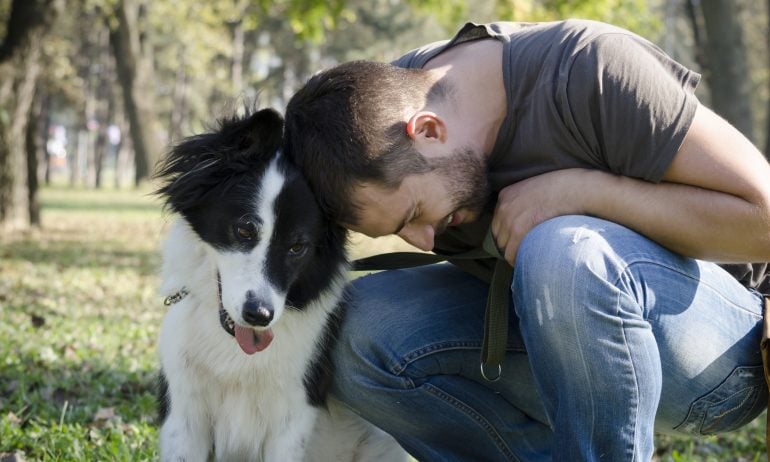 Many or all of the products featured here are from our partners who compensate us. This may influence which products we write about and where and how the product appears on a page. However, this does not influence our evaluations. Our opinions are our own. Here is a list of our partners and here's how we make money.
My dog Maisie is an angel. The most vicious she gets is when she decides it's time to attack her bacon ball. Her greatest foe is the doorbell.
But just in case a human hand happens to get entangled with the bacon ball midchomp or her howls at the door scare someone off of the steps and onto the pavement, I make sure to have liability insurance.
All joking aside, liability coverage is a must for any dog owner, regardless of the pooch's temperament. If you or your dog is held responsible for injuries to someone else, you'll have to pay the associated costs — and they can be significant.
Why you need dog liability insurance
There were nearly 18,000 dog bite claims filed in the U.S. in 2021, according to the Insurance Information Institute. The average cost per claim was about $49,000.
In the event your Fido or Fifi causes one of these claims, your homeowners or renters insurance coverage will likely be your first line of defense. Personal liability coverage is part of a standard home insurance policy, with annual payout limits that typically start at $100,000.
While this is enough to cover the average $49,000 claim, note that some dog-related lawsuits could cost you far more. Say your exuberant golden retriever jumps up to greet an elderly woman, who falls down and breaks her hip. If she ends up needing surgery and long-term care, her costs could easily reach six digits — and she could sue you to cover them.
If the liability coverage on your renters or homeowners policy doesn't seem like enough, consider adding umbrella insurance to provide extra liability coverage on top of your underlying policies. Limits typically start at $1 million.
Does your home insurance policy cover dog liability?
Because liability claims can get so expensive, it may make sense for dog owners to choose a liability limit above the minimum. But first, check that your insurance policy will actually cover liability claims for your dog.
Some insurers may charge extra for animal liability coverage, while others won't cover certain breeds they consider to be higher risk. Such breeds often include pit bulls, Rottweilers, Doberman pinschers and German shepherds. Other insurance companies may decline to provide coverage to any animal with a history of biting or other aggression.
If your insurance company won't cover dog liability claims for your furry pal, it's worth shopping around for other insurers that will.
Animal liability insurance
Another option for dog owners is to get a separate animal liability insurance policy. This can be particularly useful when there's a history of aggressive behavior, such as dog bites, or your pup belongs to a breed your home insurer refuses to cover.
"If you can cover your dog under home insurance, that's ideal," says Dori Einhorn, owner of Einhorn Insurance Agency, which offers dog liability insurance. "But if you don't have animal liability coverage on your [homeowners] policy, you don't have coverage."
That's where animal liability insurance comes in. It can provide liability coverage for your dog that fills the gap created by exclusions in your homeowners, renters or umbrella policy.
As with other insurance, the cost of animal liability coverage depends on several factors, such as the dog's breed and weight. Einhorn says that annual premiums from her agency typically range from $400 to $1,200, depending on the dog's history. And if the dog's history is too problematic, even an insurer that specializes in animal liability may refuse to provide coverage.
Einhorn emphasizes that the first step when considering animal liability coverage is to check your home or renters insurance policy to see what type of coverage you already have. Insurers may change which breeds and kinds of incidents aren't covered, and you don't want to wait until it's too late.
Frequently asked questions
Do umbrella insurance policies cover dogs?
How much does dog liability insurance cost?
Does liability insurance cover other pets, such as cats?
Get more smart money moves – straight to your inbox
Sign up and we'll send you Nerdy articles about the money topics that matter most to you along with other ways to help you get more from your money.