Divorce After 60: What Happens to Your Health Benefits?
From COBRA to Medicare, here are the questions to ask about health care coverage after a later-in-life divorce.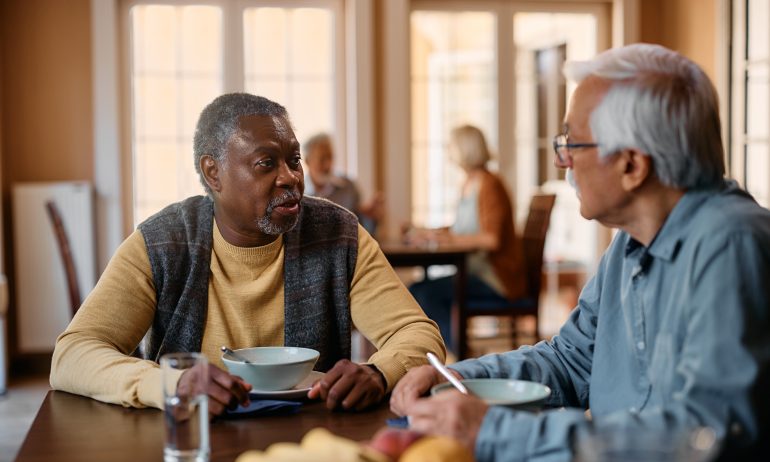 Many or all of the products featured here are from our partners who compensate us. This influences which products we write about and where and how the product appears on a page. However, this does not influence our evaluations. Our opinions are our own. Here is a list of our partners and here's how we make money.
More than 1 in 3 people who divorce in the United States are age 50 or older, and 1 in 4 are 65 or older, according to a 2022 analysis published in the Journals of Gerontology.
Divorcing as you near retirement — or after you've retired — comes with considerations: Are you (or your spouse) losing health insurance? If you're retired but not yet eligible for Medicare, where will you find coverage? How does being an ex-spouse affect your Medicare costs?
If you have health insurance through your own employer, not much will change, but if you're on Medicare or your partner's employer policy, you'll have to ask some questions. And you may want to help your ex make the transition, if they're on your policy.
Shopping for Medicare plans? We have you covered.
Best for member satisfaction

MEDICARE SUPPLEMENT, or Medigap, is private health insurance that covers "gaps" in traditional Medicare coverage. Compare options from our Medigap roundup.

Best for Medigap plan options

Best for premium discounts

Star ratings from CMS and on a 5-★ scale.
Here are the points to consider:
Does your employer offer benefits?
If you're still working, does your employer offer health coverage? If so, divorce is considered a life event that will qualify you to make changes to your benefits, such as enrolling in a health insurance plan. You have 30 days after your other coverage ends to request special plan changes.
Do you have access to COBRA?
If you were covered under your ex-spouse's employer plan, you can opt in to coverage under COBRA — the Consolidated Omnibus Budget Reconciliation Act — for up to 36 months after the divorce. COBRA applies to group plans of employers that have at least 20 employees.
"You should expect the insurance cost to be substantially higher, as now you are responsible for paying the entire premium amount," says Tamara Durbin, a certified financial planner in Huntington Beach, California.
The decision to opt into COBRA partially depends on your ex-spouse's coverage, says Crystal Cox, a CFP in Madison, Wisconsin. "My husband's health insurance is amazing," she says. "If we were to get divorced, I would strongly consider using COBRA versus going on my own health plan."
Have you checked the marketplace?
For many people, COBRA will be pricey. (Plus, it's temporary.) To see what other plans might meet your needs and budget, shop the government health insurance marketplace. Start at healthcare.gov, although you may find that your state has its own marketplace site you'll use.
If you're not sure how to choose a plan, a health insurance broker in your state can help you consider your choices at no cost to you.
"It's important for people to know that you don't have to navigate this on your own," Cox says.
Are you eligible for Medicare (but not on it)?
If you're 65 or older and haven't signed up for Medicare yet because you've been on your ex-spouse's employer group plan, now's the time to sign up for Medicare. Losing coverage from an employer qualifies you for a special enrollment period that will allow you to sign up even if it's not an open enrollment period.
If you know when your coverage will end, take action beforehand, says Melinda Caughill, co-founder and CEO of 65 Incorporated, which offers guidance on Medicare. "That's ideal to avoid a gap in coverage," she says.
If you're 65 or older, you or a spouse must have worked and paid Medicare taxes for at least 40 quarters (10 years) to qualify for free Medicare Part A. Most people have enough work history to qualify, but if you don't have enough credits on your own, you can still qualify for free Part A based on your ex-spouse's work history — provided you were married for 10 years or longer. (Your ex must also be at least 62 years old.)
If you weren't married long enough or your ex is 61 or younger, you'll pay $506 per month for Medicare Part A in 2023 if you've worked and paid Medicare taxes for fewer than 30 quarters. If you worked and paid Medicare taxes for 30 to 39 quarters, you'll pay $278 per month.
If you remarry, you can no longer qualify for free Medicare Part A based on your ex-spouse. "You can, however, qualify based on your new spouse's history, but they must also have enough credits and be 62 years of age," says Cameron Valadez, a CFP in Riverside, California.
A divorce also might affect your costs for Medicare Part B and Part D, which require extra premium payments if your income is over a threshold amount. If you've been paying an income-related monthly adjustment amount, or IRMAA, and your household income is lower post-divorce, you can send a request to lower your premiums.
This article was written by NerdWallet and was originally published by The Associated Press. 
Get more smart money moves – straight to your inbox
Sign up and we'll send you Nerdy articles about the money topics that matter most to you along with other ways to help you get more from your money.