Does Medicare Cover Hearing Aids?
Generally, no. But certain Medicare Advantage plans offer hearing aid coverage.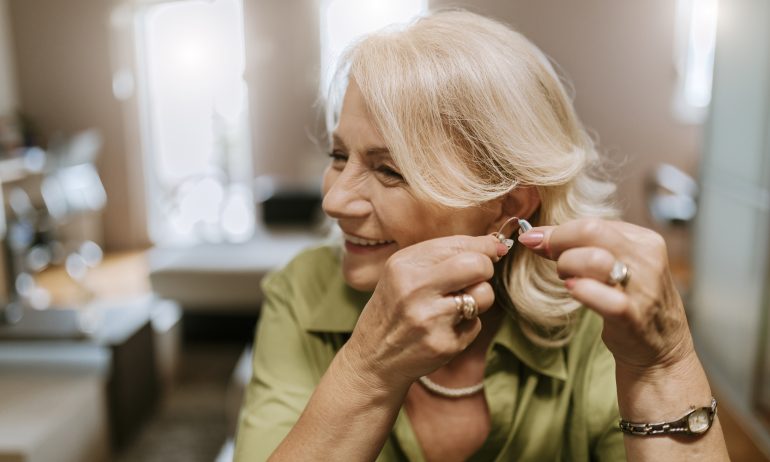 Many or all of the products featured here are from our partners who compensate us. This influences which products we write about and where and how the product appears on a page. However, this does not influence our evaluations. Our opinions are our own. Here is a list of our partners and here's how we make money.
Original Medicare doesn't cover hearing aids, fittings or routine hearing exams, but many Medicare Advantage plans do offer coverage.
If you're an older adult who could benefit from hearing aids — or might need them in the future — such coverage could be useful. Disabling hearing loss is experienced by almost a quarter of people ages 65 to 74 and half of those who are over 75, according to the National Institute on Deafness and Other Communication Disorders.
How does Original Medicare cover hearing aids?
In short, Original Medicare doesn't cover hearing aids. Neither do most Medigap plans. You'll likely have to pay out-of-pocket for hearing aids, fittings for the devices and routine hearing exams with this coverage. (The Centers for Medicare & Medicaid Services defines a routine hearing exam as an exam for the purpose of prescribing, fitting or changing hearing aids.)
While routine hearing exams aren't covered, Original Medicare may cover more comprehensive exams when certain requirements are met. Medicare Part B provides 80% coverage for a diagnostic hearing and balance exam that your doctor or health care provider orders to see if you need medical treatment — for example, to determine appropriate surgical treatment of a hearing deficit.
If you are eligible for coverage, you'll be responsible for 20% of the Medicare-approved cost of the exam, plus your deductible if you haven't already met it. Additionally, if your hearing exam is done at a hospital, your hospital copay also applies. If you have a Medigap plan, it might cover these coinsurance costs.
What about Medicare Advantage?
By law, Medicare Advantage (Medicare Part C) must provide at least as much coverage as Original Medicare — though it can come with additional costs and network restrictions. However, since Medicare Advantage is private insurance contracted through the federal government, the benefits of each individual policy are unique.
The good news is that many Medicare Advantage plans do cover hearing aids, although they may limit the maximum amount they'll pay and a deductible may also apply. Your initial hearing exam may even be free if you use an in-network doctor.
Copays for hearing aids vary dramatically among insurers, ranging anywhere from $0 to a few thousand dollars. For this reason, it's important to examine and compare all available plans carefully before making your choice.
If you have Original Medicare and want to switch to Medicare Advantage, you can make the move during the annual Medicare open enrollment period from Oct. 15 to Dec. 7. During the Medicare Advantage open enrollment period from Jan. 1 to March 31, you can switch from one Medicare Advantage plan to another.
Medicare Advantage companies
Get more information below about some of the major Medicare Advantage companies. These insurance companies offer plans in most states. The plans you can choose from will depend on your ZIP code and county.
What do hearing aids cost?
The price for a pair of hearing aids typically ranges from around $1,000 for low-end models to as much as $8,000 for premium devices. This price tag may also include a consultation, hearing test, fitting and follow-up adjustments. Some sellers even include periodic cleanings, battery replacements and a warranty that provides future cleanings, fittings and protection against damage or loss.
Lowering your hearing aids costs can sometimes be as simple as speaking up. When purchasing hearing aids, ask what discounts are available. Veterans, union members and people with company retirement plans may have access to additional price breaks.
Those with mild hearing loss who are unable to afford hearing aids have the option of using personal sound amplification products instead, which usually cost under $500 for a set. These don't require a fitting or prescription, can sync with smartphones and are wearable right out of the box. These devices aren't a replacement for a doctor's care, though, and don't address all aspects of hearing loss.
How do I know if I need hearing aids?
Hearing loss can be gradual and subtle, so sometimes it's hard to determine if it's really gotten that bad. The best way to know if you'd benefit from hearing aids is by having a hearing exam. Here are a few signs that it's time to think about scheduling one.
Everyone keeps telling you you've got the TV or the radio turned up too loud.

It's hard to understand what people are saying when you can't see their faces.

It often sounds like others are mumbling.

You're struggling to hear conversations in group settings like dinner gatherings or parties.

You're missing some of what the actors say in movies or at plays.

You often have to ask others to repeat themselves.

It can be hard to hear on the phone.

It's become difficult to hear higher-pitched voices or sounds.

You don't always hear the phone or doorbell ring.
To set up a hearing exam, contact your primary doctor or health care provider for more information or a referral, if necessary.
Medicare covers a lot of things — but not everything. Find out where Medicare stands in the following areas:
Get more smart money moves – straight to your inbox
Sign up and we'll send you Nerdy articles about the money topics that matter most to you along with other ways to help you get more from your money.