What Is Medicare, and What Does It Cover?
Knowing the basics of how Medicare works can help you understand some of the expenses you'll face.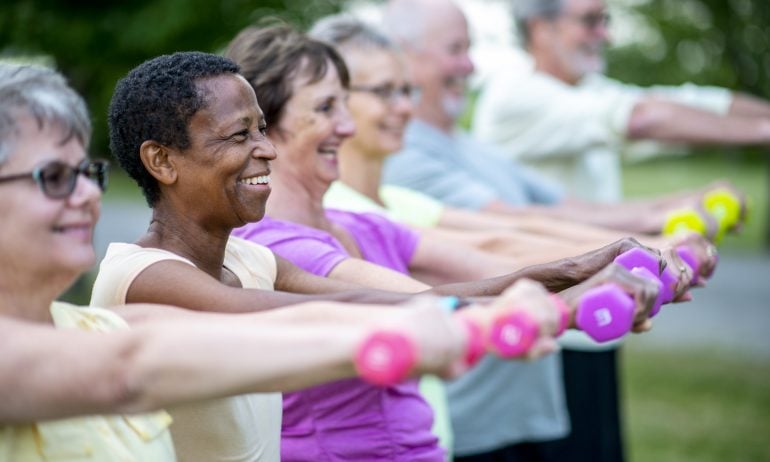 Many or all of the products featured here are from our partners who compensate us. This may influence which products we write about and where and how the product appears on a page. However, this does not influence our evaluations. Our opinions are our own. Here is a list of our partners and here's how we make money.
Medicare is the federal government health insurance program for people 65 and older and younger people with certain illnesses or disabilities. Its coverage plays an important role in containing medical costs as you age. But Medicare benefits don't pay for everything.
As you approach age 65, you'll need to decide how to deal with some of those coverage gaps. For now, knowing the basics of how Medicare works can help you understand some of the expenses you'll face.
Who qualifies for Medicare?
You're entitled to Medicare if you're at least 65 and a U.S. citizen, or a permanent legal resident for the past five years. Medicare also covers some disabled people under age 65. People who receive Social Security disability insurance usually become eligible for Medicare after a two-year waiting period. However, those with end-stage renal disease (permanent kidney failure) are enrolled automatically upon signing up and those with amyotrophic lateral sclerosis (ALS, also known as Lou Gehrig's disease) are eligible the month disability begins.
How do I enroll in Medicare?
If you're receiving Social Security benefits when you turn 65, you'll be enrolled automatically in Medicare Part A, which covers hospital costs, and Part B, which covers doctor visits. If you want Medicare Part D prescription drug coverage you'll need to enroll yourself — that's not automatic.
If you're not receiving Social Security benefits, you'll sign up through the Social Security Administration website. You typically should do so in the seven-month window around your 65th birthday (which includes the three months before the month you turn 65, your birthday month, and the three months after your birthday month) to avoid permanent penalties and long waiting times for your insurance to start.
If you want Medicare Supplemental Insurance (Medigap), you would sign up during the six-month Medigap enrollment period, which starts the month you turn 65 and are enrolled in Medicare Part B. The private insurers who provide Medigap plans are required to take you if you sign up during that period. Otherwise, there is no guarantee they will sell you a Medigap plan, or they could charge you more for a plan.
Most people don't pay premiums for Medicare Part A if they or their spouse paid Medicare taxes for at least 10 years. (Medicare taxes are part of the payroll taxes deducted from most working people's paychecks. You can see if you qualify by checking your Social Security statement, which is available through the Social Security website.)
If you don't qualify for premium-free Part A, it's still available to most, but with a high monthly premium. You pay monthly premiums for Part A of up to $499 each month in 2022. The other parts of Medicare, which cover things like doctor visits and prescription drugs, require separate monthly premiums.
What does Medicare Part A cover?
Medicare Part A covers inpatient care in a hospital or skilled nursing facility, although not custodial or long-term care. Part A also helps pay for hospice care and some home health care. Medicare Part A has a deductible ($1,556 in 2022) and coinsurance, which means patients pay a portion of the bill. There's no coinsurance for the first 60 days of inpatient hospital care, for example, but patients typically pay $389 per day in 2022 for the 61st through 90th day of hospitalization, and more after that.
What does Medicare Part B cover?
Medicare Part B covers doctor visits and other medically necessary services and supplies. That includes preventive services or health care to prevent illness, as well as ambulance services, durable medical equipment, mental health coverage and a few types of outpatient prescription drugs.
Medicare Part B requires a monthly premium that starts at $170.10 per month in 2022. Single people with adjusted gross incomes over $91,000 and married couples with AGIs over $182,000 in 2022 pay higher premiums. Medicare Part B has a $233 deductible in 2022. After that, you typically pay 20% of the Medicare-approved amount for services and supplies.
What is the Medicare Part B penalty?
If you don't have group health insurance from a large employer and fail to sign up for Medicare Part B at 65, then later decide you need it, you'll likely pay a penalty of 10% of the standard premium for each 12-month period that you delayed. You will pay this penalty for life.
You can avoid the penalty if you had health insurance through your job or your spouse's or partner's job when you first became eligible. You must sign up within eight months of when that coverage ends and show proof of group insurance after you turned 65.
What is Original Medicare?
Original Medicare refers to Medicare Part A and Medicare Part B, which are managed by the federal government. People can see any doctor that accepts Medicare assignment and the government program pays a significant portion of the cost.
What is Medicare Advantage?
Medicare Advantage, also known as Medicare Part C, is a type of health plan offered by private insurance companies that provides the benefits of Part A and Part B and often Part D (prescription drug coverage) as well. You must continue to pay your Part B premium, and there may be a separate premium you pay to the insurer. However, many Medicare Advantage plans are offered at $0 premiums to the insured.
These bundled plans may have additional coverage, such as providing some cost benefits for vision, hearing and dental care.
Unlike Original Medicare, Medicare Advantage plans have an annual limit on out-of-pocket costs. You could pay as much as $7,550 out of pocket in 2022. Medicare Advantage plans are typically HMOs or PPOs. They are available only in certain local areas, generally require pre-authorization and referrals, and charge copays and coinsurance for most health care services.
Medicare Part D helps cover the cost of prescription drugs. Plans are offered by private insurers and require a monthly premium that averages about $33 a month in 2022. Higher income beneficiaries pay more. As with Part B, there typically is a late penalty premium if you don't sign up when you're first eligible. The Part D penalty is 1% of the national base beneficiary premium multiplied by the number of months you're late enrolling after you go without creditable drug coverage for 63 days.
What isn't covered by Medicare?
The biggest potential expense that's not covered is long-term care, also known as custodial care. Medicaid, the federal health program for the poor, pays custodial costs but typically only for low-income people with little savings.
Other common expenses that Medicare doesn't cover include:
Hearing aids and exams for fitting them.

Eye exams and eyeglasses.

Most foot care, unless related to diabetes or medically necessary due to injury or disease.
Medigap, or Medicare Supplement Insurance, is an additional health insurance policy you can buy from a private insurer to help pay your share of the costs not covered by Medicare Part A and Part B. This includes deductibles, coinsurance and some health care if you travel outside the U.S. Medigap plans don't cover long-term care, prescription drugs, dental, vision, hearing aids or private nursing care.
There are 10 types of Medigap plans available in most states. You must have Medicare Part A and Part B to purchase a Medigap policy. Medigap is not compatible with Medicare Advantage — you may purchase one or the other.
Frequently asked questions
Where can I find out more?
Medicare.gov is the official site for Medicare. You can browse the site, live chat with someone from Medicare or call 800-MEDICARE (800-633-4227, TTY 877-486-2048). You can also input your state to find local organizations that can help.
Get more smart money moves – straight to your inbox
Sign up and we'll send you Nerdy articles about the money topics that matter most to you along with other ways to help you get more from your money.