Do You Need U-Haul Insurance?
Your personal auto policy and your credit card might not cover you in an accident when you're driving a rental truck.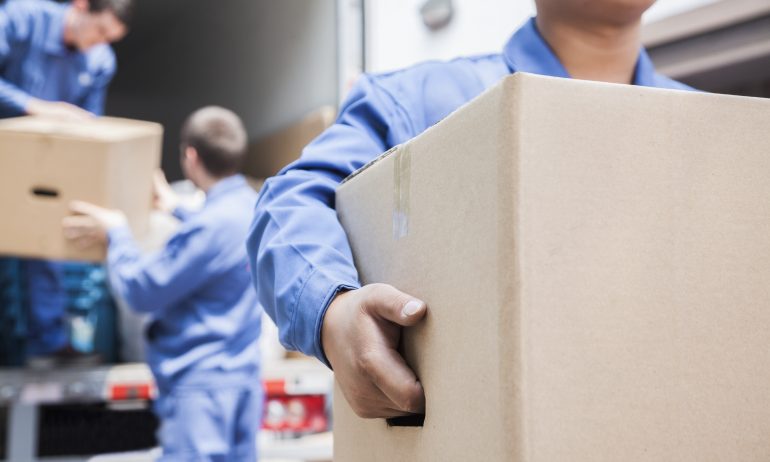 Many or all of the products featured here are from our partners who compensate us. This influences which products we write about and where and how the product appears on a page. However, this does not influence our evaluations. Our opinions are our own. Here is a list of our partners and here's how we make money.
Moving is stressful — and expensive — even when everything goes as planned. If you get into an accident with your rented moving van or trailer, not only could your stuff be damaged, but you could also be on the hook for repairs to the rental vehicle.
Like rental car companies, services like U-Haul encourage customers to buy company-provided coverage that absolves them of financial responsibility for the vehicle if it is damaged. But the circumstances of a truck or trailer rental are different from those of a car rental.
Usual coverages may not apply
Most of the time when you're renting a passenger car, you can decline the coverage offered at the rental counter. That's because personal auto insurance policies typically extend to rental cars. The credit card you use to pay for the rental may offer additional coverage, which usually kicks in after your own insurance has paid out.
It's a different story with rented trucks and trailers:
It's common for personal auto policies to specifically exclude cargo vehicles, trailers and vehicles over a certain weight. You might have some wiggle room if you're renting a small van, however.

Credit card coverage usually applies only to cars and other passenger vehicles. For example, the rental benefits offered by Visa exclude all trucks as well as vans that seat more than eight people.
As U-Haul says on its website: "Damage coverage is essential because all major credit cards and most car insurance policies do not typically cover our rental equipment."
Buying coverage through your rental company eliminates some of the guesswork. Before renting, look at the company's website for details about coverage options; once you rent, look though your coverage agreement before hitting the road.
The protection you buy from the rental company typically covers "accidental damage," such as hitting (or getting hit by) another vehicle.
Rental policies commonly exclude mechanical damage and damage caused by hitting an overhead object — two common perils for inexperienced van drivers:
Mechanical damage includes such things as stripping the transmission gears by shifting incorrectly or overtaxing the drivetrain by hauling heavy loads in the wrong gear.

Overhead objects are a constant danger for drivers accustomed to operating vehicles half as tall as a rental truck. YouTube videos from a notorious low-clearance "can-opener bridge" in Durham, North Carolina, show a steady procession of rental trucks (among other vehicles) incurring costly damage:
Cut, blown or damaged tires also aren't covered by standard rental policies.
The collision coverage offered for rental vehicles isn't technically "insurance," although that's what everyone calls it. Rental companies always have insurance on their vehicles. What they sell you at the counter is a waiver — an agreement that says if the vehicle is damaged, the rental company and its insurer won't come after you financially.
Coverage you buy for a rental vehicle might apply only to the vehicle — not to the items you're using the vehicle to move. You may have to purchase additional cargo coverage to ensure that your belongings will be insured. However, if you have homeowners or renters insurance, odds are you have some protection. Most insurance policies protect belongings away from home, but it's best to ask your insurance company for specifics.
Cargo protection obtained through a rental company usually limits the amount of coverage. As of May 2023, for example, Budget's coverage was up to $25,000 for one-way and up to $12,500 local, also with a $100 deductible. Cargo coverage typically pays for only the actual cash value of your items, meaning it will pay for you to replace a 5-year-old TV with another 5-year-old TV, not a new one.
However, you may not need additional coverage for one of your most valuable personal items. Even though your car insurance won't cover your van, it will cover your car if it's being towed by that van. As long as you have collision or comprehensive insurance, any damage to your car on your way to your new home should be covered.
Even if the truck and your personal items are protected, your move could still end up costing more than you bargained for if you're held personally liable for damage or injuries in an accident. Like rental car companies, rental truck services provide minimum liability coverage with each rental. For most customers, however, this isn't enough.
If you have a personal auto policy, your liability limits should still apply to your rental van, even though your collision coverage won't. If it doesn't, or if you don't have a policy, you can often purchase supplemental liability coverage from the rental company, providing protection up to $1 million.
If you don't own a car but frequently rent vehicles or borrow other people's cars, consider getting a non-owner insurance policy. These policies provide liability protection if you are legally responsible for damage or injuries in an accident.
Most of the big-name companies that rent trucks to consumers — including U-Haul, Penske and Budget — have similar protection plans. In U-Haul's case, customers can choose Safemove or Safemove Plus. Both include coverage for damage to the rental truck and your personal belongings, as well as medical and life coverage. Safemove Plus also includes driver liability for approximately twice the premium.
Penske and Budget allow customers to select from a menu of coverage options. However, the insurance option alone on a Penske truck is more expensive than buying a package from U-Haul in most cases, and the difference is more pronounced the longer your move.
Take these rental companies seriously when they suggest you buy coverage. When it comes to moving vans, there are major holes in your personal auto insurance as well as your credit card coverage, even if you're fully insured when in an automobile.
Get more smart money moves – straight to your inbox
Sign up and we'll send you Nerdy articles about the money topics that matter most to you along with other ways to help you get more from your money.