What Is Liability-Only Car Insurance?
Liability-only car insurance pays when you are at fault in an accident, but it won't cover your own injuries or property.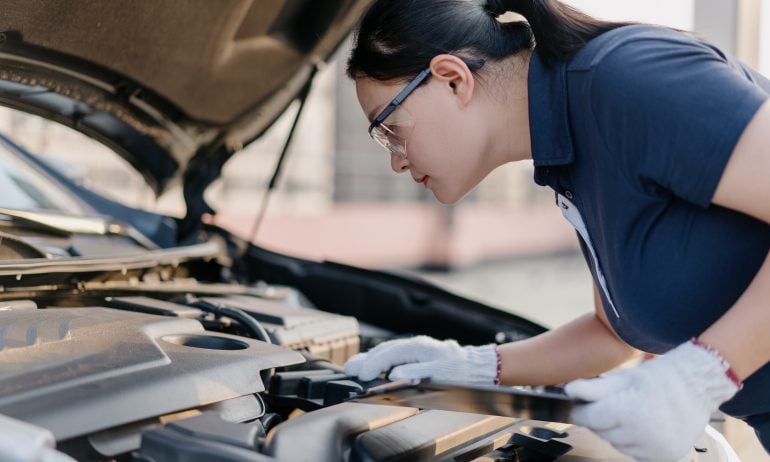 Many or all of the products featured here are from our partners who compensate us. This may influence which products we write about and where and how the product appears on a page. However, this does not influence our evaluations. Our opinions are our own. Here is a list of our partners and here's how we make money.
Liability-only car insurance is coverage that only pays for injuries or property damage you cause to others while driving your vehicle. Though it's a cheaper option than full coverage car insurance, it won't pay for your medical bills, your passengers' injuries or for damage to your own vehicle after a crash.
Liability-only car insurance is sometimes confused with "minimum coverage," but they aren't quite the same thing. In some states, liability-only car insurance will not meet the minimum car insurance requirement. In others, liability-only policies are available that offer more coverage than the minimum requirements.
See what you could save on car insurance
Easily compare personalized rates to see how much switching car insurance could save you.
What does liability-only car insurance cover?
Liability car insurance pays for damage you cause while driving your car, so a liability-only policy would only pay others if you caused a wreck.
Liability auto insurance is broken down into two parts: bodily injury liability and property damage liability. Bodily injury liability pays for injuries you cause to others in a wreck. Property damage coverage pays for any destruction you cause to someone's possessions, including vehicles, government-owned property or buildings.
Liability-only car insurance vs. full coverage
"Full coverage" is not a specific type of insurance policy. Instead, full coverage car insurance refers to the combination of several different types of coverage. All car insurance policies include liability coverage; full coverage insurance may also include:
Collision coverage, which pays up to the value of your car, minus the deductible, if you are in a collision with another vehicle or object.

Comprehensive insurance, to pay for damage to your vehicle not caused by a car crash, such as damage caused by hail or a fallen tree (minus any deductible).

Uninsured/underinsured motorist coverage, which pays out if you're in an accident with a driver who does not have sufficient coverage.
Because it covers far fewer scenarios, liability-only car insurance is cheaper than full coverage auto insurance. However, liability-only car insurance will not pay for your passengers' or your injuries if you are in an accident, and it will not pay you for damage to your own vehicle.
Should I switch to liability-only car insurance?
If you lease your car or have an auto loan, you're likely required to keep comprehensive and collision coverage until the financial contract ends. If you don't have an auto loan or lease, you may still want full coverage to make sure you, your passengers and anyone you cause harm to is covered after a crash.
If you don't have a loan or lease, it may be worth switching to a liability-only car insurance policy if:
You have a vehicle that is only worth a few thousand dollars. In this case, comprehensive and collision might cost more than they'd pay you in a claim.

You want to insure a car that you rarely drive, for which you wish to minimize costs.

You can't afford coverage for your car or your own injuries and just need to satisfy state requirements.
Though having liability-only car insurance helps you save on premiums, it won't pay out for your passengers' or your medical bills or damage to your vehicle. If you are thinking about purchasing a liability-only policy, consider the following questions:
If my car is damaged, can I pay for the repairs? Remember, liability-only car insurance will not pay for any damage to your own vehicle.

Does my health care have low coverage limits or high deductibles? If you have concerns about paying for your medical care after an accident, you may want to carry more than just liability car insurance. Medical payments coverage, better known as medpay; personal injury protection, or PIP; and uninsured motorist protection would all pay for your own care in different situations.

Do I frequently drive with passengers in my car? If you cause an accident, liability insurance pays for the other party's injuries, but not for passengers in your vehicle who are in your household or under your insurance policy. If you drive with members of your household in your car, you may want to purchase PIP or Medpay, which cover your passengers.
See what you could save on car insurance
Easily compare personalized rates to see how much switching car insurance could save you.
Is liability-only insurance the same as minimum coverage?
Each state has its own minimum car insurance coverage requirements, and every state requires you to buy liability insurance when you buy car insurance. Many states require only liability coverage to be legal on the road. In other states, more coverage — like personal injury protection and uninsured motorist coverage — is required.
Some websites or ads may use the terms liability-only insurance and minimum coverage interchangeably, but they aren't the same thing. The state you live and drive in determines what minimum coverage is for you, and in some states that includes coverage in addition to liability insurance. Even in states where only liability insurance is required to drive legally, you can likely purchase higher amounts than minimum coverage requirements.