Bitcoin Taxes in 2021: A Guide to Tax Rules for Cryptocurrency
If you've owned or used bitcoin, you may owe taxes — no matter how you acquired or used it. Here's how using bitcoin can affect your tax situation.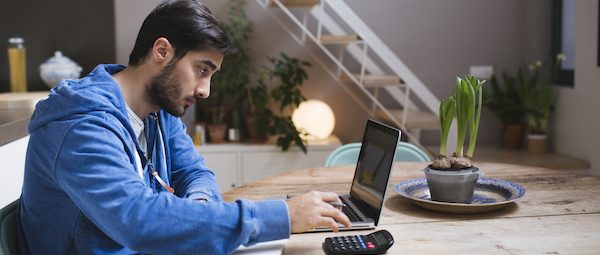 Many or all of the products featured here are from our partners who compensate us. This may influence which products we write about and where and how the product appears on a page. However, this does not influence our evaluations. Our opinions are our own. Here is a list of our partners and here's how we make money.
---
The investing information provided on this page is for educational purposes only. NerdWallet does not offer advisory or brokerage services, nor does it recommend or advise investors to buy or sell particular stocks or securities.
With bitcoin, you can run afoul of the IRS in a few surprising ways, so it pays to learn the rules.
The big picture? Bitcoin and other cryptocurrencies that you buy, sell, mine or use to pay for things can be taxable. Also, if your employer or client pays you in bitcoin or other cryptocurrency, that money is taxable income. You report your transactions in U.S. dollars, which generally means converting the value of your cryptocurrency to dollars when you buy, sell, mine or use it.
Here's more how using bitcoin can affect your taxes:
In 2014, the IRS declaring that for tax purposes, cryptocurrency is property, not currency. That may sound like a trivial distinction, but in this case it's the basis for when the IRS decides whether individuals owe taxes.
These bitcoin tax consequences revolve around what the government agency calls a "realization event." Here's how it boils down:
"Many people think that there's no tax consequences when they sell an object — it's for personal use and they're expecting to lose money on it anyway, whether it be a car, an appliance or another piece of property," says Brian R. Harris, a tax attorney at law firm Akerman LLP in Tampa, Florida. "Many people aren't in the mind-set of holding tangible objects for investment and then recognizing gains when they ultimately sell them."
"But if there's been a gain from the bitcoin owner's cost basis, there's a tax liability," he says.
To make sure you stay on the right side of the rules, keep careful track of your cryptocurrency activity.
Being robbed is bad enough, and previously if you'd been swindled of your bitcoins, you might have been able to deduct it as a theft loss on your taxes. However, the new tax rules do away with the deduction for personal theft losses.
Another tax rule doesn't look favorable for owners of digital currency, either. The IRS allows owners to trade many kinds of property for a similar kind of property without immediately incurring a tax liability — it's called a like-kind exchange.
Before , bitcoin owners wanted to know whether they could engage in like-kind transactions with other cryptocurrencies. "The answer was unclear," Harris says. "What was unclear was whether one crypto was like-kind to another. Now the new tax reform has limited like-kind exchanges to real property, not personal goods."
Bitcoin taxes can be a bummer, but at least you can deduct capital losses on bitcoin, just as you would for losses on stocks or bonds. These losses can offset other capital gains on sales. When you're done tallying your winners and losers, you can't write off a loss of more than $3,000.
With drastic fluctuations in bitcoin's price happening all the time, many bitcoin speculators will have losses. If you have losses on bitcoin or any other cryptocurrency, make sure you declare them on your tax return and see if you can reduce your tax liability.
Bitcoin taxes just for using bitcoin? It's with the cryptocurrency.