Bitcoin vs. Ethereum: What's the Difference?
The two assets make up more than half of the cryptocurrency market, but they have different approaches and applications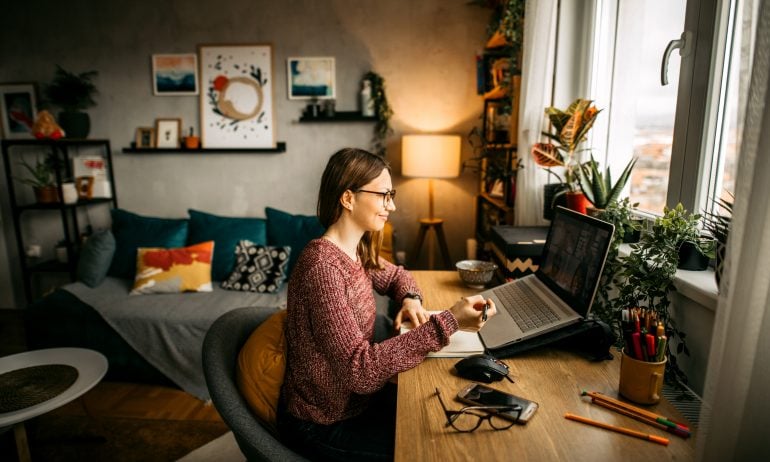 Many or all of the products featured here are from our partners who compensate us. This may influence which products we write about and where and how the product appears on a page. However, this does not influence our evaluations. Our opinions are our own. Here is a list of our partners and here's how we make money.
---
The investing information provided on this page is for educational purposes only. NerdWallet does not offer advisory or brokerage services, nor does it recommend or advise investors to buy or sell particular stocks, securities or other investments.
The main difference between Bitcoin and Ethereum is that Bitcoin was designed as a way to carry out relatively simple digital payments. At the same time, Ethereum can support more complex financial software.
Bitcoin (BTC) and Ethereum (ETH) have plenty in common. They are both cryptocurrencies, and together, they make up more than half of the overall crypto market.
As such, they rely on similar "blockchain" technology, and they appeal to many of the same investors. They are widely available on cryptocurrency exchanges, and many people still buy both for their perceived investment value rather than their current utility.
But within the world of digital assets, the comparison of Bitcoin versus Ethereum reveals some fundamental differences:
Ethereum can support smart contracts, software programs that execute automatically when certain conditions are met. Bitcoin does not have this capability.

Bitcoin uses an energy-intensive method of verifying transactions known as mining. Ethereum launched using a similar protocol, but is transitioning to a process called staking, which has fewer environmental effects.
Basics of Ethereum and Bitcoin
It's essential to grasp the key details of both Ethereum and Bitcoin to understand their differences.
Bitcoin is generally recognized as the first cryptocurrency. Rolled out in 2009 by mysterious developer Satoshi Nakamoto, Bitcoin paved the way for thousands of other cryptocurrencies. It was developed as a secure digital payment that does not require a central arbiter such as a bank.
Though it has not achieved broad adoption as a form of payment, Bitcoin has become a popular — and volatile — investment that is now even offered in some retirement plans.
Ethereum went live in 2015, the product of an attempt by developer Vitalik Buterin to expand on the central promise of cryptocurrency to decentralize larger swaths of the economy. The essential difference is that a developer can write programs that interact directly with the Ethereum platform, making it possible to provide services that Bitcoin could not. For example, Ethereum supports a range of lending and trading protocols, as well as games and other content.
Ethereum's native cryptocurrency, also known as Ether, can be used to pay for services or transaction fees on the network. Though its adoption in mainstream finance trails Bitcoin, many people have also used it as a speculative investment.
Advertisement
Read review

Fees

0.5% - 4.5%

varies by type of transaction; other fees may apply

Fees

0.5% - 3.99%

depending on payment method and platform

Promotion

None

no promotion available at this time

Promotion

Get $5 in Bitcoin

when you make your first trade. Terms Apply.

Promotion

$20 of BTC

for new users after trading $100 or more within 30 days
Value of Ethereum vs. Bitcoin
Ethereum and Bitcoin trade heavily on centralized cryptocurrency exchanges, and market forces determine their values.
Ethereum has been taking a larger share of the market from Bitcoin over the past several years, though Bitcoin retains the industry's largest market value.
Overall, a long-term investment in either represents the hope that their underlying technology will achieve worldwide use, increasing the demand for the limited supply of their cryptocurrency. Whether to buy either — or both — depends on your market analysis.
Learn more about cryptocurrencies
What can you buy with Bitcoin vs. Ethereum?
Ethereum and Bitcoin are both cryptocurrencies, so either could work for any transaction in which both buyer and seller are comfortable using it.
But overall, Bitcoin is intended as more of a general-purpose currency for everyday life.
Ethereum is designed explicitly for payments on the Ethereum network. That means Ethereum cryptocurrency would be better suited than Bitcoin for carrying out a transaction that relies on an Ethereum smart contract, such as funding a loan that will be automatically paid back on a specific date.
Another thing you'll do with Ethereum and Bitcoin is to pay network fees. Any time you carry out a transaction with either cryptocurrency, you'll be charged an amount that helps pay for the network's technology. These fees can sometimes come on top of whatever fee you might be paying to the crypto platform or payment provider you're using.
Ethereum fees have tended to be higher than those for Bitcoin. But before you complete a trade or transaction for either, it can be good to look at the network fees to see if they're running higher than usual. If it's not a time-sensitive transaction, you can sometimes save money by waiting for fees to go down.
Mining and environmental impact of Bitcoin vs. Ethereum
Both Bitcoin and Ethereum are known as "proof-of-work" blockchain projects. That means users can run programs on their computers that help verify the integrity of transactions and prevent fraud. The process is known as "mining," and it makes it possible for participants to receive cryptocurrency rewards in exchange.
Mining uses a huge amount of energy, which has led to significant criticism of cryptocurrency in general. However, Ethereum is in the process of converting its technology into a format known as "proof-of-stake.

Ethereum.org.

The Merge

. Accessed May 11, 2022.

"
Proof-of-stake blockchains do not require mining; instead, they use a process called staking, which incentivizes people to put cryptocurrency at stake to vouch for the accuracy of transactions. Participating users get rewards akin to interest in a bank account when the system works normally.
Over time, this shift could mean that Ethereum becomes more energy efficient than Bitcoin. It's worth noting, however, that this is a complex change that has not yet been fully carried out. On the other hand, some supporters of Bitcoin argue that the process does not have to be environmentally damaging if miners use renewable energy.
Get more smart money moves – straight to your inbox
Sign up and we'll send you Nerdy articles about the money topics that matter most to you along with other ways to help you get more from your money.