Buying the Dip? How to Find Dropping Stocks Before They Rally
Market volatility can mean bargain prices for investors, but there's more to buying the dip than just buying low.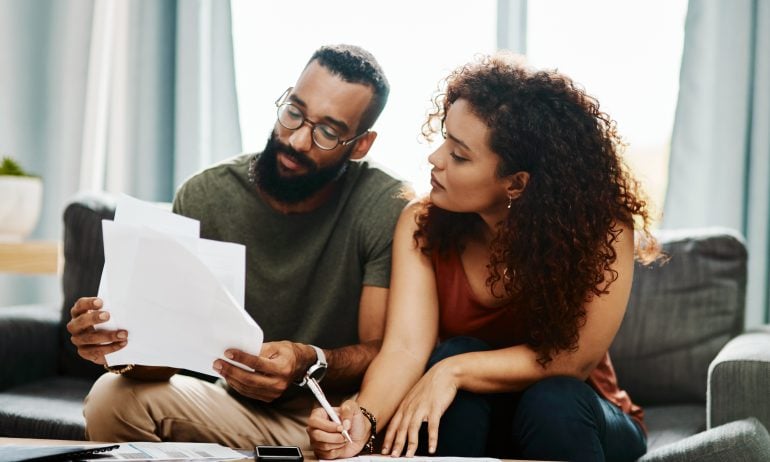 Many or all of the products featured here are from our partners who compensate us. This may influence which products we write about and where and how the product appears on a page. However, this does not influence our evaluations. Our opinions are our own. Here is a list of our partners and here's how we make money.
---
The investing information provided on this page is for educational purposes only. NerdWallet does not offer advisory or brokerage services, nor does it recommend or advise investors to buy or sell particular stocks or securities.
When the U.S. stock market takes a nosedive, it doesn't have to mean doom and gloom for long-term investors. Rather than selling off, this is a time to remain steadfast in your investments, and the dip itself may even signal an opportunity to buy in at bargain prices.
Buying the dip follows the basic investment principle of "buy low, sell high," but with a slightly more targeted approach. There are two requisites for buying the dip: a sharp decline in stock prices, and a strong indication that they'll rise again. One of the more common examples of this is when a large corporation's stock price drops suddenly due to broad market fears, rather than concerns about the company's long-term performance.
To be clear, no one knows when the bottom hits, and trying to time the market is never a good idea. But there are plenty of opportunities to during down periods if you're ready to invest for the long term — and you know where to look.
Broad market index funds, which track a diverse stock market index such as the S&P 500, are a proven way to invest. But this same strategy can be applied to the 11 sectors that make up an index like the S&P 500, too.
Taking a look at sectors with the largest share price declines, then analyzing the mutual funds or that track that sector, could shed light on a few opportunities to buy the dip.
Below are the four stock market sectors that saw the largest year-to-date declines during the COVID-19 crash (as of April 20, 2020).
» Find the funds: to invest in index funds that track these sectors.
Like Johnson & Johnson, some of the country's largest companies have been able to quickly recover from the coronavirus downturn. In fact, Microsoft and Amazon's stock prices are both up year-to-date — for these companies, the dip is over, at least for now.
However, some blue-chip companies that have otherwise been stable for years were hit hard by the global pandemic, and their valuations have yet to recover. Looking for dips like those can provide an opportunity to buy into large corporations at their lowest prices in years.
This strategy comes with a warning, though: NerdWallet doesn't recommend investing in individual stocks — experts typically think low-cost index funds are the best choice for most investors. are less risky than individual stocks, and add diversification to your portfolio through a single investment.
Investors may be encouraged to max out their 401(k) contributions during market dips, provided they have steady jobs and substantial emergency funds to tide them over should they need them. By upping your contribution, you're essentially buying additional shares of investments you already own at a lower price.
But even maintaining the amount you'd been contributing before the dip would net you more shares per contribution, thanks to the lower share prices. Unless you need the additional monthly cash flow, the last thing you'd want to do is cease contributions during a down period.
If you have an IRA or other investment account, consider making steady investments at regular intervals, rather than a lump-sum contribution timed when you think is best. Through this strategy, known as , you'll continue to purchase shares throughout the dip.
401(k)s illustrate dollar-cost averaging in action: A percentage of every paycheck gets invested at regular intervals over the long term. Dollar-cost averaging can be used in all investment accounts.
No matter what strategy you choose, understand that buying the dip does not guarantee getting in at rock-bottom prices. In volatile markets, today's floor could be tomorrow's high. All it means is that company valuations are substantially lower than they were just a few months or weeks ago, offering investors an opportunity to buy at that relative low price.
If you believe share prices will eventually rise to or beyond previous highs, buying at today's lower prices could be a good strategy for generating long-term returns — you may just have to stomach a few big drops before you realize them.
Disclosure: The author held no positions in the aforementioned securities at the original time of publication.